Are you looking for a quality white 2-drawer filing cabinet to equip your workspace?
If you are, then keep reading!
We searched the market for the best models that were both durable and sturdy with plenty of storage capacity for a variety of office needs. Check out our list and don't forget to read a buying guide that provides you with useful information.
Our Top Picks
Best 10 White 2-drawer Filing Cabinets
BEST OF BEST WHITE 2-DRAWER FILING CABINET
Devaise Mobile File Cabinet
Metal Construction
If you looking for a compact and sturdy filing cabinet for your file folders, then Devaise could be a good solution for your needs. This fully assembled filing cabinet fits under most desks. Its construction is made of durable and sturdy metal. The product dimensions are 15.4" in width, 23.6" in height and 18.9" in depth.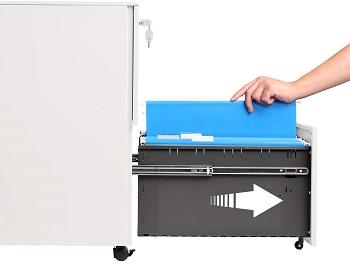 Commercial-grade Quality
This white 2-drawer vertical file cabinet delivers commercial-grade quality suitable for demanding work environments. Devaise supports up to 330 pounds. It rolls on five swivel casters and ensures smooth movement. Two high-capacity drawers glide on smooth glide full extension slides. Built-in lock secures both drawers.
Highlighted Points:
compact pedestal file cabinet
fully assembled
durable metal construction
high load capacity
five swivel casters
two high capacity drawers
BEST LATERAL WHITE 2-DRAWER FILING CABINET
Bonnlo Lateral File Cabinet
High Load Capacity
If you struggle with a  high amount of file folders and paperwork, this Bonnlo lateral file cabinet could be an ideal solution for your storage issues. It is backed by a one-year limited warranty. Overall dimensions are 35.5" in width, 17.7" in depth and 28.7" in height. Load capacity is 330 pounds.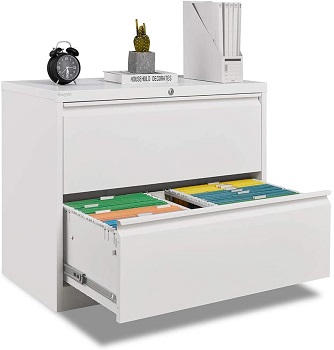 Spacious Drawers
This white 2-drawer lateral file cabinet requires assembly, the manufacturer recommends two or three people for that task. Two spacious drawers provide adjustable metal hanging bars for letter/legal-size files. This steel file cabinet has a center lock that secures both drawers at the same time.
Highlighted Points:
solid steel construction
requires assembly
two spacious drawers
adjustable metal hanging bars
center lock secures both drawers
high weight capacity
BEST WOOD WHITE 2-DRAWER FILING CABINET
Bush Furniture File Cabinet
Echo Collection
Bush Furniture made this Echo collection, it's ideal for those who looking for commercial-grade furniture with contemporary design. This model is available in pure white and grey sand colors. Construction is made from durable and sturdy engineered wood with a thermally fused laminate finish.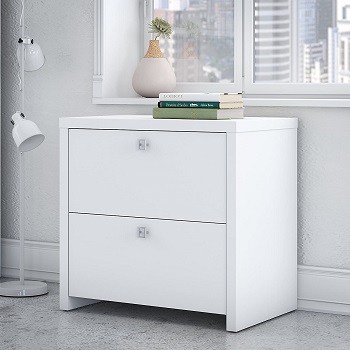 ;
Full-extension Drawers
This white wood 2-drawer file cabinet is tested and it meets ANSI/BIFMA quality standards. Also, the manufacturer provides a 3-year warranty. Echo file cabinet contains two spacious drawers that glide on full-extension ball-bearing slides. They accommodate letter and legal-size files.
Highlighted Points:
commercial-grade file cabinet
elegant contemporary design
available in two colors
durable engineered wood
meets safety and quality standards
backed by a 3-year warranty
BEST WITH WHEELS WHITE 2-DRAWER FILING CABINET
Scranton Steel Mobile File Cabinet
Four Casters
Scranton is a modern white vertical file cabinet suitable for stylish offices. This is a lightweight item with 26.5" in height, 14.2" in width and 18" in depth. The package includes a set of casters. Attach them and you can move this white 2-drawer mobile file cabinet in any direction.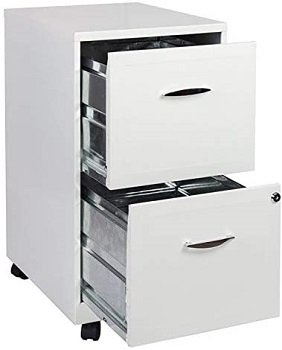 Lockable Drawers
It is manufactured with durable steel material and painted with modern white color. Scranton is resistant to scratches and easy to clean and maintain. Two roomy drawers are equipped with a lock mechanism that secures both drawers simultaneously. Full high-side drawers accommodate letter-size files.
Highlighted Points:
modern vertical file cabinet
lightweight item
set of casters included
steel construction
resistant to scratches
built-in lock for both drawers
BEST METAL WHITE 2-DRAWER FILING CABINET
Aurora Modern File Cabinet
Reliable Item
Aurora is a reliable and modern white metal file cabinet with 2 drawers designed for personal use. The product dimensions are 25.1" in height, 15.5" in width and 20.7" in depth. No assembly is required, it arrives ready for filing. Easy-roll casters make the movement smooth. Two front casters are equipped with brakes.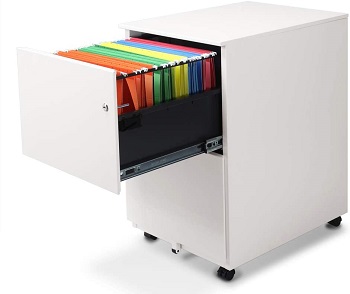 Solid Construction
Its construction is made from solid metal with an anti-rust electrostatic spraying finish for durability. High-quality drawer glide suspension ensures smooth drawer performance. Drawers are equipped with file frames for hanging file folder organization. The interlock feature prevents tipping.
Highlighted Points:
reliable personal file cabinet
equipped with swivel casters
no assembly needed
solid metal construction
anti-rust spraying finish
smooth drawer performance
interlock safety mechanism
BEST CHEAP WHITE 2-DRAWER FILING CABINET
Direction Modern File Cabinet
Narrow File Cabinet
Direction Modern is a unique narrow file cabinet suitable for small offices and home offices. It provides convenient personal storage space for your office supplies and documents. There are two colors you can choose from – white and silver. The overall dimensions are 9" in width, 18.2" in height and 22" in depth.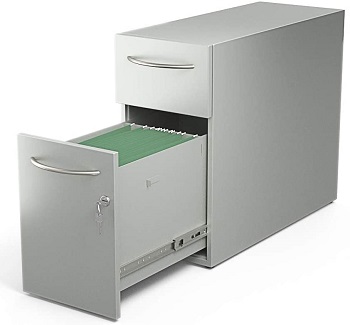 Steel Construction
This affordable file cabinet requires assembly when it arrives at your address. Its heavy-duty construction is built with quality steel. The top drawer is equipped with a removable stationery tray while the bottom drawer holds letter/legal size file folders. The white cheap 2-drawer file cabinet comes with two keys.
Highlighted Points:
modern narrow file cabinet
available in two colors
requires assembly
heavy-duty steel construction
box drawer and a file drawer
built-in lock secures both drawers
BEST FIREPROOF WHITE 2-DRAWER FILING CABINET
FireKing Fire-rated File Cabinet
Heavy-duty Construction
FireKing is one of the most popular fireproof filing cabinets on the market. It is manufactured in the USA and arrives fully assembled. It weighs 140 pounds and measures 28" in height, 18" in width and 22" in depth. FireKing is available in eleven standard colors. Construction is made from heavy-duty steel.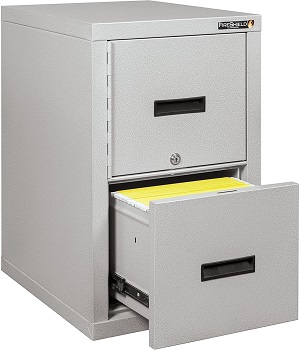 Concealed Safe
It is cleverly designed to conceal a safe behind the false drawer panel. The electrostatic powder-coated finish makes the surface durable and resistant to scratches. This white 2-drawer fireproof file cabinet has a high-quality Medeco lock. FireKing features a 1-hour fire rating, the internal temperature won't exceed 350°F.
Highlighted Points:
most popular fireproof file cabinet brand
arrives fully assembled
heavy duty steel construction
scratch-resistant surface
concealed safe
high-quality Medeco lock
BEST STEEL WHITE 2-DRAWER FILING CABINET
Bonnlo 2-drawer File Cabinet
Fully Assembled
There are two Bonnlo models on this list. This one features a vertical design and fits perfectly in limited spaces. It arrives fully assembled, except the casters. The manufacturer provides a 3-year warranty for missing parts, installation issues and damage. The product size is 14.5" W x 19.7" D x 26.3" H.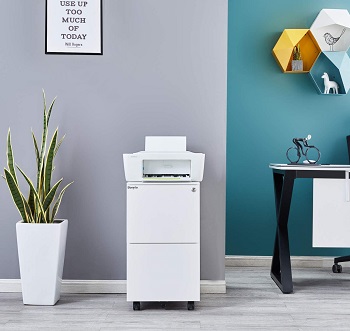 Heavy-duty Construction
Heavy-duty construction is made from thick and reinforced steel panels with electrostatic powder coating. That makes this white steel 2-drawer file cabinet durable and sturdy. It rolls on five removable casters for easy maneuvering. Two large filing drawers are ideal for letter-legal size file folders.
Highlighted Points:
vertical file cabinet
ideal for small spaces
fully assembled
3-year warranty
thick and reinforced steel
electrostatic powder coating
two large filing drawers
BEST SMALL WHITE 2-DRAWER FILING CABINET
Bush Furniture Broadview File Cabinet
Pure White Model
Bush Furniture made this compact and traditional inspired file cabinet. Choose between espresso oak and pure white color. This Broadview file cabinet is made from durable and sturdy engineered wood. The assembly is needed and all necessary hardware, tool and instruction are included in the package.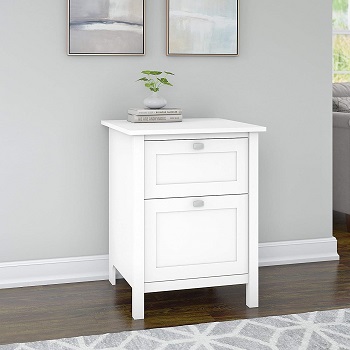 Scratch-resistant Surface
This white small 2-drawer filing cabinet measures 30" in height, 23.1" in width and 23.1" in depth. Its surface is resistant to everyday wear and tear, scratches and stains. Two drawers – box drawer and file drawer are perfect for storing office supplies and letter-size file folders. This model meets quality standards.
Highlighted Points:
pure white file cabinet
made from durable wood
assembly is required
two drawers for files and office supplies
meet safety and quality standards
BEST OFFICE WHITE 2-DRAWER FILING CABINET
LSM Lateral File Cabinet
Large File Cabinet
LSM is a large lateral file cabinet with plenty of storage space. The construction is built with solid metal and stainless steel plates. Its surface is immune to scratches and stains. LSM white two-drawer filing cabinet is strong enough to put your printer, scanner, or books on it. Check the installation video before assembly.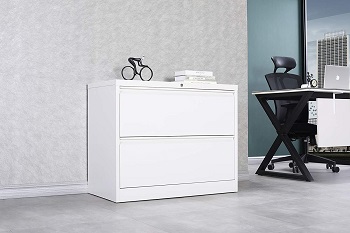 Anti-tilt Design
The package includes a lateral file cabinet metal model, instruction, tools and hardware. Its overall dimensions are 17.7" in depth, 28.8" in height and 35.4" in width. With a single lock, you can secure both drawers at the same time. The anti-tilt mechanism allows you to open one drawer at a time, while the second drawer is locked.
Highlighted Points:
spacious lateral file cabinet
video instruction included
solid and durable metal construction
two spacious drawers
anti-tilt mechanism
Things To Know About White 2-drawer Filing Cabinet
The white 2-drawer filing cabinets can be made from various materials. So, before buying, you should learn more about filing cabinets and their features. Our buying guide offers relevant info you can rely upon.
Vertical/Lateral – There are two file cabinet types you can choose from – vertical and lateral. The lateral file cabinets offer wider drawers and require more space. However, vertical file cabinets have a smaller footprint and offer greater depth. Choose the type that suits your home office or office space.
File Cabinet Build – File cabinets can be made from various materials, including steel, metal, wood, plastic and more. The white metal file cabinets are very durable, sturdy and often used in offices. Wooden models aren't very common in office settings, more in home offices.
Locking System – Many business people work with confidential documents. To store them properly, they should look for a file cabinet with lockable drawers. Mostly, you can find file cabinets with a central/single built-in lock that secures all drawers at the same time.
Rolling Casters – You might want to move your file cabinet from one place to another, so the model with a  set of casters is a must. They allow you to move the item in any direction. Check if the casters are equipped with brakes for stable placement. Models with five casters are more stable.
Product Warranty – We always suggest to people to buy a product with a warranty. The minimal warranty is 6 months. In that time, you will see if the construction is stable and sturdy and how the file cabinet handle stored items. The longer warranty, the more reliable product.