Are you looking for a compact personal water cooler?
If that is the case, continue reading this article.
We have found a number of personal water dispensers for you to choose from. Pick one based on your needs and wishes – a smart water cooler, a filtered one, or maybe a hot-and-cold one.
Our Top Picks
Best 4 Personal Water Coolers & Dispensers
BEST OF BEST PERSONAL WATER COOLER
Little Luxury Mini Water Cooler
Space-Saving Design
This personal water cooler can fit anywhere – on your nightstand, office desk, kitchen counter, etc. It measures only 10.63 x 7.87 x 24.02 inches (LxWxH). It features a single tap that dispenses ice-cold water which can be used for making fresh juices, flavored water and delicious smoothies.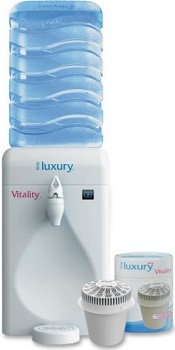 Revolutionary Filtration System
It boasts a revolutionary filtration system that delivers great-tasting, premium filtered water. Its filters use highly absorbent carbon and ion exchange resin to make the water as pure as possible. They are made from food-grade materials and easy to replace.
Refillable 1.8-Gallon Water Bottle
This cold filtered water dispenser is made of plastic and it comes with a refillable 1.8-gallon water bottle. The water bottle is made of BPA-Free plastic which is meant to be refilled with regular municipal faucet water. This way, you will save hundreds of dollars on bottled water and reduce plastic waste.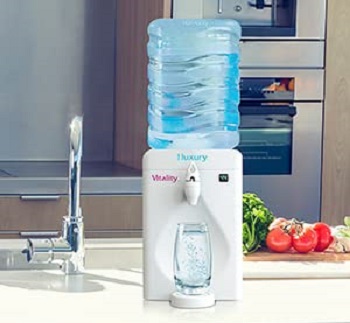 On/Off Cooling Switch
The Little Luxury Mini Water Cooler has an on/off switch cooling switch at the back of the unit, and you can turn the cooling off if you want room-temperature water. We recommend replacing the water filter every month for optimum filtration.
Highlighted Points:
space-saving design
delivers ice-cold water
revolutionary filtration system
easy-to-replace filters
made of plastic
comes with a refillable 1.8-gallon bottle
BEST HOT AND COLD PERSONAL WATER COOLER
BaofuFacai Desktop Water Cooler
Made Of Food-Grade Plastic
This personal water cooler has an 8-cup capacity that covers your daily water intake. It is made of food-grade plastic which is hygienic and safe for your health. It features two water spouts that dispense ice-cold and steaming-hot water.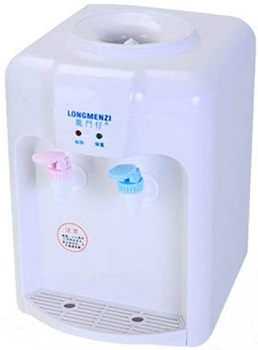 Suitable For 5-Liter Bottles
This small water dispenser is suitable for 5-liter (1.32-gallon) water bottles and it is perfect for small offices, dorms and kitchens. It is lightweight and easy to transport. Despite being so small, it does its job of heating and cooling very efficiently.
Dispenses Hot & Cold Water
If you want to avoid buying heavy 5-gallon bottles and don't have enough room for them at your office but need instant access to hot and cold water, this nice countertop hot and cold water dispenser will be a perfect choice for you.

Great Gift For Students
It measures only 11 inches in height and 7 inches in width and depth. The BaofuFacai Desktop Water Cooler features a on/off heating switch at the back of the unit. It makes a pretty amazing gift for a student because it is the perfect size to fit in a small dorm room.
Highlighted Points:
8-cup capacity
made of food-grade plastic
suitable for 5-liter bottles
perfect water dispenser for small spaces
on/off heating switch
an amazing gift for students
BEST HOT PERSONAL WATER COOLER
Sunbeam Hot Water Dispenser
Comes At An Affordable Price
This personal water cooler comes at an affordable price and delivers instant hot water. If waiting on your kettle to boil for several minutes really gets on your nerves, consider buying this compact water cooler that measures only 7.75 x 5.75 x 9.75 inches (L x W x H).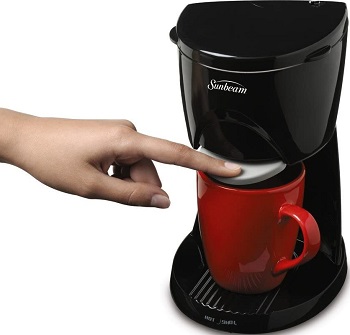 Made Of Plastic
This tabletop water dispenser will take up very little space on your table, desk, or kitchen counter, so it will be a great fit for a small kitchen or office. It is made of black plastic and designed specifically for dispensing water. Do not attempt to heat any other liquid in it.
16 Oz Water Capacity
Sunbeam Hot Water Dispenser automatically shuts off when it runs out of water to prevent dry-burning. It has a 16 oz water capacity and heats one cup of water in approximately 90 seconds. Heating is activated by pressing on the HEAT button.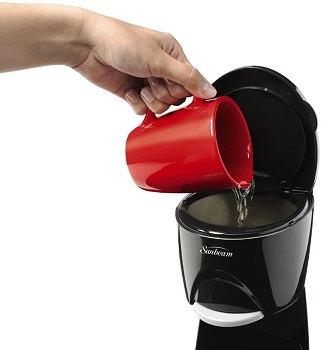 Metal Interior
The interior of this hot water dispenser is made of metal, not plastic. Because of its small size and weight, you can easily put it in a bag or suitcase and take it with you on a vacation. It features convenient cord storage.
Highlighted Points:
affordable price for a high-quality product
space-saving design, ideal for small offices
designed for dispensing water only
made of black plastic
16 oz water capacity
interior made of metal
BEST SMART PERSONAL WATER COOLER
Lqgpsx Smart Water Dispenser
Suitable For 3 & 5-Gallon Bottles
This personal water cooler boasts a beautiful space-saving design. It is suitable for 3 and 5-gallon water bottles and features two water spouts. The red spout dispenses steaming-hot water perfect for making coffee and tea, while the blue spout delivers ice-cold water.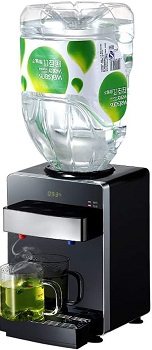 Great For Small Offices & Kitchens
If you want to stop wasting time waiting for your kettle to boil, you should definitely consider buying this smart water dispenser with instant access to hot water. It comes in two colors – black and red, and it will be a great fit for a small office or kitchen.
Child Safety Lock 
The hot water spout is equipped with a child safety lock which will prevent accidental burns from near-boiling water and give you peace of mind if you have kids. The hot water temperature ranges from 190.4 F to 203 F.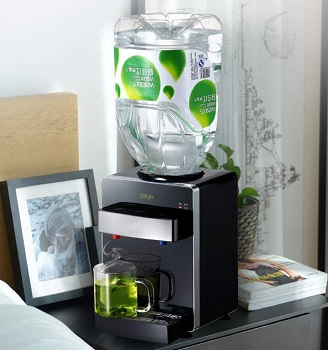 Ultra-Quiet Operation
The Lqgpsx Water dispenser is easy to use and boasts an ultra-quiet operation. It measures 22″ W x 20″ D x 28″ H and weighs 6.16 pounds. If you're looking for a nice gift for your family member or friend, this might be a perfect choice.
Highlighted Points:
suitable for 3 & 5-gallon water bottles
it comes in two colors
beautiful space-saving design
child safety lock
ultra-quiet operation
great gift for any occasion
THINGS TO KNOW ABOUT PERSONAL WATER COOLERS
These models are small and don't fit large amounts of water. In order to provide hot and cold water, they have to be plugged in. When buying a personal water dispenser, you should first check its size, temperature settings and water capacity. To help you choose the best water dispenser for your needs, we are giving you a few tips below:
Electricity Is Required – In order to work properly and deliver hot and cold water, water coolers for personal needs must be connected to power. Some electric water coolers feature on/off switches for heating and you can turn them off if you want room-temperature water. This way, you will also be able to save energy.
Water Temperature Settings – You have several options when it comes to water temperature settings. Some personal water coolers dispense only cold or hot water while others dispense hot and cold water. If you plug them out or switch off cooling and heating, you will get room-temperature water.
Water Capacity – Such small water coolers don't have a large water capacity, but some of them may fit bigger water jugs. You can go for a personal dispenser that is loaded from the top with a plastic bottle, or you can pour the water in.
Filtration System – Water coolers that boast a filtration system are a great investment. You will save hundreds of dollars you used to spend on water purchases because you will fill such filtered water dispensers with regular tap water. After going through filters, this water will be pure and perfectly safe for your health.
FINAL VERDICT
The Little Luxury Mini Water Cooler is the best personal water cooler because it boasts a revolutionary filtration system and eliminates the use of water bottles. It comes with a refillable 1.8-gallon bottle made of BPA-Free plastic. It delivers ice-cold water perfect for refreshing cool drinks. If a personal water dispenser is too small for your needs, we suggest you check out our post on countertop 5-gallon water dispensers. If you need an even larger water dispenser, read our post on the best big water dispensers.