Are you looking for a ceiling light that will uplift your office with cozy and balanced light?
There are the best six hanging lights for an office, they illuminate your workspace while adding a touch of great decor. They come in a variety of different styles, so you can find the right product to fit your space. There are some factors you need to consider before buying, check them in our guide.
Our Top Picks
Best 6 Hanging Lights For Office
BEST OF BEST HANGING LIGHT FOR OFFICE
Chens01 Modern Ceiling Light
Aesthetic Design
Chens01 lighting features a stunning design, its unique spiral and twist light appearance perfectly fits any modern and contemporary office. The manufacture uses high-quality electrical materials and lighting components. You can rely on product quality.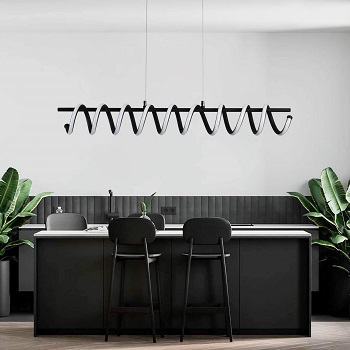 Comfortable Light
The installation canopy is made of aluminum so as a matte black frame. It is resistant to rust and fading. Because of the silicone gel diffuser, you'll have a comfortable soft warm white light. The hanging light for the office features short circuit protection and overload protection.
Meets US Standards
Chens01 comply with US standards. The lamp length is 31.5 inches and the height is adjustable, you can change it from 19 to 59 inches. Chens01 fit well in 120 to 300 square feet room. The professional installation is recommended by the manufacturer.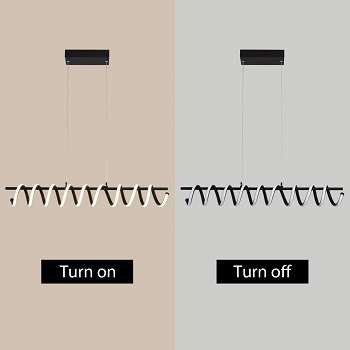 Long Lifespan
This cool office lighting features SMD 30W integrated LED which saves up to 80% electricity consumption, unlike traditional light bulbs. Chens01 saves your money and time. With normal use, this hanging lamp for the office will last for about 15 years.
Highlighted Points:
high-quality electrical materials
unique spiral design for modern offices
LED light source distributes non-flickering light
the lamp length is adjustable
last for about 15 years
fits 120 to 300 square feet offices
BEST HOME OFFICE PENDANT LIGHTING
Royal Pearl Modern Lighting
Neutral Silver Color
Royal Pearl is a modern, minimalist liner ceiling light available in neutral silver color. It is covered with a 1-year warranty. There are four wires with a maximum length of 53.14 inches. Its minimum length is 19.7 inches. Adjust the height by adapting strings of the ring via cable locking pins.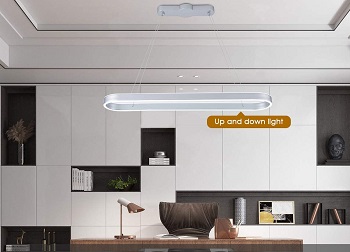 Easy Installation
This best lamp for a home office is professional lighting with a high-quality design. The manufacturer uses aluminum and silicone plus powder coated finish. Instruction is clear, first, you need to install the screw socket, then the screw.
High-temperature Resistance
The Royal Pearl home office pendant lighting model is resistant to high temperatures, corrosion, scratches, and is anti-faded. Integrated LEDs provides a long lifespan, it lasts approximately 50000 hours. It is important to note that Royal Pearl isn't dimmable light. It provides cool white of 6000K.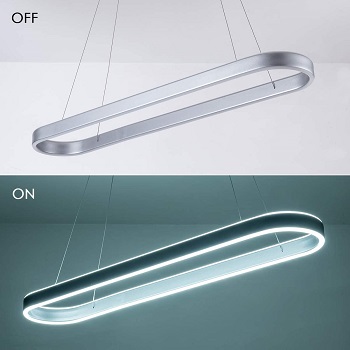 Wide Application
It resulting in high color rendering. You can use this elegant light in your living room, dining room, billiard room, meeting room, study room, home office, etc, Royal Pearl ensures wide application. This is eye-friendly lighting, it doesn't ultraviolet and infrared rays.
Highlighted Points:
come in neutral silver color
covered with a 1-year warranty
adjustable height
aluminum, silicone and powder-coated finish
resistant to high temperatures, scratches, corrosion
average lifespan – 50000 hours
BEST CEILING HANGING LIGHT FOR OFFICE
Fierce Tiger Ceiling Light
Unique Design
Fierce Tiger is an attractive and stylish calling chandelier. It features a timeless, classic and unique appearance. This is the perfect hanging light for office reception, office, restaurant, etc. The package includes light and installation instructions, but the manufacturer recommends professional installation.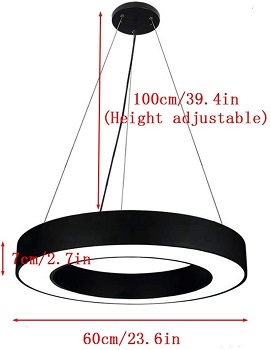 Used Material
This office pendant lighting is constructed of wrought iron, aluminum and acrylic. Fierce Tiger perfectly fits in room sizes of 10 to 25m2. Delivering white light with a color temperature of 6500K provides cozy light that protects your eyes from fatigue.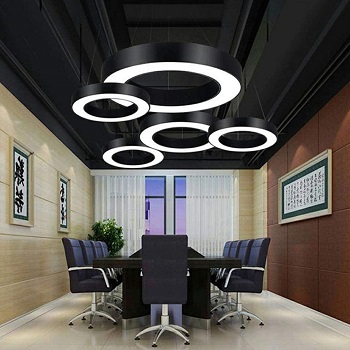 Product Dimension
The minimalist light features a length of 39.4 inches, it is adjustable so you can change the height according to your ceiling. The diameter of the lampshade is 23.6 inches. It is easy to assemble and clean. Fierce Tiger ceiling hanging lights for office uses an energy-saving LED bulb type.
Highlighted Points:
made from aluminum, wrought iron and acrylic
color temperature  – 6500K
delivers warm cozy light
uses energy-saving LED bulb
unique, timeless design
its height is adjustable
BEST LED HANGING LIGHT FOR OFFICE
Morchan LED Chandelier
Oval Light
Morchan is available in three colors – white, gold and black. Choose the color that suits your current office environment. This is modern oval light for indoor use only. The fixed plate measures 15.7 x 3.93 inches. You can easily fix it to the ceiling.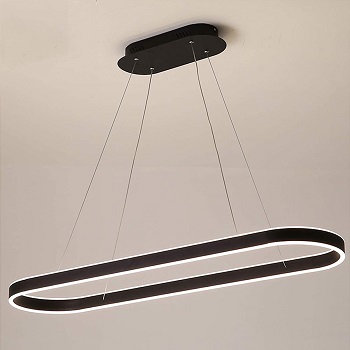 Metal Fixed Plate
The fixed plate is very strong, it is made from metal. You can adjust the height of the light, according to the size of your room. The maximum length is 47 inches. So, you can adjust the height of the ring, use the cable locking pins. It is large attractive light.
Remote Control
The package includes a ceiling light and remote control. Morchan hanging light for office uses energy-efficient LED light, you don't have to replace it, it last for years. Its color temperature range from 3000K to 6000K. Also, you can adjust the brightness from 5% to 100%.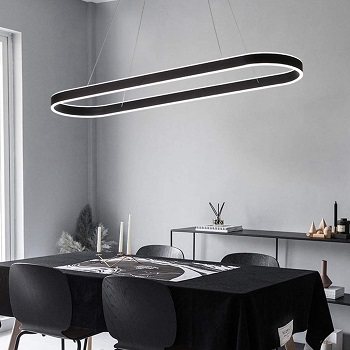 Dimmable Light
This LED reading lamp provides a maximum wattage of 66W. Morchan comes with a remote for dimming, on/off and color temperature. That is very practical for use, you can adjust the light while sitting in your office chair. it features an acceptable price.
Highlighted Points:
available in three colors
modern oval light for stylish offices
strong metal fixed plate
energy-efficient LEDs
remote control included
BEST TABLE OFFICE PENDANT LIGHTING
Motini Industrial Grey Lighting
Industrial Style
Motini is a modern industrial mini ceiling light that fits contemporary offices. The whole concrete fixture measures 6.5 inches in height, 5 inches in width and 5 inches in depth. it weighs 3.2 pounds. This light is hardwired. It features an adjustable cord that can be manipulated up to 96 inches.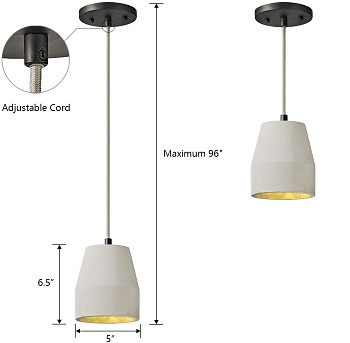 Compatible With LED
This office pendant lighting is covered with a 3-year warranty. The maximum bulb wattage is 60W, but it's important to note that the bulb isn't included in the package. The bulb base is E26/medium. This bulb socket is compatible with any incandescent LED, CFL, halogen and color-changing bulb.
Sloped Ceiling
Also, Motini is compatible with most dimmers, for example, Philips, Honeywell, Lutron and others. If you have a sloped ceiling, don't worry, this modern LED table lamp is suitable for that ceiling type. It is a good choice for residential and commercial use.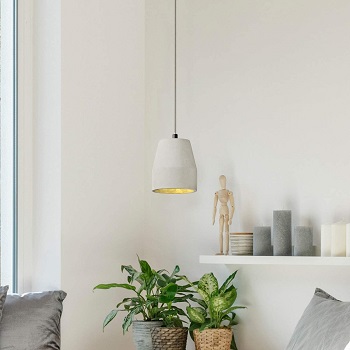 Safety Standards
This ceiling light is designed to meet strict national safety standards. It is safe for your family and colleagues at work. Its concrete with matte black metal accents makes our office very attractive. Motini is super affordable but feels like a premium branded product.
Highlighted Points:
modern industrial style ceiling
covered with a 3-year warranty
bulb socket compatible with LED, CFL, halogen, etc.
compatible with most dimmers
meets safety standards
BEST WALL OFFICE PENDANT LIGHTING
Flydeer Modern Office Light
Modern Appearance
Flydeer is a modern wall-mounted office light. It comes in two colors and offers two different lights – warm light and white light. If you looking for a nice and comfortable light, choose warm light. White light provides clear and brighter light. It ensures a stylish modern atmosphere.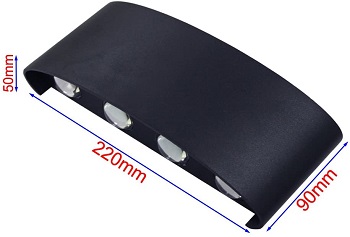 Installation Instruction
Made of quality aluminum with modern arc, this wall-mounted light has a black painted surface. You need to drill the wall before light installation. Drill two holes in the correct position near the wall wire. Put 2 expansion screws and fix the hanging plate. Attach the light.
LED Bulb
Flydeer is suitable for indoor and even outdoor use. This ambient desk lighting uses an LED bulb, which doesn't require replacement. There are 8 LEDs. The warm light color temperature is 3050 to 3250K. You can use it for a long time, its average lifespan is 50000 hours.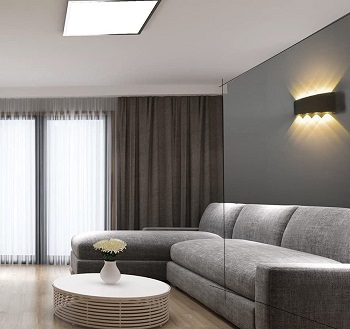 Wide Angle Of Light
This energy-saving office pendant lighting provides a wide angle of light with high brightness. Also, it features high heat dissipation and low light failure. Fydeer doesn't require any maintenance. Its price is affordable and it features CE and ROHS certifications.
Highlighted Points:
quality aluminum wall mounted light
instruction are included in the package
warm light or white light
suitable for indoor and outdoor use
equipped with 8 LEDs
high heat dissipation and low light failure
Things To Know About Hanging Lights For Office
The office pendant lightings come in a variety of sizes and designs, but there are some factors you should consider before buying, for example, light height, used materials, lifespan, color temperature, etc.
LED Technology – Nowadays, there is no sense to buy traditional light bulbs. Thanks to LED technology, you can save money and time. You'll reduce electricity bills. The LED bulbs don't require replacement and provide a longer lifespan.
Adjustable Height – Many of these ceiling lightings come with adjustable heights. You should adjust it according to the size of your room. The larger the room is, the shorter the wire should be.  That provides ample light to your entire office or home office.
The Right Light Level – If you looking for an ideal light level, not too bright nor not too dull, there is a European standard DIN EN with some practical guidelines. If you want to achieve a bright, like a sunny day, light, you'll need a LED lamp with over 6500 lumens.
Color Temperature – If you wondering which color temperature is adequate for your office, you should know that this parameter is measured in Kelvin. The warm white light is 2700 Kelvin, neutral white light range from 3300 to 6500K and the daylight white light is over 6500K. Choose at least 4000K for your office.
Light Installation – Some of the office pendant lighting models are wall-mounted, but most of them are ceiling lights. Check if the package includes instruction and required hardware. But some models require professional installation.