Are you looking for a long-lasting and energy-efficient desk lamp?
Then you should check non-halogen desk lamps!
We've sourced the market to find the best desk lamps for your office or home. Therefore, we've created a list of the best lamps and divided them into categories. Whether you want the clamp, modern, flexible or another lamp type, here are the models you can buy right now.
Our Top Picks
Best 6 Non-Halogen Desk Lamps
BEST OF BEST NON-HALOGEN DESK LAMP
Baseus LED Desk Lamp
Sleek Grey Appearance
Baseus is a sleek, modern and attractive desk lamp that bright touch of elegance to any room. The base dimensions are 3.3 x 2.1 x 3.1 inches. Its small base allows you to place the lamp on any desk, end table, workbench, office desk, etc. It gives more desktop space.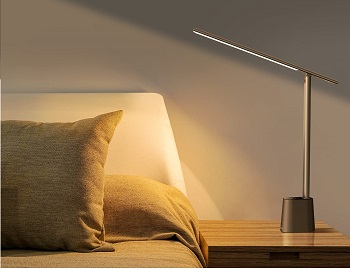 Wide Illumination Range
This non-halogen desk lamp features a non-slip base, it is stable and won't tip over easily. The case is made of quality aluminum alloy. Baseus desk lamp is able to illuminate your entire desk of 47 inches and more. Its illuminating range is wider than other desk lamps.
Adjustable Light Bar
The lightbar provides 0 to 180-degree adjustment, so you can illuminate your entire desk or just a particular area. Basus adjustable arm lamp has a high Color rendering index, it's 95, meaning, you'll see true, accurate and vivid colors. It is closer to natural daylight.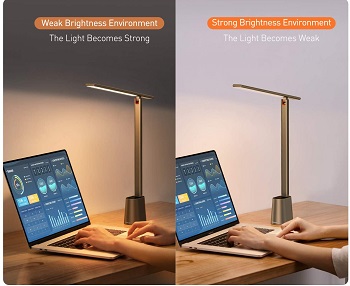 Ambient Light Sensor
The intelligent sensor detects the brightness of your room environment and optimizes the lighting. With a touch panel, you can control lighting mode, there are three color temperatures and four brightness levels. The memory function will remember your last used mode.
Highlighted Points:
sleek and elegant grey desk lamp
adjustable light bar
intelligent ambient sensor
memory function
various lighting modes
high Color rendering index
BEST CLAMP NON HALOGEN DESK LAMP
Torchstar Architect Desk Lamp
Clamp & Stand
Torchstar is a 2-in-1 desk lamp, it comes with a stable stand and adjustable c-clamp. If you want to use a clamp, then you can clip the lamp to any surface either vertical or horizontal. It supports a tabletop of 2 inches. Ideal for home office, office, dorm, children's room.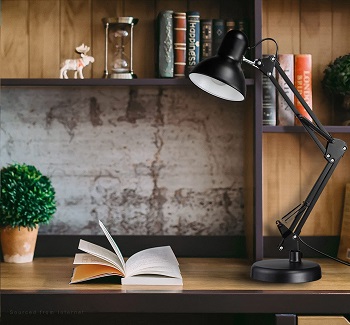 Solid Metal Construction
This adjustable desk lamp comes with a 1-year warranty and friendly customer service provided by the manufacturer. Torchstar is a vintage-inspired desk lamp made of premium metal with a black finish. It complements any room decor.
UL-listed Plug
The non-halogen table lamp comes with a UL-listed power plug, it is tested and very safe for use. You can easily swing up and down the lamp's arm and rotate the lampshade. Direct the light exactly where you need it at the moment.
E26 LED Light Bulb
Torchstar is compatible with an E26 base bulb with a maximum wattage of 40W. Use the LED light bulb for the best lighting performance. The on/off switch is located on the power cord. Torchstar desk lamp is available in three colors – black, red and white.
Highlighted Points:
available in three colors
compatible with E26 LED bulb
UL-listed power cord
crafted of premium metal
swing arm and adjustable lampshade
comes with a stand and adjustable c-clamp
BEST SWING ARM NON HALOGEN DESK LAMP
Enoch Eye-caring Desk Lamp
Space-saving Design
Enoch is a space-saving desk lamp suitable for office desks, workbench and other surfaces. The manufacturer provides 2 years of quality assurance and 3 months of full money back and replacement. For any questions, contact customer service.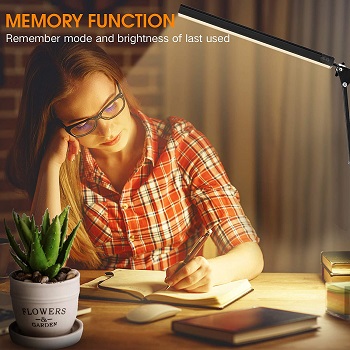 Strong Clamp
This desk lamp comes with a sturdy metal clamp that supports a desk thickness of 2.2 inches. It is very firm and equipped with a silicone pad that protects your desk from scratches and damage. It holds the lamp in any position you set.
Rotatable Lamp Base
The non-halogen desk lamp is foldable and provides multi-angle adjustment. You can adjust the metal lamp arm to 180-degree and extend it to 40 inches. The lamp base and light board can be rotated to provide multi-direction illumination.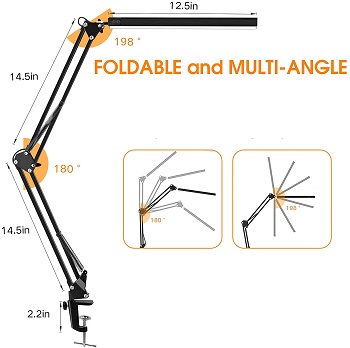 Suitable For Working
Enoch is a swing arm clamp lamp that comes with a USB charging cable, it is suitable for reading, crafting, homework, working, drawing and other precise tasks. A lamp is designed with three color temperatures, ten brightness levels and a useful memory function.
Highlighted Points:
space-saving desk lamp
strong metal clamp supports 2.2" desk thickness
lamp with flexible arm and base
comes with a USB cable
three color temperatures
ten levels of brightness
BEST LED NON HALOGEN DESK LAMP
Luxe Cordless Desk Lamp
Quality And Durable
Luxe desk lamp has a modern and unique design, it doesn't look like an ordinary lamp. This lamp is made of high-grade aluminum and the bar is made from a soft, rubber-like material. Also, it is a water-resistant desk lamp. Its price is acceptable.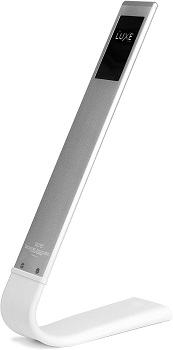 Powerful Battery
This non-halogen table lamp comes with 28 LEDs, they are rated for up to 50,000 hours. So, the Luxe lamp will last for decades. The built-in 2000mAh Li-polymer battery supports up to 3 to 40 hours runtime. Its charging time lasts 3 hours.
Glare-free Light
Luxe is a cordless LED table lamp that emits natural lighting free of glare, it produces low heat and helps reduce eye strain while reading, working, studying or crafting.  There is a flexible design, so you can rotate, twist and bend the lamp for the ideal light direction.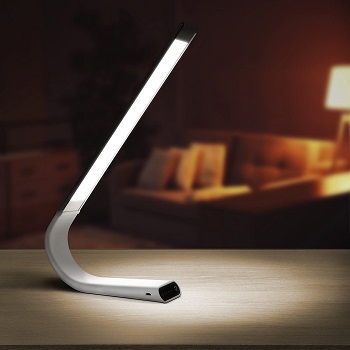 Touch Panel
Thsi desk lamp offers three lighting modes and six levels of brightness. There are neutral, warm and cold light modes that meet your different needs. Control settings by a touch panel at the lamp base. Luxe desk lamp comes with a micro USB cable.
Highlighted Points:
unique desk lamp
made of aluminum and rubber-like material
integrated 28 LEDs
built-in 2000 mAh battery
eye-friendly illumination
various lighting modes
BEST BATTERY OPERATED NON HALOGEN DESK LAMP
Rozky Rechargeable Table Lamp
Pure White Color
Rozky is a practical and portable desk lamp, you can put it and use it anywhere. It is made from high-quality aluminum and ABS to keep a good look. Available in pure white color only. The 1-year warranty is provided by the manufacturer.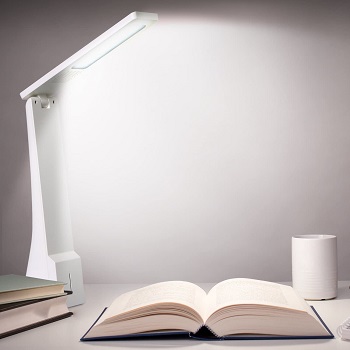 Battery-powered Lamp
It is tested and meets many safety and quality standards. The lamp arm is adjustable, you can fold it and move it up and down. This non-halogen desk lamp has a built-in 1200mAh battery, it is rechargeable. When fully charged, its running time is from 5 to 30 hours.
LED Chips
This battery-operated reading lamp uses energy-efficient LED chips, they provide flicker-free, glare-free and no ghosting illumination. Rozky offers three color temperatures and three levels of brightness. Choose between relaxing, study and reading mode.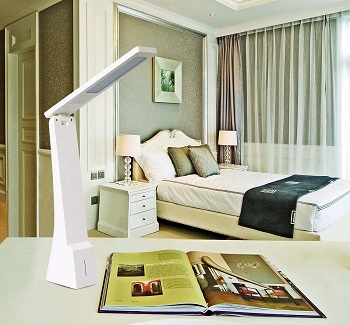 Memory Function
Change the lighting modes by simply touching the control panel on the lamp base. Rozky features high Color rendering index, it's 80. That means you can see vivid and accurate colors. The memory function will remember your last used setting, you don't have to set it every time.
Highlighted Points:
available in pure white
made of aluminum and ABS
backed by a 1-year warranty
built-in rechargeable battery
integrated LED chips
many lighting modes
BEST READING NON HALOGEN DESK LAMP
LE Dimmable Desk Lamp
Aluminum Lamp
Lighting Ever or shortly LE is an elegant and sleek desk lamp available in black and white color. This space-saving lamp takes up little space, so fits on any desk, table, end table, workbench, sewing table or shelf. It is made of quality aluminum and PC.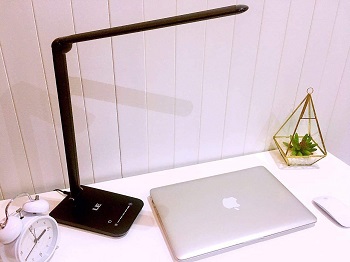 Flexible Design
This non-halogen table lamp has a long light bar, its length is 15 inches. LE desk lamp features an adjustable design, you can rotate the light bar clockwise and counterclockwise, swivel it from side to side and tilt the light bar up and down.
Task Lighting
LE adjustable reading lamp uses energy-efficient LED that provides bright and even daylight lighting. Its soft and flicker-free light is safe for your eyes. There is no eye strain or eye fatigue. LE is perfect for using as a task light in your home office or home.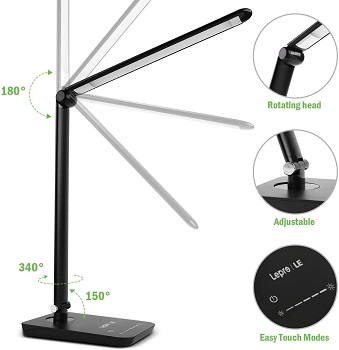 7 Levels Of Brightness
This lamp delivers a color temperature of 5000K. There is a touch control panel on the lamp base, simply slide your finger side to side and change the light intensity. You can choose between seven levels of brightness, set the light from dim to bright in a second.
Highlighted Points:
sleek and modern desk lamp
space-saving design
available in white and black color
energy-efficient LED
seven levels of brightness
adjustable lamp arm
Things To Know About Non-Halogen Desk Lamp
If you want to buy a non-halogen office lamp, you should inform yourself about important factors you need to consider before buying. Here, we explained why halogens aren't good for you and which features your next lamp should have.
Non-halogen Models – There are halogen, incandescent, CFL and LED desk lamps. So why you shouldn't use halogen lamps? Halogen bulbs emit a lot of heat, so you can't touch them with bare hands. Even they aren't expensive, their lifespan is short so you need to replace them very often.
Lighting Modes – If you working at your desk all day, your lighting needs may depend on tasks and on the amount of daylight streaming into your office or home. Sometimes you'll need bright light for detailed tasks or warm light when working on your computer. That's why you'll benefit from a lamp with adjustable lighting modes.
Lamp Flexibility – Desk lamps with flexible designs provide more functionality. They allow you to focus on a particular area or light up your entire room. Lamp with adjustable head and arms helps reduce glare, you can adjust it to your body position and monitor setting.
Maintenance – The non-halogen desk lamps with an LED bulb or LED chips will last much longer than traditional ones, so you don't have to worry about charging them every now and then. They save energy and making you and the environment a big favor.
LED Bulb –  All modern desk lamps use LED light bulbs or chips. These LED lights are usually built into the lamp. The LED reading lamps offer many advantages, such as long-lasting lifespan, low power consumption, no UV emissions, low heat production and others.