Do you want to equip your office with an eye-catching file cabinet?
Then this article is made for you! There is a list of the best 6 nice-looking file cabinets and their reviews. Before you read the reviews, we suggest you learn more about important file cabinet features. That will help you with your decision.
Our Top Picks
Best 6 Nice Filing Cabinets
Best Of Best Nice Looking File Cabinet
Bush Furniture File Cabinet
Quality Standards
The Bush Furniture produced this beautiful file cabinet, it is a rustic and modern combo. The warranty lasts 1 year and the price is high. This nice-looking file cabinet is tested and it meets ANSI/Soho standards for safety and quality. You can check its full collection for other furniture.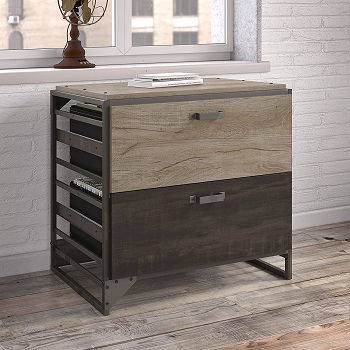 Industrial Steel Frame
It features a distressed rustic grey finish and charred wood accents. It is finished back for flexible placement. The industrial frame is made of steel. Use the tabletop as additional storage space for your plants, office devices or other things. The top weight capacity is 200 pounds.
Stain-resistant Surface
This vintage industrial filing cabinet size is 30 inches in height, 31.73 inches in width and 22.13 inches in depth. it weighs 93 pounds. The surface is resistant to scratches and stains. The Bush features two roomy file drawers that glide on full-extension ball-bearing slides. Reach your files easily.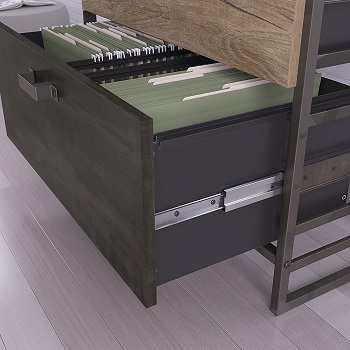 Steel Handles
Both file drawers hold letter and legal sized file folders. Each drawer is equipped with steel handles. Open and close the drawers smoothly and quietly. The drawers are made of high-quality wood. It is designed to last for many years, you can rely on its quality.
Highlighted Points:
high price and 1-year warranty
rustic grey finish and charred wood accents
open steel industrial frame
stain and scratch-resistant surface
two drawers hold letter/legal files
max weight capacity – 200 pounds
Best 3-drawer Nice Filing Cabinet
Aurora Modern File Cabinet
Modern Soho Design
The Aurora file cabinet features a modern Soho design. This model comes in two versions – 2-drawer and 3-drawer. Moreover, there are multiple colors you can choose from – white, black, gunmetal, metallic charcoal/red teak, walnut, beige, aqua/white and others.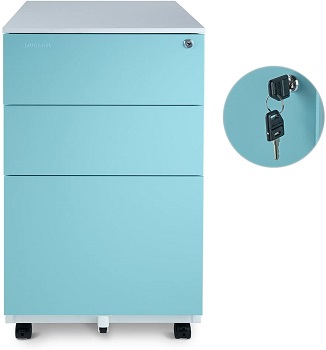 Electrostatic Spraying Finish
The solid construction is made of sturdy metal and the electrostatic spraying finish ensures durability. The finish is resistant to rust. This filing cabinet is equipped with casters for mobility. Two front casters are lockable. Below the bottom drawer is a small anti-tip caster.
Hanging Frame
There are two box drawers with a pencil tray included. They are useful for small office supplies. The bottom drawer is equipped with a hanging frame. It holds standard letter size/A4 files. There is a lock that secures all three drawers at the same time.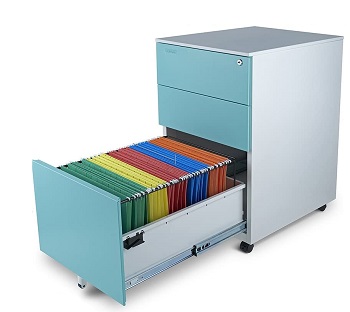 Glide Suspension
This trendy filing cabinet features high -quality drawer glide suspension for smooth and quiet drawer performance. The Aurora is a nice looking file cabinet with a safety mechanism. There is an interlock system that prevents tipping over. That means you can open one drawer at a time.
Highlighted Points:
modern Soho designed file cabinet
anti-rust electrostatic spraying finish
equipped with four casters for mobility
the fifth caster ensures stability
three drawers for office essentials and files
built-in safety interlock system
Best 2-drawer Nice Looking File Cabinet
Devaise White File Cabinet
Universal Colors
The Devaise is a personal file cabinet that is available in two universal colors – black and white. The product dimensions are 23.6 inches in height, 18.9 inches in depth and 15.4 inches in width. It weighs 42 pounds and features an acceptable price.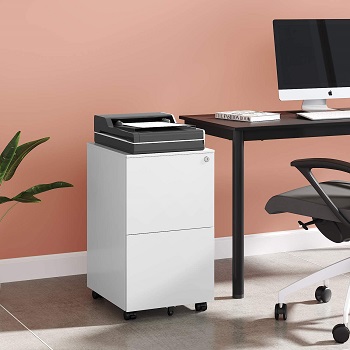 Anti-rust Finish
This nice filing cabinet is made of a metal construction electrostatic spraying finish. The surface is resistant to rust. You can maximally load it up to 330 pounds. Devaise features a drawer border closed design, it protects your documents from damage.
Fully Assembled
This small 2 drawer file cabinet has two high capacity drawers with full extension slides. Both drawers accommodate legal and letter-size hanging folders. The top drawer has a built-in lock, keep your documents private and safe. Devaise comes fully assembled, you need to attach the casters.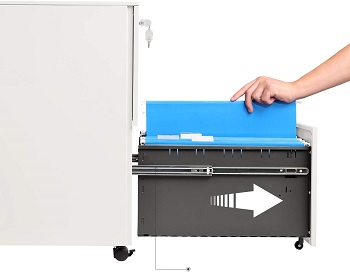 Auxiliary Caster
There are five casters you need to install. The four casters are designed for mobility. Two front casters are equipped with brakes for secure placement. There is a small fifth caster that adds extra stability and prevents tipping over, it supports the bottom drawer.
Highlighted Points:
full assembled white file cabinet
metal construction with anti/rust surface
drawer border closed design
two drawers with full extension slides
lock the drawers and protect your files
four casters + auxiliary anti/tip caster
Best Lateral Nice Filing Cabinet
Bonnlo Filing Cabinet
Assembly Required
The Bonnlo is a lateral file cabinet that is ideal for medium-sized and large offices. The warranty lasts 1 year and the price is affordable. The assembly is required and the manufacturer suggests 2-3 people for assembly. You can watch the assembly video.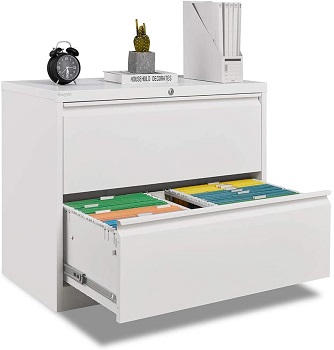 Strong Construction
This modern lateral file cabinet has a strong metal construction and quality exterior white finish. Its maximum weight capacity is up to 330 pounds. Put your printer, books, registers, plants, scanner or fax machine on the file cabinet top.
Quality Lock
There are two spacious drawers and they accommodate letter and legal size hanging file folders. Full-extension ball bearing slides allow easy open and close. Above the top drawer is a center lock system. You can secure both drawers at the same time.
Interlock System
This nice-looking file cabinet features a safety interlock system. That means just one drawer could be opened at t time. That feature prevents tipping over. The unit dimensions are 35.5 inches in width, 17.7 inches in depth and 28.75 inches in height. It weighs 78 pounds.
Highlighted Points:
large lateral file cabinet that required assembly
strong metal construction ensures durability
max load capacity is 330 pounds
full extension drawers with ball bearing slides
they hold standard and legal-size hanging files
interlock system prevents tipping over
Best On Wheels Nice Filing Cabinet
Songmics File Cabinet
Pre-assembled Item
The Songmics file cabinet measures 25.6 inches in height, 19.7 inches in depth and 15.4 inches in width. It weighs 39 pounds. The construction is made of high-quality steel. The package includes a file cabinet, fittings bag and instruction. It comes pre-assembled, you need to decide if you want to install casters.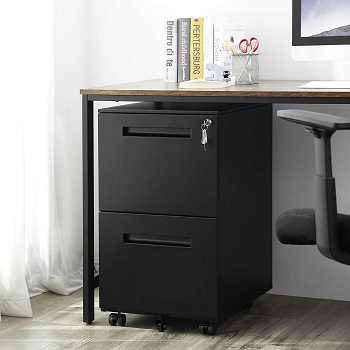 Adjustable Rods
This model is in matte black color, so it fits in any office environment. Songmics features two drawers with two adjustable rods inside. You can use these rods for different file combination – letter/A4 and legal size file folders. The load capacity of each drawer is 33 pounds.
Full Extension Drawers
Both drawers glide on full-extension ball-bearing slides. The quiet runners are integrated, so you can quickly and quietly open/close drawers. This small file cabinet on wheels has an extra metal plate on the bottom that provides more stability.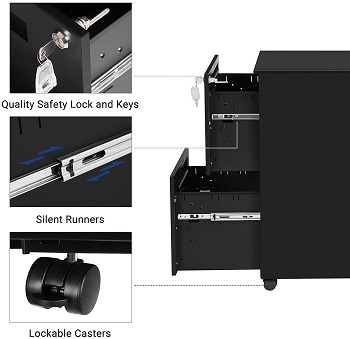 Lock System
The drawers are lockable, when you lock one drawer, the lock automatically secures both drawers. This nice filing cabinet comes with five casters, two of them come with brakes. Roll it easily on a wooden floor or carpet. However, you can use this file cabinet without casters.
Highlighted Points:
high-quality steel construction with matte black surface
two drawers come with adjustable rods
they hold letter and legal-size files
five casters for mobility and stability
secure both drawers with one key
Best Locked Nice Looking File Cabinet
Bisley Red File Cabinet
Variety Of Colors
The Bisley is a very attractive file cabinet. Choose between multiple colors – red, green, white, orange, light grey, blue and black. The item weighs 35 pounds and its price is high. It fits into most spaces within your workspace. It is a European manufacturer.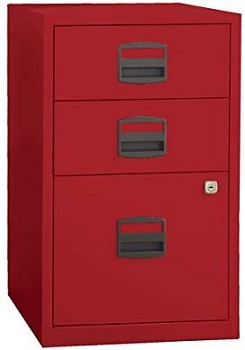 Fully Welded Construction
The product dimensions are 27 inches in height, 17 inches in depth and 16 inches in width. It fits under the standard office desk. The Bisley nice looking file cabinet is fully welded and features high-quality steel construction. It is designed for long-term use.
Total Access
There is powder-coated paint that provides a beautiful appearance. This modern locking file cabinet features three drawers, two box drawers and a large file drawer. You can easily pull out all three drawers and have total access to your files and office accessories.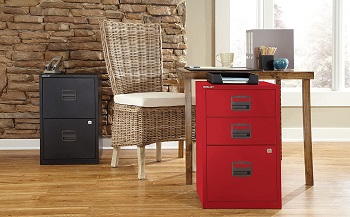 Drawer Capacity
These box drawers are ideal for small office essentials. The file drawer accommodates both legal and letter-size file folders. Each drawer has a weight capacity of 33 pounds. The file drawer is equipped with a lock, you can store your private documents and keep them away from unwanted access.
Highlighted Points:
attractive cardinal red finish
full welded, steel construction
powder-coated paint
three drawers  – easy to pull out
file drawer hold letter/legal-size files
the bottom drawer is lockable
Things To Know About Nice Filing Cabinets
There is a variety of nice looking filing cabinets. So, how to choose? We prepared some useful information in this brief buying guide. Read about file cabinet shapes, sizes, storage space, mobility, lockability and other features.
Two Main Types – There are many different file cabinets, but here we talk about two main types. These are vertical and lateral file cabinets. The lateral file cabinet provides a wider, but not so deep drawer. The typical file cabinet is vertical, it features greater depth.
Designs – You can find many different models in the market. They could be made from different materials, like steel or wood. The wood file cabinets have a traditional vibe and they are ideal for home offices. The steel file cabinets are durable and perfect for a demanding work environment.
Mobility – If you need to move your file cabinet from one place to another, consider a mobile file cabinet. They usually have four casters. Always check if the casters have brakes. Some models feature the fifth caster. It is useful for extra stability.
Lock Option – For those who work with private, sensitive or confidential documents, the lock is required. You can find models with a built-in lock on one drawer or above drawers. Still, with one key you can lock all drawers. Some file cabinets have a lock on each drawer.
Storage Space – The file cabinet size depends on your requirement, if you need to store a lot of documents, you'll need a bigger item. Mostly, file cabinets come with a small box drawer for office essentials and a file drawer for letter or legal-size file folders.