Are you looking for a file cabinet made of mango wood?
Then you are in the right place! To help you in your search, we gathered some useful information about the mango wood file cabinet in a brief buying guide. Moreover, we described 5 top-rated models in the market that meet different needs.
Our Top Picks
Best 5 Mango Wood File Cabinets
Best Of Best Mango Wood File Cabinet
Zona Filing Cabinet
Assembly Required
The Zona file cabinet measures 16 inches in depth, 56 inches in width and 36 inches in height, it weighs 148 pounds. The assembly is required, so you'll get the detailed instruction and the tools in the package. This item stands on four thin, but durable legs.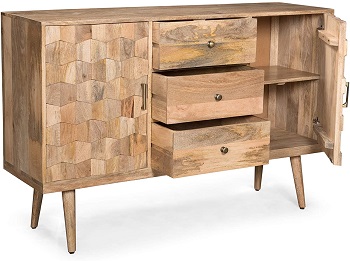 Mid-century Look
It offers a mid-century look, clean lines and textured surface. The file cabinet is made of mango wood that features golden browns with natural hues. This hardwood ensures unique patterns. The surface is dense, durable and resistant to wear and tear.
3D Weave Design
This sideboard filing cabinet has two cabinet doors, they are embellished with a beautiful 3D weave design. They are inspired by art deco styling. The top is wide and spacious, so use it for plants, books, registers, and other things. There is ample storage space.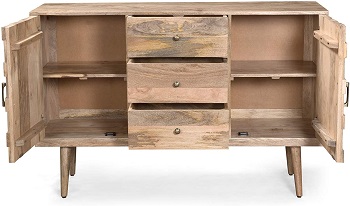 Three Drawers
Behind the file cabinet doors, there are shelves for large items, like books, registers, file folders, etc. In the middle of the mango wood file cabinet, there are three standard size drawers. These drawers are shallow, so they are ideal for desk and office supplies, like post-it notes, scissors, and others.
Highlighted Points:
wide sideboard filing cabinet
it features a modern design with a 3D weave look
wide and spacious top for plants and books
two file cabinet doors with shelves
three standard size drawers hold small office supplies
Best 2-drawer Mango Wood File Cabinet
Palaney File Cabinet
Distressed Finish
The Palaney file cabinet comes fully assembled at your address. The file cabinet is made of solid mango wood. It is durable and lasts for many years. The frame and legs are made of sturdy metal material. The Palaney file cabinet features a distressed finish.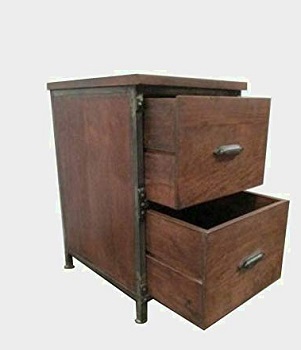 Handcrafted Product
Its overall dimensions are 30.5 inches in height, 22 inches in width and 19.7 inches in depth. The whole mango wood file cabinet is handcrafted. The top is thick, so you can place some devices or books on it. There are small metal handles on drawers.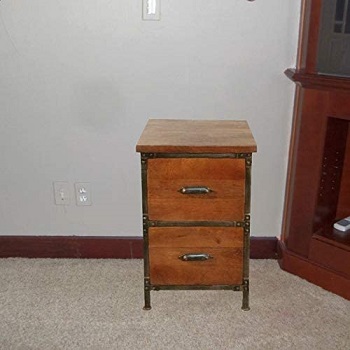 Letter & Legal Files
The Palaney weighs 71 pounds and it features a high price. You need to clean it with a damp or dry towel, don't use any aggressive cleanser, it will damage this small 2 drawer file cabinet. There are two drawers that hold letter and legal file folders.
Highlighted Points:
it comes fully assembled at your address
made of durable engineered wood
the frame and handles are made of metal
two drawers hold letter and legal files
the sturdy legs are made of steel
Best Lateral Mango Wood File Cabinet
Sauder Lux File Cabinet
Metal & Wood
Sauder International made this lateral file cabinet. The construction is made of high quality engineered wood and metal. It features a metal frame and handles in a Satin gold finish. The unit size is 30.32 inches in width, 29.7 inches in height and 16.54 inches in depth.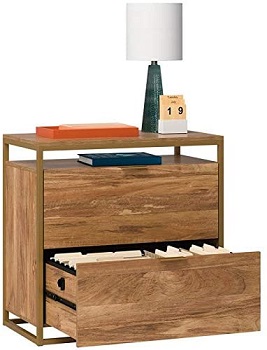 Small Shelf
It weighs 85 pounds. It is finished on all sides for versatile placement in your home office. Use its spacious top for additional storage and display of items like books, registers, printer, etc. Below the top surface, there is a small wide shelf for books or notebooks.
Full-extension Drawers
This mango wood file cabinet features two spacious drawers with full extension slides. Both drawers accommodate letter and legal size file folders. You can keep your important and private documents organized. Place the files horizontally or vertically.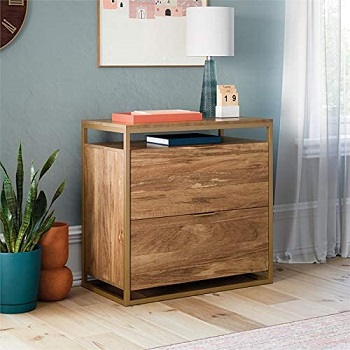 Interlocking Mechanism
This solid wood lateral file cabinet features an interlocking safety mechanism. All modern file cabinets have this feature. It allows you to open one drawer only, you can't open both drawers at the same time. This prevents tipping over and keep the file cabinet stable.
Highlighted Points:
sturdy and durable lateral file cabinet
made of engineered wood and metal
the frame and handles are made of metal
there are two drawers that hold letter and legal files
the interlock safety mechanism prevents tipping over
Best On Wheels Mango Wood File Cabinet
HM Mobile File Cabinet
Natural Design
The HM file cabinet comes in natural wood color, it is an unfinished file cabinet. You can place it under your home office or office desk, in the corner of the room, etc. It is small and fits anywhere. The whole construction is made of solid mango wood.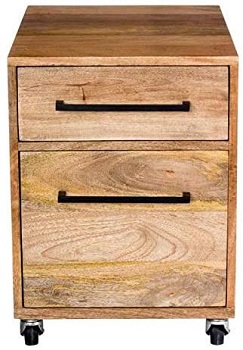 Heavy Item
This file cabinet is pretty heavy, it weighs 140 pounds. The HM file cabinet dimensions are 20 inches in width, 15 inches in depth and 21 inches in height. The construction is solid and durable, you can use it for many years. Clean it with a damp cloth.
Two Drawers
There are two drawers for your needs. The top drawer is smaller and it is ideal for office supplies like pens, pencils, scissors, post-it notes, etc. The bottom drawer is bigger, it accommodates both letter and legal-size files. You need to place them horizontally.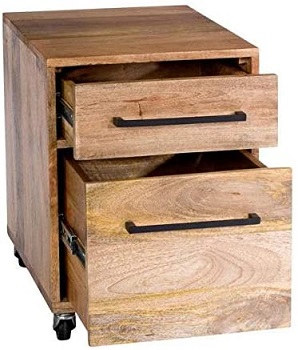 Casters
Each drawer is equipped with sturdy metal handles. Both drawers glide on full-extension metal runners. You can open them smoothly and quietly. The HM mango wood file cabinet is fitted with four casters for easy mobility. Move it from one place to another with ease.
Highlighted Points:
it comes in natural wood color
the construction is sturdy and durable
easy to clean and maintain it
two drawers – small and large one
four casters for mobility
Best Large Mango Wood File Cabinet
AA Warehousing File Cabinet
Antique Design
The AA Warehousing file cabinet features an antique, rustic-inspired design. This model is handcrafted from solid mango wood. It is durable and design for long-term use. The AA Warehousing mango wood file cabinet stands on four sturdy legs.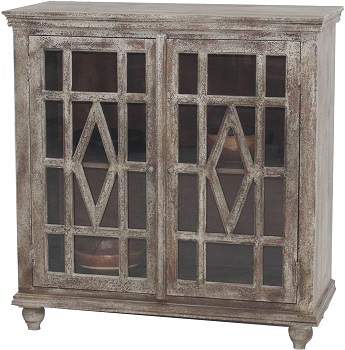 Weight Capacity
The product dimensions are 41 inches in height, 40 inches in width and 18 inches in depth. The surface features an antique white coating. This wood credenza file cabinet supports up to 300 pounds of stored material. You can place come books, plants or decorations on its top.
Glass Door
This product weighs 45 pounds. It will fit perfectly in traditional home office decor. There is two glass door on the front with knob handles. Within the file cabinet, there are three fixed shelves, you can't adjust them. There is plenty of space for your storage needs.
Highlighted Points:
made of durable and solid mango wood
antique design for traditional home office
max weight capacity is 300 pounds
the glass door on the front
three fixed shelves within the file cabinet
Things To Know About Mango Wood File Cabinets
This buying guide will help you to find the best model, there is much useful information about the wood features, file cabinet storage space, file cabinet types and other characteristics that you should know before buying.
Mango Wood – Mango wood is characterized as hardwood because it features strength, density, durability and an attractive look. It is important to note that mango wood slowly becomes darker with age. The color of mango wood is often golden brown, but there are many variations.
Vertical, Lateral, Sideboard – There are many shapes and sizes in the market you can choose from. The tall wood file cabinets have a typical upright design, there are many models with casters. The lateral and sideboard file cabinets are similar, but the sideboard usually has shelves.
Rolling Casters – If you want to move your file cabinet around, from one room to another, the casters are something you should consider. It is important to read the product description and check if casters have brakes. The brakes provide stable placement.
Storage Material – What kind of things do you want to store? Do you want to store books, registers, file folders, documents, office supplies, registers? We recommend the mango wood file cabinet with small and large drawers, then your office supplies and files are well organized.
Anti-tip Device – When the drawers are fully extended, there is a risk of tipping over. There is a need to prevent it from tipping over and reduce the risk of falling. The quality tip-protection or interlock system will keep your file cabinet stable and balanced.