Many people prefer sitting on linen upholstered chairs over leather or mesh office chairs.
These people enjoy the soft texture and breathability of these desk chairs. If you want to take a closer look at these chairs, then this review is for you.
We evaluated a wide range of linen office chairs that meet different needs. If you want to explore more about them, read on. There's also a guide to help you make a wise shopping decision.
Our Top Picks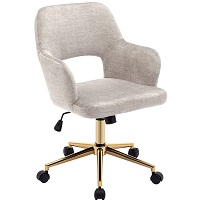 Duhome Home Office Chair
OVERALL RATING: ★★★★★
An elegant desk chair with a unique hollow mid-back design, golded-finished base and generously padded seat.
Jump To Review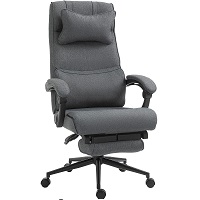 Vinsetto Ergonomic Office Chair
OVERALL RATING: ★★★★☆
It's a reclining office chair that comes with an extra headrest, armrest, lumbar pillow and footrest.
Jump To Review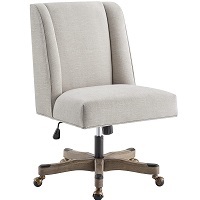 Linon Clayton Office Chair
OVERALL RATING: ★★★★☆
This cream-colored chair adds style and function to our office with its wooden base and modern lines.
Jump To Review
What Kind Of Material Are Linen Desk Chairs Made Of?
Linen is a textile made from fibers of the flax plant. It is a very strong, durable, breathable and absorbent material that dries faster than cotton. These chair covers can come in many-colored variations, so you can pick out the one that suits your workspace. Many people choose linen upholstered desk chairs, so hopefully, in this review, you'll learn more about them so you can make the right decision.
Types Of Desk Chairs
There are a few most common chair types you can choose from.
Executive Chairs – These are the largest and most robust type of office chairs with wide seats and high backrests. Usually, they are upholstered with leather, but there are linen executive chairs, too. Ideal for stylish office interiors.
Task Chairs –  Task desk chairs are considered to be the most basic type of office chair. They also tend to be the cheapest. If looking for a chair to park yourself for two or three hours, then a task chair could be your best bet.
Bucket Seat Chairs – This chair type has a rounded seat with high sides. The bucket chairs are inspired by racing car seats but now, they look very modern and elegant.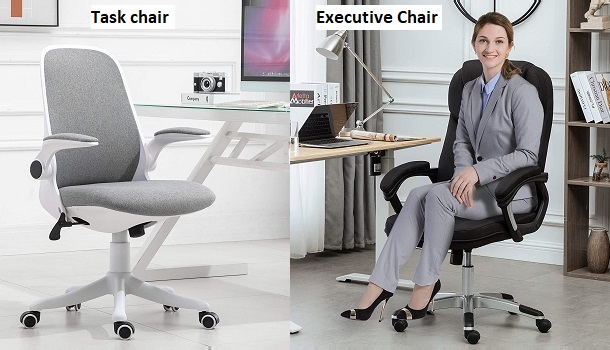 Is Desk Chair Made From Linen For You?
Just like any other material, linen also has its advantages and disadvantages. We will list them here, so you can read all the good and bad sides before you buy any chair model.
Comfort As Main Priority
The office chairs whose upholstery is made from linen have many benefits. This material is much more breathable, keeping you cool and dry. Also, it is a very durable material, so quality linen upholstery can last about seven to fifteen years on average. Linen fabric ends to provide a cozy and soft feeling that keeps you relaxed and calm. Linen is an excellent choice if comfort is your main priority.
Is Maintenance An Issue?
First, it's necessary to note that linen quality plays a huge role when it comes to maintenance. This material can stain easier and can be harder to clean. Spills or little bits of food can be stuck inside of the linen. So, you may need a handheld seam cleaner or other cleaning solution to eliminate spills and stains. Avoid eating or drinking near the chair made of linen.
Features To Consider With Linen Upholstered Chairs
In this comprehensive guide, we'll focus on the most important factors when looking for a new office or home office desk chair. Make sure you go through this guide and prioritize the features that matter most to you.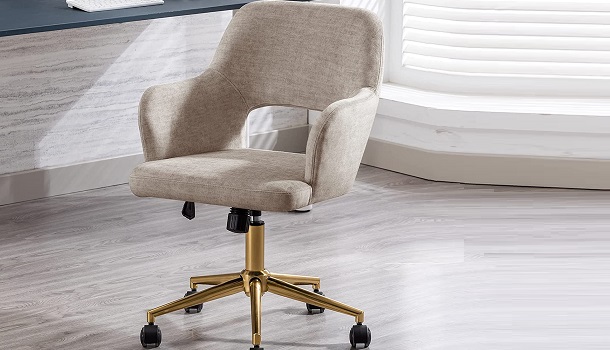 Ergonomic Features
If you plan on sitting on your chair for more than a few hours, then you should strongly consider the ergonomic features your new chair has. Here are some basics:
Lumbar support – Good lumbar support ensues proper posture alignment, specifically, your hips, shoulders and head should be aligned.  Also, it ensures that the natural inward curve of your spine is supported. Some chairs have fixed lumbar support, while some models come with adjustable lumbar support height.
Armrest Vs No armrest – The right answer depends on your preferences. If you want to sit close to the desk, pick the model without armrests. Armrest chairs provide support for your shoulders and neck and reduce tension. If you aren't sure, go with flip-up armrests.
Seat cushion – Many office chairs use high-density sponge or memory foam because they retain their shape longer than standard foam. The most comfortable type of seat cushions are ones with thick and high-density foam padding.
Build Quality
Office chairs that use steel and aluminum bases have greater strength and durability. If you are all and big user, consider that kind of chair. In any case, avoid chairs that use plastic components since they have a higher chance of breaking.
Customize Your Chair
Another aspect you should look for is chair adjustability. The more adjustability function the desk chair has, the more versatile it is to fit your body shape and size. Ideally, you want a chair with adjustable seat height, lumbar support, backrest recline positions, armrests and swivels. This kind of chair will provide optimal and balanced support for your body posture.
Wheeled Base
It's a bit hard to find an office desk chair without wheels, they become standard equipment. Mobile desk chairs give you movement so you can reach for items around your desk, so you don't have to shove solid chair out of the way or stretch too far to get objects.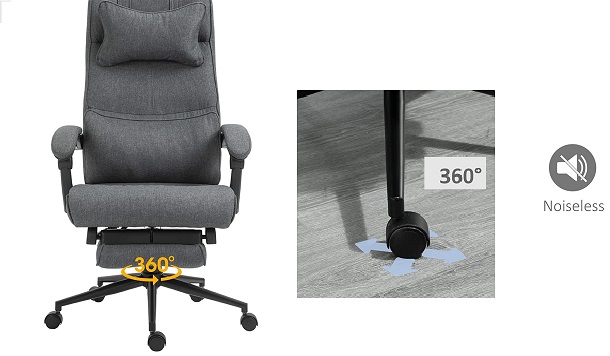 Best 6 Linen Office Chairs
In the reviews below, we'll look at a wide range of models made in different styles, designs, bases, functions and other characteristics.
Duhome Home Office Chair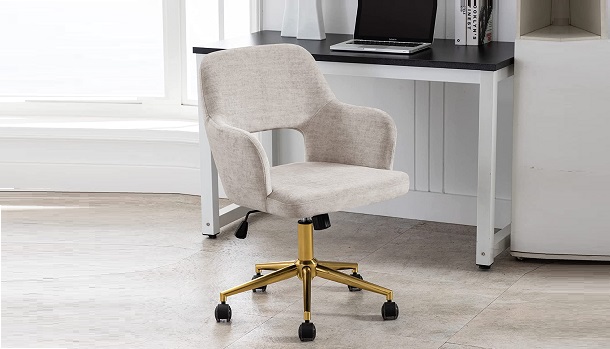 SPECIFICATION:
Material: Linen, metal
Dimensions: 24.7" x 22.5" x 36.7"
Capacity: 285 lbs

Color: Cream, green, pink, grey
Armrest: Partial
Base: Wheeled
Duhome is an eye-catching desk chair with a bit interesting design. It features a hollow mid-backrest, curved lines and a golden base. Choose between cream, pink, green and grey linen upholstery. Instruction and accessories are included in the package.
Use the level on the office chair side to adjust the chair height from the lowest, 32.7" to the highest 36.7". The chair base is equipped with five rolling casters that easily glide on both the wooden floor and carpet. The durable metal base is covered with a golden finish.
Skin-friendly and breathable linen is perfect for long sitting hours, making you sweat-free. The chair seat and backrest are filled with high-density sponges that ensure a soft and comfortable sitting experience. Unique hollow back design still provides good back support.
Overall:
Support:
Comfort:
Capacity:
Ergonomics:
Functionality:
PRICE
approx:$160 – $170
determined by online offer (Amazon, Walmart, eBay) and seasonal sales
PROS
Unique hollow back design
Attractive golden base
Available in four elegant colors
Vinsetto Ergonomic Office Chair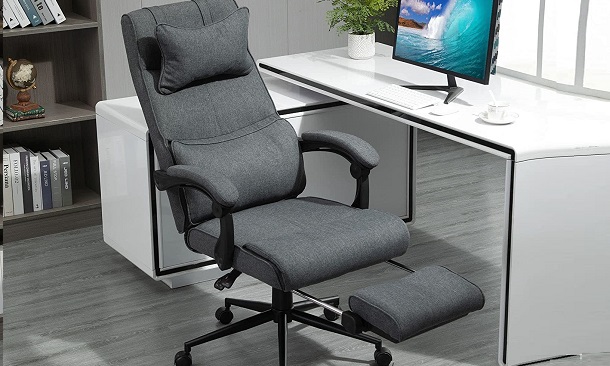 SPECIFICATION:
Material: Linen, metal
Dimensions: 27.2" x 26" x 45"
Capacity: 330 lbs

Color: Grey
Armrest: Yes
Base: Wheeled
This ergonomic executive desk chair has many adjustment options, making it ideal for office use. Assembly is required and you'll get everything you need in the package. It's a modern office chair that adds style to your home office, office or studio.
Adjust the chair height to fit your body size and desk height. The overall chair heigh ranges from 45.2" to 48.5". A high weight capacity of 300 pounds is suitable for heavy and big people. Vinsetto chair is equipped with a 360-degree swivel base and five smooth casters for easy mobility.
It is ergonomically designed and padded with a high-density sponge to fit your body curve and give you comfortable sitting. Vinsetto is equipped with an additional head pillow and retractable footrest. Furthermore, you can adjust the til degree from 90° to 150° for max comfort.
Overall:
Support:
Comfort:
Capacity:
Ergonomics:
Functionality:
PRICE
approx:$140 – $230
determined by online offer (Amazon, Walmart, eBay) and seasonal sales
PROS
Elegant recliner office chair
Retractable footrest
Linon Clayton Office Chair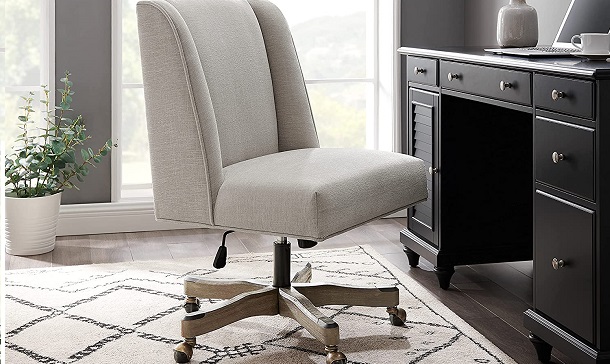 SPECIFICATION:
Material: Linen, wood, metal
Dimensions: 27.7" x 27.2" x 37"
Capacity: 300 lbs

Color: Beige
Armrest: No
Base: Wheeled
Linon Clayton is a beautiful armless desk chair suitable for both office and home office. It comes in one natural color – beige. Clayton features grey washed wooden base with protective caps on antique brass-colored metal casters. This chair fits perfectly in mid-century and modern interiors.
The seat dimensions are 23.2" in width, 17.7" in depth and 6" in height. The thick cushioned seat is very comfortable for prolonged sitting. Both backrest and seat are upholstered with soft linen woven fabric. Its space-saving design doesn't include armrests.
Use the lever on the side of the chair and adjust the seat height depending on your body size. Clayton uses BIFMA certified gas lift, it provides safety and good performance. Also, there is tilt control and the tilt has a 1:1 ratio – for every inch you lean back, the front edge of the seat comes up one inch.
Overall:
Support:
Comfort:
Capacity:
Ergonomics:
Functionality:
PRICE
approx:$270 – $540
determined by online offer (Amazon, Walmart, eBay) and seasonal sales
PROS
Attractive wooden base with antique brass casters
Quality BIFMA certified gas lift
Protective caps on casters
CONS
Not easy to install casters
Erinnyees Office Chair
SPECIFICATION:
Material: Metal, linen, cotton
Dimensions: 19" x 20" x 45"
Capacity: 300 lbs

Color: Black, grey
Armrest: Adjustable
Base: Wheeled
Erinnyees is an ergonomic office chair that offers an elegant and sophisticated look. The package comes with assembly accessories, tools and manuals. Follow the instruction and you can enjoy your new chair within 15 minutes. It supports a weight of 300 pounds.
Heavy-duty reinforced base and 360-degree smooth-rolling wheels ensure easy movement. These universal wheels are noiseless and won't scratch your floor. You can use it on wooden floors and carpet. The chair height is adjustable allowing you to find your perfect sitting position.
Erinnyees has an ergonomic structure with 4-point support – head, back, arms, waist. Its saddle-shaped seat reduces pressure on your tights and legs. A high-density sponge seat keeps you comfy during the long working day. Plus, you can adjust back tilt and tension.
Overall:
Support:
Comfort:
Capacity:
Ergonomics:
Functionality:
PRICE
approx:$170
determined by online offer (Amazon) and seasonal sales
PROS
Elegant office chair
Supports a weight of 300 lbs
Vinsetto Office Desk Chair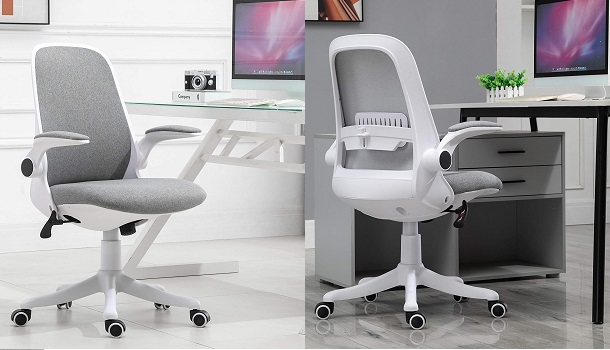 SPECIFICATION:
Material: Metal, linen
Dimensions: 23.5" x 24.5" x 36"
Capacity: 264 lbs

Color: Grey, pink
Armrest: Flip-up armrest
Base: Wheeled
There is another Vinsetto desk chair, but different from the previous model. This is an ordinary task chair available in two colors – pink and grey. The manufacturer recommends this chair for people 4′ to 5'9". Its max load capacity is 264 pounds.
With a high-end gas lift, you can adjust the chair height from 36" to 40". Flip-up padded arms can be lifted when the chair isn't in use, allowing you to tuck the chair under the desk. With a 360-degree swivel function and five smooth casters, you can easily glide around your office.
The chair upholstery is covered by skin-friendly linen fabric, it's breathable and comfortable material. Its ergonomic backrest and seat are filled with a thick sponge suitable for long-sitting hours. The lumbar support can be moved up and down and you can rock back and forth.
Overall:
Support:
Comfort:
Capacity:
Ergonomics:
Functionality:
PRICE
approx:$195 – $300
determined by online offer (Amazon, Walmart) and seasonal sales
PROS
Lumbar support can be adjusted
Rocking function for taking a break
Padded liftable armrests
Porthos Kian Office Chair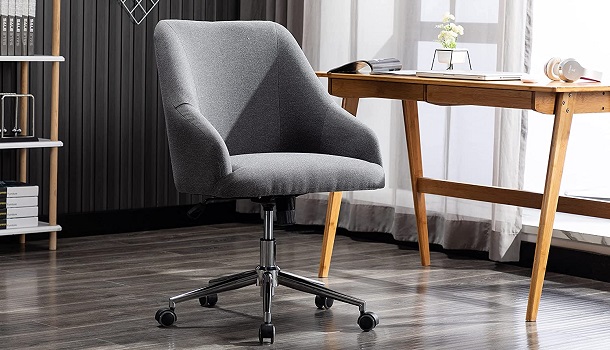 SPECIFICATION:
Material: Linen, metal
Dimensions: 23.6" x 23.6" x 38"
Capacity: 265 lbs

Color: Grey, dark grey
Armrest: Partial
Base: Wheeled
Porthos Kian is a simple but elegant desk office chair backed by a 1-year warranty. Ideal for small home studios or offices. Simple assembly is required so you'll get detailed instructions in the package. Its seat height is adjustable from 18.5" to 22.4". It features clean lines and a space-saving mid-back design.
With its neutral grey shade, it will easily blend into any existing interior design. Porthos Kian features a sturdy metal base with five smooth-rolling casters allowing you to move easily around your room. Durable and quality construction supports a weight of 265 pounds.
There are small armrests allowing you to relax for a moment. Porthos Kian upholstery is made from durable and long-lasting linen fabric. This is a very tough material that is also luxury soft, so you can enjoy durability and softness in one material.
Overall:
Support:
Comfort:
Capacity:
Ergonomics:
Functionality:
PRICE
approx:$175
determined by the online offer (Amazon) and seasonal sales
PROS
Space-saving mid-back design
Sturdy metal base with five casters
Demanding Assembly Process?
Usually, the desk chair will come with detailed installation instructions. However, some chair models come already assembled, so you just need to unpack them. Generally speaking, these chairs don't require demanding assembly. You can follow instructions you'll get in the package or some step-by-step assembly video.
How To Remake Your Old Chair Into Linen One?
Except for buying a chair that is already upholstered with linen fabric, you can also buy only linen fabric separately and reupholster your chair. The process requires some time but if you're satisfied with your chair and only desire a linen cover, it may be a better option than buying a completely new chair. When reupholstering it, firstly you need to separate each part of your chair and then add the cover on each part, just like it's shown in the video.

Final Verdict
Choose the model you like the best, but we recommend the Duhome home office chair. This chair has a unique hollow mid-back design that adds a touch of elegance to your space. Its durable metal base is finished in the beautiful golden coating, making it perfect for stylish and mid-century workspace interiors. When it comes to linen material, you only need to choose your favorite color. When it comes to other features of a chair, you should check if height and weight ranges fit your needs. Also see ergonomic characteristics such as lumbar and back support.