Do you want to know the best lighting for home office ideas?
Have you ever wondered how you can make better lighting in your home?
You are in the right place!
Here you will find the best home office ceiling lighting ideas and much more interesting pieces of information.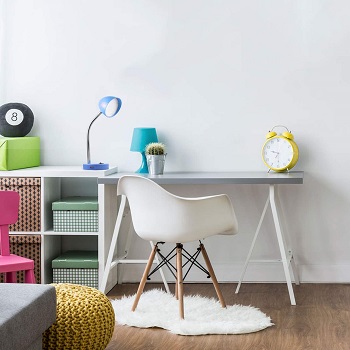 Best 10 Lighting For Home Office Ideas
1.Keep Office Light Indirect
Lighting is very important for your office. With good lighting, you will be more comfortable working, and you will be more focused on work. The job is badly affected by direct light, or lightly placed just above you. You need a light that will illuminate the whole room, not just a part. If you use a wall light, place it in the middle of the room, not directly above the desk. Also, if you use a lamp, place it in a convenient part of the room so that the light can be scattered to all parts. If it is a larger room, you need more lighting, and you must pay attention to the distance of the light from each other.
2.Eliminate Shadows
One of the essential things to keep in mind when installing lights in your office or home is glare and shadows. Shadows can affect your mood but also your concentration. You need to be careful in which part of the room you place the lighting and how the light is scattered around the room. If the lamp is placed behind you you will have problems with glare. The glare will bother you the most if you are working on your computer, and you will not see the screen due to the strong glare. Shadows can occur if, for example, you have some objects on the table, or you write with your right hand, and the light is also placed on the left. To prevent this, observe and place the lamps in a good place in the house. One of the things that will help you when setting up the light is the position of the window. Place bright, but also desks other items in the office in a convenient place following the position of the window. In this case, it is good to use a lamp that you can transfer to another part of the room, and thus notice where it suits you best.
3. Utilize Natural Light 
Natural light is one of the best options, so try to use it in the best way. Also, with natural light, you will increase productivity at work. Use the sunlight that comes through your windows or skylight. The layout in the office is best done when you notice how the light illuminates your room. Also, it is good to know which apartment in the world you need to set up an office desk to keep your glare to a minimum. Setting the workplace to north or south is the best option, as the least glare will enter your office. Natural light will be much more comfortable and natural for you, and you will not have to spend electricity during the day. Make sure you set up the office to make good use of natural light. Although lamps provide good lighting, natural light will have a more pleasant effect on you, your thoughts, and your eyes. it is generally more useful and better to use natural light, but you need to take care of how it enters your room, on which side of the world the desk should be placed, and how to make the most of natural lighting.
4.Decorative Office Lighting
As mentioned most home appliances will play and use natural light. It will illuminate every part of the office well, but many use other objects to further illuminate some part of the office and improve the overall ambiance. Decorative lights can bring more lighting into the office, beautify the space itself, but are mostly used to highlight some items in the room. For example, you can use a fireplace in the office that will in itself illuminate part of the office, but there are other items to enhance the light. For example, you can use a lighted picture frame, which will focus on the picture in your office, but you can also use wall decorative lamps that will affect the overall ambiance. There are many different variants on the market on which you can enhance the visual impression of your office. Make sure it's not intrusive because it's a business environment after all. Make sure you know what kind of light is needed in your office, and what items you want to further emphasize. If you want to accentuate your desk, set up an illuminated picture frame. This light will add a positive effect to the ambiance, but it will not bother you in your work because it is not strong enough.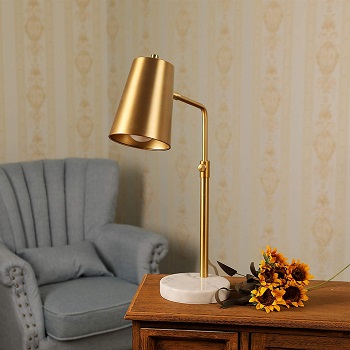 5.Play With Angels
Playing with corners in your office is of utmost importance. You need to pay special attention to them if you use a lot of direct, natural light. You need to know well how the light will be distributed in your office during the day. To know this, keep track of which side of the world your office is on, how the light moves, and how the position of the window affects it. As mentioned earlier, it would be best to place the workspace to the north or south, so there will be no shadows in your office throughout the day. Of course, what kind of lighting you are looking for will also depend on the type of work that your office is used for. If you are a fashion designer, you need a lot of natural light, but if you are a computer scientist, it is not of great importance to you. Also, the type of work will be affected by the way the office is set up. For example, a computer scientist must have a good view of the monitor, and this will not be possible if the light is very bright, or is set up incorrectly.
6.Right Ambient Light
Another lighting for home office idea is to try to use as much natural light as possible. But if you do not get enough in important parts of the office, you need to start using artificial lights. Overhead lighting is the most famous and most used lighting. But it is necessary to understand how this light affects the whole space. Recessed lights are usually already installed in the house and can serve you, but they are not intended for offices, and therefore you should upgrade the lighting in the office. You can achieve this by purchasing free-standing lamps, wall lamps, or smaller lamps that you can place in the places that suit you best. When installing the lamps, make sure that the light is scattered so that the cassia does not have any problems. Of course, pay attention to what kind of lamps you buy, and their design. You want a cozy atmosphere in the office, and you don't want the lighting to interfere with your work. You will know that the lighting is good if your entire room is illuminated without shadows and bright light.
 
7.Gloss And Glare
To achieve a full hit with office lighting, you need to combine three components. Ambient light, task lighting, and accent lighting are three types of lighting that will give the office the glamor and lighting it needs. People often make mistakes when, in the absence of one light, they impose another kind. That way the lighting changes but not for the better. Also, each lighting should be on a different level. That way you get better, adjusted light, and one type does not bother the other. Be sure to illuminate all parts of the room well and choose a good light, as well as the position itself.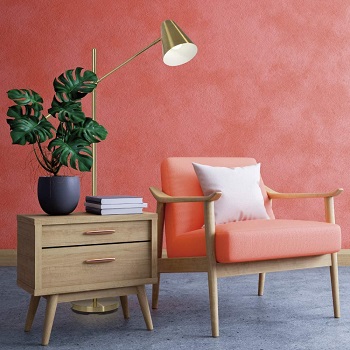 8.When Space Is Premium
 The size of the office in your home is often limited. That space is usually smaller and cramped. Not everyone has the opportunity to have a large room in which to place an office. Therefore, when you have a small space and a lot of items to place there, you need good organization and good lighting. To make the room more attractive and comfortable to work with, install wall lights. Watch which area they illuminate. Table lamps are also a good idea, but sometimes they will just take up extra space. You could put a table lamp near the dual monitor home office setup, so you will be more focused on work.
9.Add Some Shades
There are a lot of alternatives that can improve the lighting in your office. For example, if your office doesn't have a lot of natural light, play around with a variety of colors. But, if you do not want much light, set up curtains. They are increasingly used and can refresh and enhance the ambiance in the office. Also, place a plant next to a window to have more color and therefore more brightness in your office. Louvers, roman shades, and simple blinds could ensure that you get as much light as you need.
10.Smart Lighting
As mentioned, sometimes the normal lighting you have in other parts of the house is not applied to the office as well. Therefore, you need to choose additional lamps and lights. It is best to use wall lamps. There are a variety of decorative lamps that you can place on the wall above the table to keep it lit whenever you need to work. Also, a table lamp is a good option as it will illuminate your entire table, and you can direct and arrange it as you see fit.
Final Verdict
When choosing a light for your office, make sure you know which side of the world your office will be on, so you would not have problems with too much light or shadows. The best lighting for home office ideas are wall lights that will properly illuminate the entire room. It is best to use natural light, but if you do not want it in large quantities, install curtains. Decorative frames that glow are also often placed to further illuminate an area of the office and further draw attention to certain items. If you plan to buy a lamp for your office, check our selections of the best minimalist light models or you may be interested in the best computer monitor light bar models.