Are you looking for two-headed desk lamps that can cover a broad surface area while also giving you greater flexibility?
Then keep reading this post on double desk lamps!
There are a lot of models worth buying on the market and you can see a selection of the best lamps in this post. Find the right model by checking these reviews and don't forget to read our guide at the end.
Our Top Picks
Best 5 Double Desk Lamps
BEST OF BEST DOUBLE DESK LAMP
Adesso Double Gooseneck Lamp
Pricey Item
This desk lamp is also available as a floor lamp. It is important to mention that it features a high price, thus it isn't for everyone. Adesso desk lamp is an ETL/UL-listed lamp, it is tested, approved and meets safety standards for the USA.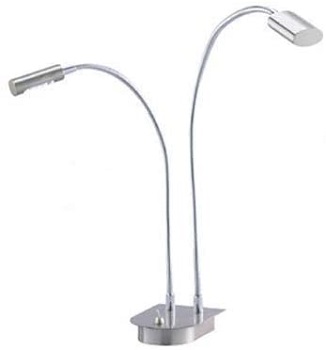 Satin Steel Finish
The double desk lamp dimensions are 5 x 3.5 x 20 inches. Adesso bright desk light is designed for multitasking workspace. It is finished in satin steel so suits any home or office decor. There are two adjustable arms, one arm is taller than the other.
20 LED Beads
The weighted base is sturdy, stable and keeps the lamp firm in one place. To achieve the desired angle, just extend and twist each gooseneck. Each lamp head is equipped with 20 LED beads, they provide clear and cool illumination, without flickering.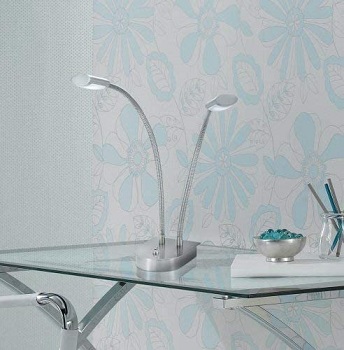 450 Lumens
It delivers 450 lumens of bright light. These LED beads have a long lifespan, they're rated for up to 50,000 hours. An on/off toggle switch is located on the lamp base. Adesso desk lamp is compatible with smart outlets. You can change the brightness level and color temperature depends on your current task.
Highlighted Points:
satin silver finish
expensive desk lamp
tow fully adjustable gooseneck arms
each lamp is equipped with 30 LED beads
adjustable color temperature and brightness
compatible with smart outlets
BEST GOOSENECK DOUBLE DESK LAMP
Wallniture Lamba LED Lamp
Two Arms
This modern black table lamp comes with two fully adjustable gooseneck arms. This is a small lamp with a strong clamp that supports up to a 1.5-inch tabletop. It comes ready to use, so you don't have to assemble it. Just clip it on any vertical or horizontal surface.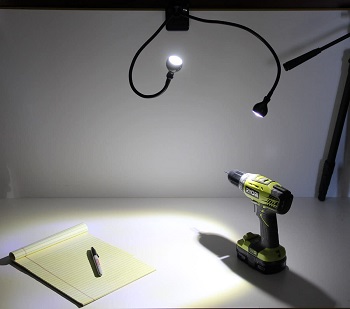 Lamp Size
It is made of steel and comes in black color only. The overall lamp height is 23 inches and the power cord is 161-inch long. This double gooseneck desk lamp will help you save space with its unique design. Lamba adjustable LED desk lamp is great for students, architects, readers.
Nightstand Lamp
Also, you can place it next to your computer to illuminate your keyboard, documents, etc. Use it as an alternative to a nightstand lamp for reading books. You can adjust these gooseneck arms wherever you want. Lamba is suitable for small and large tables and desks.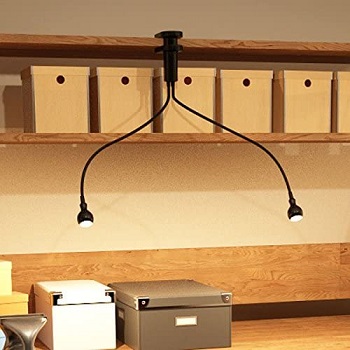 Long-lasting LED
It uses energy-efficient LED that has low power consumption, produces low heat and lasts much longer than traditional light bulbs. Lamba is great for workshops, it could be used as a hanging lamp. Also, it is perfect for students who need a small footprint lamp.
Highlighted Points:
small footprint lamp
comes with a sturdy clamp design
energy-efficient LED
low power consumption
two gooseneck arms
long power cord included
BEST BEDSIDE DOUBLE DESK LAMP
Litfad Eye-caring Lamp
Attractive Design
Litfad is a beautiful desk lamp suitable for the living room, dining room and nightstand in your bedroom. The overall lamp height is 21.5 inches, the lamp base diameter is 8 inches and the higher light ball measures 6 x 6 inches while the lower ball has 8 x 8 inches.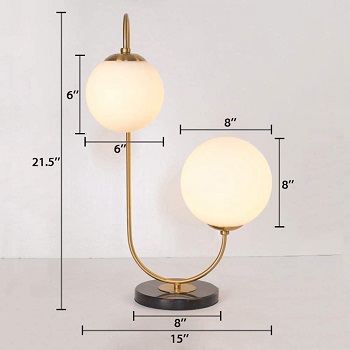 2-year Warranty
A two-year warranty is provided by the manufacturer. This double desk lamp is built of metal and glass, making it strong and long-lasting. Also, it is corrosion-resistant. Litfad requires standard E27 base bulbs. The bulbs aren't included in the package.
Works With LED
Litfad is an aesthetic desk lamp that is compatible with LED, incandescent and fluorescent light bulbs. The maximum wattage per bulb is 31-40W. This lamp emits soft and flicker-free light, it creates a cozy and warm atmosphere in any room.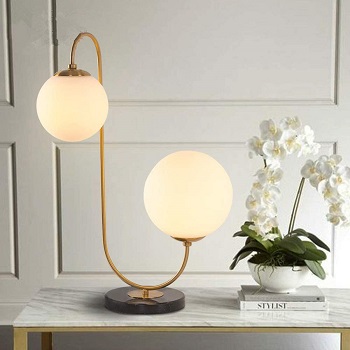 Decorative Purpose
This attractive design has not only a lighting effect but it's also a decorative item. It will uplift any bedroom, living room or office. It is important to note that this lamp isn't designed as task lighting, don't use it for reading, working or studying.
Highlighted Points:
attractive table lamp
made from metal and glass
covered with a 2-year warranty
compatible with LED, incandescent and fluorescent bulbs
ideal nightstand lamp for bedroom
BEST TASK DOUBLE DESK LAMP
Dbao Ultra-thin Desk Lamp
Black Lamp
Dbao is a black desk lamp suitable for any home or office interior. The lamp base diameter is 6.3 inches, it is 14.7 inches high and when both light bars are extended, they are 20 inches long. This lamp is multifunctional and practical for different tasks.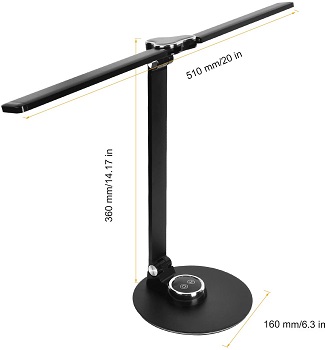 USB Power Cord
This double deks lamp doesn't come with a power adapter, instead, it uses a USB power cord. It could be powered by a power bank, computer, laptop, etc. Moreover, there is a built-in 5V/1A USB charging port for your smartphone, Androids and iPhones.
Multi-angle Adjustment
The lamp head can be extended 130-degree from top to bottom and the left and right, also the lamp post can be rotated 90-degree from top to bottom. Dbao modern task lamp allows you to direct the light where needed. Also, you can fold it, store and carry it with you.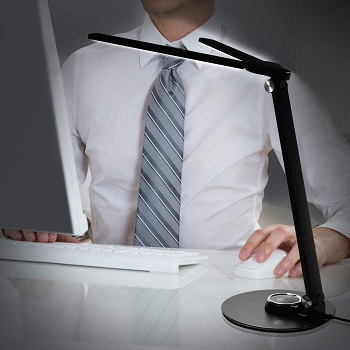 56 LED Beads
The LED panel emits flicker-free and glare-free light which is safe for your eyes. There are 56 energy-saving LED beads that come with color temperature adjustment. Choose between warm light, white light and natural light, The memory function remembers the last used settings.
Highlighted Points:
black desk lamp
comes with a USB power cable
built-in USB charging port
multi-angle adjustment
flicker-free and glare-free light
three color modes
BEST CLAMP DOUBLE DESK LAMP
Tikbon Clip-on Desk Lamp
Clamp Lamp
Tikbon is a space-saving desk lamp that comes with a clamp design. The lamp base measures 4.9 x 2.5 inches. It is 12.2 inches tall and the light bar is 8.6 inches long. It is made from ABS and silica gel and it's powered by a battery. The price is affordable.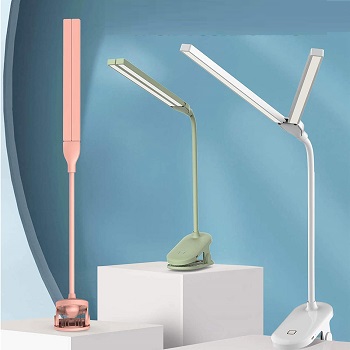 Battery-operated Lamp
There is a built-in 1500 mAh battery, its charging time lasts about three hours. The run time depends on brightness level, so Tikbon double desk lamp can run from 4 to 100 hours. A lamp, USB cable and user manual are included in the package.
Light Indicator
When you charge this battery operated desk lamp, the red indicator light on. When the lamp is charged, the blue light is on. You can charge it with a power bank, PC, laptop or USB power adapter. Clip this lamp on a table, desk, workbench or shelf.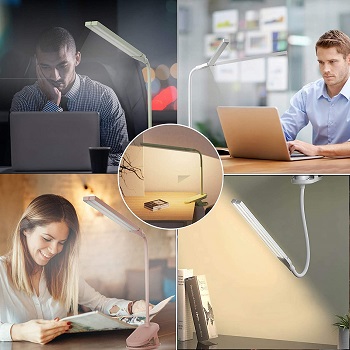 Wide Lighting Range
It fits on vertical and horizontal surfaces. Also, you can adjust these two lighting bars in different directions. Tikbon ensures a wide lighting range. Choose between three color temperatures – warm light, white light and natural light and a variety of brightness levels.
Highlighted Points:
space saving desk lamp with clamp
built-in 1500mAh battery
two light indicators
adjustable light bars
three color temperatures
runtime from 4 to 100 hours
Things To Know About Double Desk Lamps
There are many different double desk lamps in the market, but there are some factors you need to consider before purchase. Learn more about these lamps and the most crucial features they should have in the area below.
Double Head Design – The lamps with a double-head design allows you to extend the light bars to the left and right and from top to the bottom. These kinds of lamps provide larger lighting coverage, they are ideal for reading, studying, working, hobbies.
Two Gooseneck Arms – The lamps with two gooseneck arms provide even more flexibility. Use them as architect lamps, workshop lamps, piano lamps, hanging lamps, adjustable reading lamps, etc. These lamps are very practical and you can use them anywhere.
Clamp Design – If you don't have a permanent spot for reading, working, crafting, studying, sewing, the lamp with clamp could be a good solution for your needs. Usually, you can clip them anywhere – on vertical and horizontal surfaces.
LED Light – All modern lamps are compatible with LED. Some models use LED bulbs, while some use LED beads. These lamps usually don't require replacement due to their long lifespan. They could be rated for up to 50,000 hours. Also, they are more energy-efficient than traditional light bulbs.
Lamp Size – This is a feature that many people overlook, yet it is really crucial. There is one simple rule you can follow – if you have a large desk, buy a taller lamp. The larger double desk lamp will be able to illuminate the entire workbench with ease.