Do you want to buy an elegant white desk with file drawers?
What do you think about a white desk with filing cabinets?
If you like this idea, you are in the right place. Here we'll introduce the six desks with file cabinets and drawers. There are models for home, office, with smaller and larger dimensions. Before you decide which one is the most suitable for you, check some tips & tricks in our buying guide.
Our Top Picks
Best 6 White Desks With File Drawers
Best Of Best White Desk With File Drawers
Monarch Metal Desk With Drawers
Five Colors
The brand Monarch Specialties produces this white desk with file drawers. You can choose between five colors, black, cappuccino, walnut, dark taupe and white color. This model will fit into any home or office decor. It features a sleek, modern contemporary design.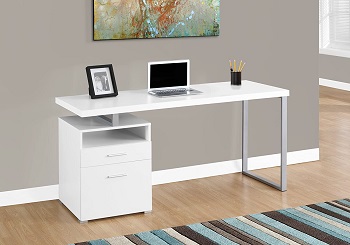 Plenty Of Space
The dimensions of this item are 60 inches in width, 23.75 inches in depth and 30 inches in height. It is made of top-grade wood and metal materials. The top surface provides ample space for a computer, laptop, scanner, printer, writing materials and other accessories.
Silver Metal Frame
The Monarch white desk is supported by a silver metal frame with plenty of legroom. It is stable and sturdy. This desk features a standard drawer of 2.5 inches in height, 15.5 inches in depth and 19 inches in width. Plus there is a large file cabinet and open cubby space.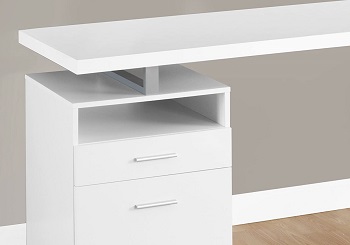 Reversible Drawer & File Cabinet
Both drawer and file cabinet can accommodate office supplies and standard legal sized documents. You can set up the drawer and file cabinet on both sides of the desk, left or right. You can open and close the drawer and file cabinet smoothly, there are metal glides.
Highlighted Points:
sleek, contemporary modern design
durable construction made of wood and metal
ample workspace for computer, laptop, etc.
one standard-sized drawer for office supplies
open cubby space for frequently used items
file cabinet for legal-size documents
Best Small White Desk With Filing Cabinet
Winsome Wood Desk
Wood Material
The Winsome is a wood desk with a file cabinet, it is made of composite engineered wood and features a white finish. It is great for home use in your living room, bedroom, children's room, etc. This model features 47.24 inches in width, 20.24 inches in depth and 30.71 inches in height.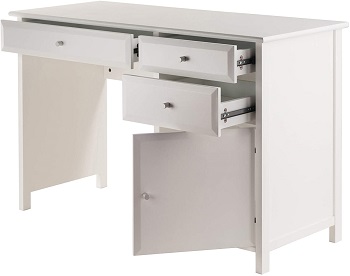 Assembly Needed
The assembly is required, but the instruction is included in the package. There are three drawers and one file cabinet. Load the standard size drawers with small office supplies like pens, staples, pads and others. The small drawers have 13.9"W x 15.1"D x 2.75"H.
Six Legs
The larger drawer has 24" W x 15.1" D x 2.75" H. Use the file cabinet for letter and legal size file folders, paperwork, registers and other larger items. There are silver metal drawer knobs for easy open/close. There are six legs and they are very stable.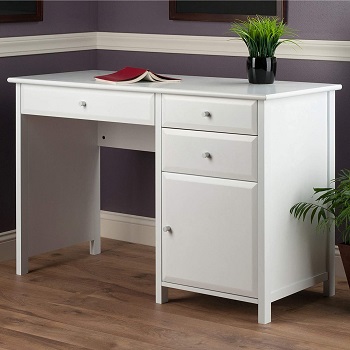 Children's Room
The Winsome is a small white desk with file drawers, so it is the best for the children's room. The surface is scratch-resistant, so it isn't easy to damage it. This model is available in two basic colors, black and white. These colors are suitable for any home decor.
Highlighted Points:
a small desk with drawers and file cabinet
ideal for children's room
the assembly is required
three drawers for small office supplies
large file cabinet for file folders and documents
it features silver metal drawer knobs
Best Office White Desk With File Drawers
Tribesigns Computer Desk
Affordable Desk
The Tribesigns made this beautiful white office desk with a filing cabinet. It features an affordable price and quality assurance of 18 months. There are two colors, choose depends on your office decor – black and white. You need to assemble it, but hardware, tool and instruction are included in the package.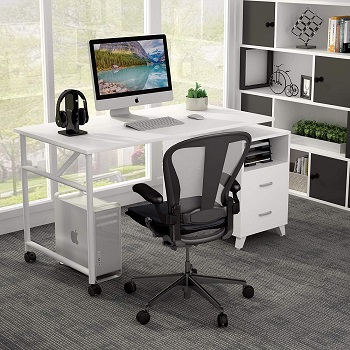 Weight Capacity
This desk with drawers features sturdy and stable construction, it is made of high-density particleboard and a sturdy metal frame. The entire desk and drawers can handle a lot of items and files. The desktop's maximal weight capacity is up to 150 pounds.
Rotate The Desk
The Tribesigns white office desk with filing cabinet features a reversible design. You can swing the desktop over the cabinet to the left or right side. You need a few minutes to reverse the desk. Moreover, you don't have to take the desktop apart and reassemble it. It is very simple.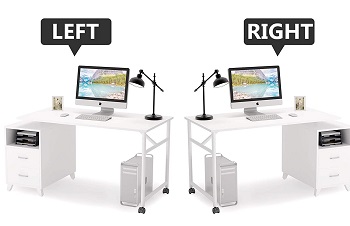 Two Drawers
On one side of the desk, there are casters for mobility. The dimensions of this desk are 47.24 inches in width, 29.5 inches in height and 19.68 inches in depth. There are two drawers and one open shelf underneath the top surface. There is ample space for your computer and office supplies.
Highlighted Points:
modern computer workstation with storage space
there are two drawers and one open shelf
the desktop bears a weight capacity of 150 pounds
rotating desktop with two casters
easy to assemble it, instructions are included
Best Computer White Desk With File Drawers
Rockpoint Kora Desk With Drawer
Dorm Room Desk
The Rockpoint Kora is a compact computer desk, it fits perfectly in the bedroom, home office, small apartment, dorm room and other places. The overall dimensions are 42.1 inches in width, 20.1 inches in depth and 36.9 inches in height.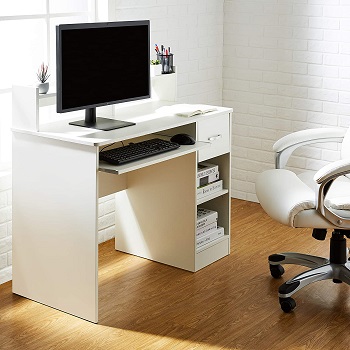 Multiple Colors
You can find this white computer desk with a file drawer in four colors, besides the white color. There are royal cherry, natural maple, chocolate and black color. This white computer desk with a file drawer is made in North America. It is made of engineered wood and non-toxic laminated particleboard.
Keyboard Tray
Underneath the tp surface there is a keyboard tray with metal slides for smooth gliding. It ensures easy access to the keyboard, also, you can hide it away when you stop using a computer. On the side, there is a drawer intended for small office supplies.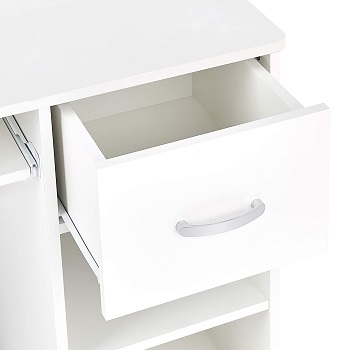 Back Panel Hole
You can open and close the drawers smoothly because of metal slides. Below the drawer, there is an open space with an adjustable dividing shelf. It supports up to 15 pounds. If you want, you can remove it completely. The cut-out hole in the back panel is intended for wires and cables.
Highlighted Points:
made of non-toxic laminated particleboard
a single drawer for small office supplies
open storage space with an adjustable shelf
cut-out hole for wire management
keyboard tray under the desktop surface
metal slides provide a smooth gliding
Best Home Office White Desk With Filing Cabinet
Kealive Desk With 4 Drawers
White, Brown And Black
The Kealive computer desk features 36.5 inches in height, 47.5 inches in width and 22 inches in depth. It weighs 84 pounds. The construction is made of engineered wood. Choose between white, brown and black colors. It features a smooth laminated finish.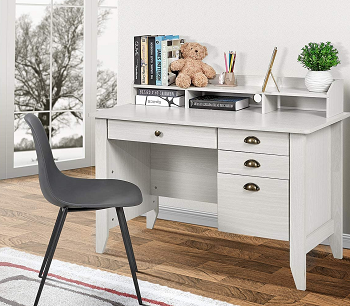 Desk With Hutch
The large desktop surface ensures plenty of space for a laptop, monitor, books and other office supplies. You need to assemble this item, but all hardware for assembly and instruction are included in the box. Above the desk is a raised shelf or hutch for small items.
Golden Handles
There are one wide drawer, two standard drawers and a file cabinet. The desk features a grommet hole for wire organization. The drawers and the file cabinet feature smooth metal glides for open/close. The handles are sturdy and made of golden hardware.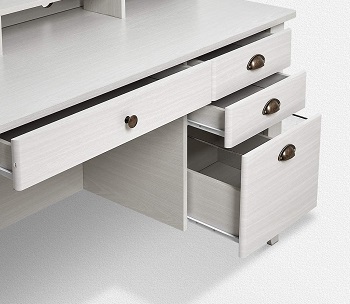 Suitable For Anyone
This white lacquer file cabinet is ideal for letter and legal sized files. These side drawers feature 14.5 inches in length and 4.3 inches in height. The knee space is 24.25 inches high, so this white desk with file drawers isn't intended for children only.
Highlighted Points:
traditional, clean-lined writing desk
made of durable engineered wood
built-in cable management
three drawers and one file cabinet
the hutch provides added space
Best Corner White Desk With File Drawers
Bush Furniture Desk
L-shaped Desk
The Bush Furniture Cabot is an L-shaped computer desk that perfectly fits in the office or home corner. This model is available in white, espresso oak, harvest cherry and heather grey color. Whichever color you choose, your white corner desk with file cabinets will look elegant.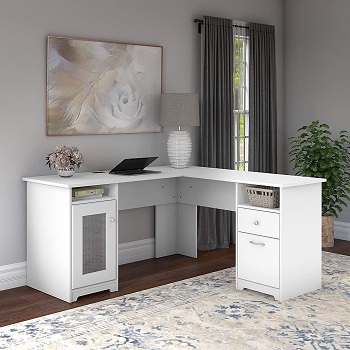 Safety Standards
This white desk with a filing cabinet meets many safety standards like ANSI and Soho. It's a reliable and tested product. The width of one desk is 59.45 inches in width and the second desk has the same width. The height is 30 inches and the depth is 23 inches.
Wire Management
The desktop's maximum weight capacity is 200 pounds. On the desktop, there is a 4-port USB hub for device connection and wire management. On the left side, there is a large file cabinet with a stylish fluted glass door. Here you can put your large items.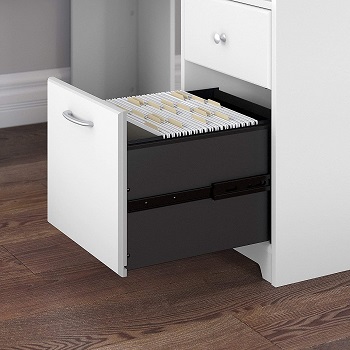 Chrome Finished Hardware
On the right side, there is an open shelf, a small drawer and another file cabinet. This file cabinet is the best for letter and legal sized documents. The file drawers have smooth full-extension ball-bearing slides. You can easily reach the file folders. There is chrome finished hardware.
Highlighted Points:
available in four elegant colors
made of sturdy engineered wood
l-shaped corner desk with drawers and cabinet
two file cabinets for documents
one open shelf for small items
a single drawer for office supplies
Things To Know About White Desk With File Drawers
Here you can find out more about these white desks with file drawers. Read more about their dimensions, purpose, drawers and other specifications. That will help you with the decision.
Multifunctional Item – This item has multiple functions. You can use it as storage space for your documents, books, office supplies and other items. On the top surface, you can place some devices, like a scanner, printer, etc. Also, you can place your computer or laptop there.
Drawers – Choose the number of drawers depends on the items you need to store. It is always good to have one standard drawer for small items, like office supplies and a larger drawer for notebooks, paperwork, etc. Don't forget to check the drawer extension type, we suggest the full extension drawers.
File Cabinet – While the drawers are intended for small items, the file cabinets are ideal for file folders organization. Check out the file cabinet dimensions, some of the models accept letter-size files only, but some of them accommodate letter and legal-size files.
Top Surface – If you want to use the desk with drawers and cabinets as a working area, measure the desktop space. If you use a computer, you need to have ample space for a computer's housing. Moreover, you can use the desktop for a printer, scanner, lamp and other items.
Keyboard Tray – This is a feature that people often forget, but it's very important – a keyboard tray. As its name said, it is designed for a computer's keyboard. When you want to use it, pull it out. When you complete your work, pull in the tray and it will be under the desk.