Are you looking for the best computer desk with a file cabinet to suit your job?
Whether you're setting up a home office or office, you should learn about the essentials factors and features. There is a list of top-rated desks that hold up for hours of intense action. Choosing the best computer desk became a little easier with our guide.
Our Top Picks
Best 6 Computer Desks With File Cabinet
BEST OF BEST COMPUTER DESK WITH FILE CABINET
Pemberly Row Grey Computer Desk
Industrial Vibe
Pemberly Row is a compact modern desk with a built-in filing cabinet suitable for home office use. Match desk finish with your office decor, there are two finishes available – grey and chocolate. This computer desk with a filing drawer measures 30 inches in height, 48 inches in width and 24 inches in depth.
100% MDF
Silver hardware and a grey finish give a modern industrial vibe to the desk design. Construction is made of 100% medium-density fiberboard. It is durable and able to withstand many years of use. Clean it with a damp towel or mild soap.
Hanging Files
There is a file cabinet on the right side, it contains two small drawers and a file drawer. Load these small drawers with some office supplies, like post-it notes, pens, scissors, tapes, etc. The bottom file drawer holds hanging file folders, letter-size only.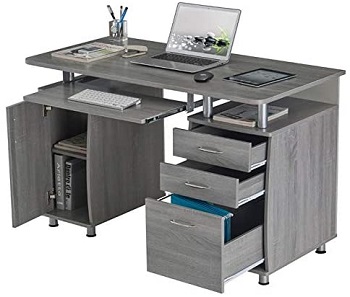 CPU Storage Cabinet
The spacious desk is suitable for a computer monitor, extra laptop and your desk supplies. Below the top surface is a keyboard tray, it is equipped with a safety stop, so you can't pull it out completely. CPU storage comes with a removable shelf, the opening back provides heat release and cord management.
Highlighted Points:
modern industrial-inspired desk for home office
made of 100% medium-density fiberboard
easy to clean and maintain
silver hardware and accents
file cabinet with three drawers
CPU storage cabinet with cord management
BEST CORNER COMPUTER DESK WITH FILE CABINET
Monarch Specialties Computer Desk
Dark Taupe Finish
This simple but practical corner computer desk is a perfect addition to your home office. The reviewed model comes in a dark taupe finish, but there are more versions. That includes black/grey, cappuccino and grey finishes. Monarch Specialties features an acceptable price.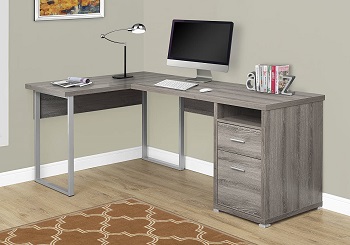 Configurable Design
The front desk measures 55.2 inches in width, 30 inches in height and 23.7 inches in depth. The width of the side desk is 47.2 inches. Configurable on the left or right side, this corner desk with file cabinet features foot pads that prevent your floor from damages.
Open Shelf & Drawers
This space-saving corner desk features an open shelf for easy access to your daily used items. Below the shelf, there are two drawers. Box drawer holds your office accessories and the file drawer accommodates both letter- and legal-size hanging file folders. The desktop is wide enough for a laptop and monitor.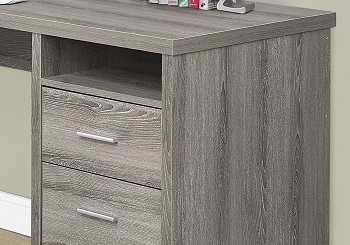 Maximum Weight Capacity
Monarch Specialties computer desk with file cabinet is constructed of quality wooden materials. Its frame is made of durable and heavy-duty steel. That construction supports a max weight capacity of up to 190 pounds. Assembly is required and the desk is covered with a 1-year warranty.
Highlighted Points:
durable wooden construction
steel frame supports up to 200 pounds
assembly is required
reversible design
open shelf, box drawer and file drawer
wide tabletop is suitable for computer
BEST SMALL COMPUTER DESK WITH FILING DRAWER
Invie Black Computer Desk
Installation Guide
This computer desk with a filing drawer is the ideal solution for people who struggle with small office space. Invie measures 29 inches in height, 46 inches in width and 22.4 inches in depth. It weighs 77 pounds. A clear installation guide will help you to install the desk quickly.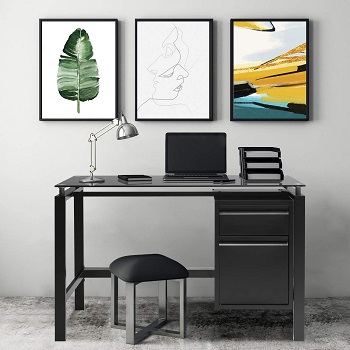 Tempered Glass Top
Its clean, minimalist design with an open-air style gives a modern, contemporary look. There is a wide desktop with thickened tempered glass panel. This glass top is resistant to heat and temperature, it is easy to clean and maintain with household glass cleaner.
Sturdy Steel Construction
This small desk with a file cabinet is made of high-quality steel exquisite welding and polishing. That provides stability and durability. Three-layer electrostatic powder coating ensures anti-rust, waterproof and anti-fall paint surface.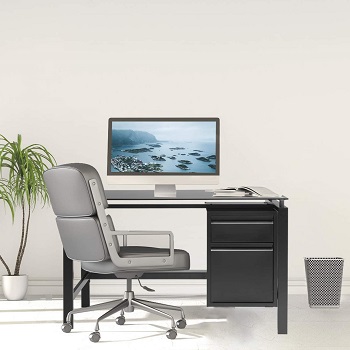 Built-in File Cabinet
The built-in file cabinet contains two drawers, small and large one. The small top drawer holds notebooks and small office supplies. Below it, there is a file drawer suitable for letter-size hanging file folders. Store your documents in these drawers and keep your desktop clean and tidy.
Highlighted Points:
high-quality steel with exquisite welding
three-layer electrostatic powder coating
anti-rust and waterproof surface
minimalist, modern black design
tempered thick glass top
two drawers for your office needs
BEST WHITE COMPUTER DESK WITH FILE CABINET
Bush Furniture Cabot Computer Desk
Cabot Collection
Bush Furniture company produces high-quality file cabinets, desks and other pieces of furniture. They use wooden materials. This computer desk with a file cabinet belongs to the Cabot collection – it offers a timeless design with functional features.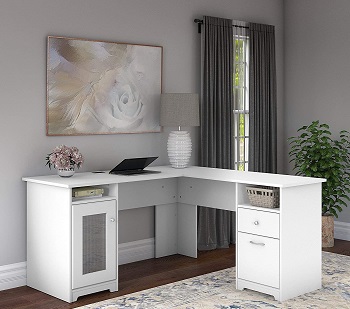 Long-term Durability
Except for the modern white color, there are numerous finishes you can choose from. That includes harvest cherry, espresso oak, white, natural maple, storm grey and ash grey. Bush is made of quality sustainable engineered wood, it ensures long-term durability.
L-shaped Design
Its surface is resistant to warping or cracking. Also, the desktop bears up to 200 pounds. The main desk measures 59.45 inches in width, 30 inches in height and 23 inches in depth. The side desk has 36.38 inches in width and 19.5 inches in depth.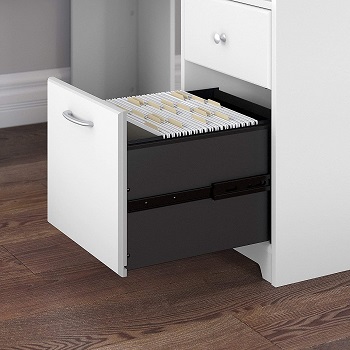 Storage Space
This white desk with file drawers includes built-in wire management and a 4-port USB hub, so you can connect electronic devices. There are two file cabinets on each side. On the left side is a concealed storage cabinet with a fluted glass door. On the right side, there are an open shelf, box drawer and file drawer.
Highlighted Points:
multiple finishes available
L-shaped design with two file cabinets
built-in wire management for cords and cables
desktop weight capacity – up to 200 pounds
file cabinet with fluted glass door
made of durable sustainable wood
BEST HOME OFFICE COMPUTER DESK WITH FILE CABINET
Devaise Modern Computer Desk
Product Size
The Devaise is a compact and modern computer desk with a file cabinet. It measures 29.5 inches in height, 55 inches in width and 23.2 inches in depth. When it arrives at your address, you need to assemble it. All tools, parts and instructions are included in the package.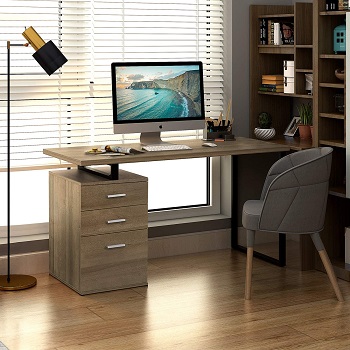 MDF Construction
If there are missing or damaged parts, call customer service, they will help you. Devaise is constructed of medium-density fiberboard. It is sturdy and durable. The desk surface is easy to clean and maintain, also it is waterproof, so water or coffee won't damage it.
Powder-coated Steel
On the desk bottom are adjustable feet, place it on an uneven floor or rug, it will stay level. Moreover, these footpads prevent scratches. The desk frame is made of heavy-duty powder-coated steel which provides stability. Place your monitor, laptop, notebooks and desk supplies on its wide surface.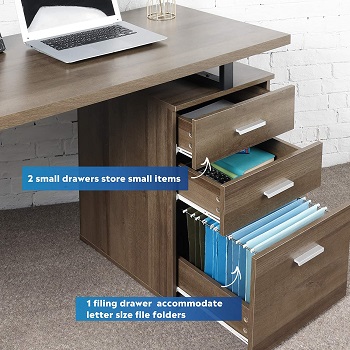 Reversible Design
This home office desk with a filing cabinet features a reversible design, so you can install a file cabinet on the left or right side. The file cabinet contains three drawers. Two top drawers are smaller and provide ample space for desk supplies. The bottom drawer holds standard-sized file folders.
Highlighted Points:
modern computer desk for home offices
medium-density fiberboard construction
the surface is resistant to water and scratches
reversible design – change the file cabinet position
adjustable feet for uneven floor or rug
three drawers for office supplies and files
BEST LARGE COMPUTER DESK WITH FILING DRAWER
Tribesigns 87 inches Extra Long Computer Desk
Two-person Desk
The Tribesigns is an extra long computer desk that is 104.7 inches long in total. This is a functional double workstation with a  storage cabinet in the middle. A single desk is 47.24 inches long, 23.6 inches deep and 29.5 inches tall.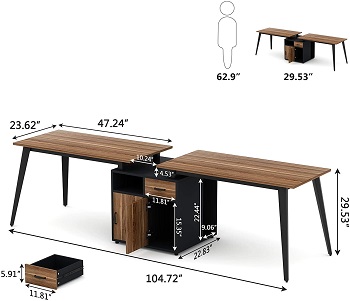 Spacious Legroom
This modern desk with a filing cabinet maximizes your workspace and provides ample storage room for your documents and desk supplies. It is designed for two persons working side by side. There is spacious legroom at each side that provides comfortable space for you to stretch freely.
Adjustable Leg Pads
This computer desk with file drawer is made of 0.6" thick high-grade particleboard. There are sturdy metal frames and legs with adjustable leg pads. These leg pads make sure the computer desk stays stable on an uneven floor or rug. That sturdy construction support high weight capacity.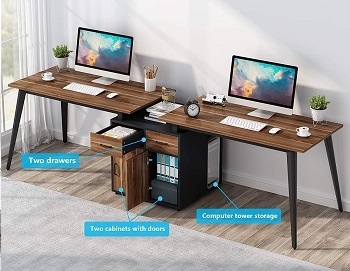 Easy To Assemble
In the middle, there are two storage cabinets with two drawers and storage space with a door. Your office supplies will be in your arms reach. Tribesigns computer desk is packaged in two boxes. You need to assemble it, so every piece is labeled, there are tools, hardware and instruction.
Highlighted Points:
made of durable particleboard
sturdy metal frames and legs
adjustable leg pads for uneven floor
large file cabinets with two drawers
designed for two persons
Things To Know About Computer Desk With File Cabinet
Here you'll find some key considerations for choosing your best computer desk with a file cabinet. You need to find a desk that fits comfortably in your space. Therefore, we have prepared the following tips.
Corner Desk – If you struggle with small office space, your choice should be a corner computer desk. it provides adequate desk space and also offers storage options that maximize your space. If you need a computer desk for double monitors, look for a corner desk with ample space on both sides.
Computer Desk Material – There are several materials that a computer desk can come in. Some of the possibilities are solid wood, plywood, MDF, particleboard, steel, etc. Very popular are wooden desks but they are very expensive. Another option is a metal desk, not very popular.
Weight Capacity – It isn't about your monitor or laptop you should worry about. It's the weight of other items that you want to put on your computer desk with file cabinet. That includes a printer, scanner, extra laptop or monitor, desktop tower, etc. Don't exceed recommended weight capacity.
Storage Space – Those models on the list above come with file drawers or file cabinets. If you require plenty of storage space, consider a desk with file drawers on each side. Open shelves are useful for daily used paperwork, drawers are suitable for office supplies and file storage.
CPU Storage – If you using a PC, you need to have additional space to hold the CPU. Some models offer a compartment to hold the CPU underneath the worksurface. It is important to check if there are built-in wiring holes for electronic connections.