Are you looking for an alkaline water dispenser for your kitchen?
If this is the case, continue reading this article.
We have made a list of the best alkaline dispensers for you to choose from. Pick one based on your needs and wishes – a glass water dispenser, a plastic one, or maybe a countertop one.
Our Top Picks
Top 5 Alkaline Water Dispensers
BEST OF BEST ALKALINE WATER DISPENSER
Cosan Alkaline Water Machine
Requires No Electricity
With the help of this alkaline water dispenser, you will transform regular tap water into alkaline antioxidant water. Such water can detoxify your body and boost your immune system. It is easy to install and requires no electricity.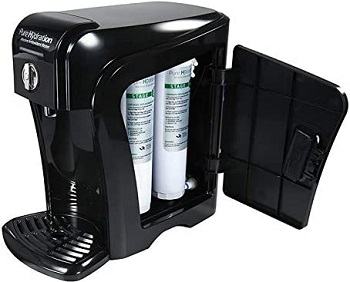 Removes 99.9 % Of Water Contaminants
The Cosan Alkaline Water Machine is easy to use and comes at an affordable price. It doesn't create wastewater and removes 99.9 % of over 220 water contaminants. You can use alkaline water for drinking and cooking. This water is rich in antioxidants and has an ideal pH for the body.
Space-Saving Design
This black water dispenser measures 11 x 5.5 x 12.5 inches and weighs 13 pounds.  It will take up little space on your kitchen counter. You can also put it under the counter. A diverter valve is included in the box, and faucets can be bought separately.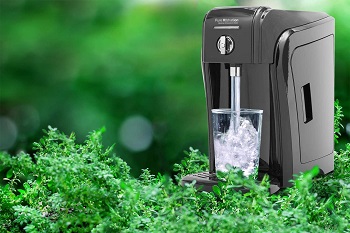 Dispenses 9.5 pH Water
If you want to reduce acid reflux, joint inflammation, and improve your mental clarity as well as have healthier skin, hair and nails, you should consider buying this alkaline dispenser. It dispenses 9.5 pH water and 9.5 is the most beneficial pH for our bodies.
Highlighted Points:
easy to install & requires no electricity
removes 99.9 % of water contaminants
doesn't create wastewater
comes with a diverter valve
dispenses 9.5 pH water
BEST COUNTERTOP ALKALINE WATER DISPENSER
Countertop 3F Water Dispenser
PH001 Multi-Stage Alkaline Water Filters
This alkaline water dispenser boasts a powerful filtration system. It features three PH001 multi-stage alkaline water filters and increases pH up to pH10. They remove fluoride, chlorine and heavy metals from tap water, providing you with healthy and delicious water.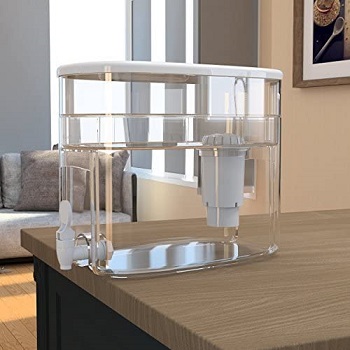 Saves Money On Water Purchases
The filters are rated for 1550 cups or 96 gallons of water which means they'll last for a long time. With this alkaline dispenser, you will save hundreds of dollars per year on water purchases, and eliminate the use of plastic bottles that are harmful to the environment.
Completely BPA-Free
This countertop slim water dispenser boasts a space-saving design that won't waste valuable space on your kitchen counter. It is made of transparent plastic and is completely BPA-free. Apart from eliminating substances that are bad for your health, it also adds minerals such as selenium and calcium to your water.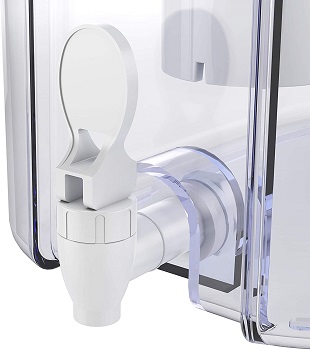 Ergonomically Designed Spigot
The Countertop 3F Water Dispenser filters out particles like sand and dust, and reduces -ORP (negative potential of the water), creating antioxidant water good for your health. It features an ergonomically designed spigot and an anti-slip base.
Highlighted Points:
boasts a powerful filtration system
filters are rated for 1550 cups of water
made of transparent BPA-free plastic
features a space-saving design
ergonomically designed spigot
BEST FOR HOME ALKALINE WATER DISPENSER
Apex Water Dispenser
Removes Contaminants From Tap Water
This alkaline water dispenser removes contaminants commonly found in tap water, such as radon, sediment and chlorine. It filters mercury and harmful pesticides to provide you with clean and delicious drinking water.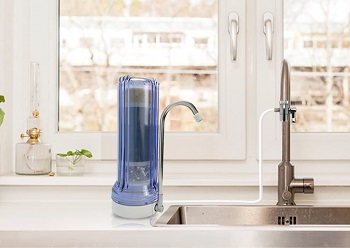 Easy & Simple Installation
This filtered water dispenser for home is designed to sit on a kitchen counter. It easily connects to most standard kitchen faucets and it is simple to install. Measuring 10 x 4.5 x 4.5 inches, it will take up little space on your kitchen counter.
Comes With A Full Installation Kit
By using the Apex water dispenser, you can stop wasting money on water bottles and reduce plastic waste. It is lead-free, BPA-free and FDA approved. Two faucet adapters, a wrench and a quick setup guide are included with the dispenser.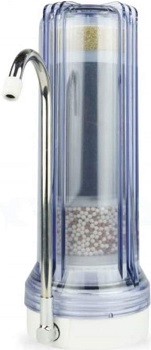 Made In The US
Apex is a US Company that was founded in 1997 in California. It strictly adheres to the NSF safety standards and requirements. The Apex alkaline water is clean, healthy and safe for your family. The super-advanced water purification system removes contaminants that you can't smell or see in your tap water.
Highlighted Points:
designed to sit on a kitchen counter
lead-free, BPA-free and FDA approved
connects to most standard kitchen faucets
comes with a full installation kit
made in the US
BEST GLASS ALKALINE WATER DISPENSER
Glass Alkaline Water Filter
Stainless-Steel Spigot
This alkaline water dispenser boasts a beautiful design. Its glass body stands on a wooden bamboo base. It comes with a bamboo lid and a stainless-steel spigot. If you want to stop wasting money on water purchases, you should definitely consider buying this stylish water dispenser.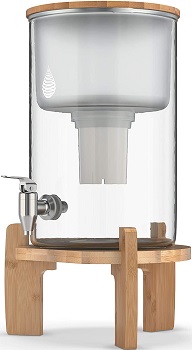 Includes A PH011 Filter
This Glass Alkaline Water Filter is manufactured by the Invigorated Water Company. It includes a multi-stage PH011 filter that increases pH up to pH10. This filter is rated for 96 gallons (360 liters) of water and removes chlorine, heavy metals and fluoride from tap water.
7.57-Liter Water Capacity
The water capacity of this glass water dispenser with stand is 7.57 liters.  It is completely BPA-free and certified by SGS, TUV, RoHS and BSI. Measuring 10.9 L x 11.1 W x 17 H inches, it won't take up too much space on your kitchen counter or office desk.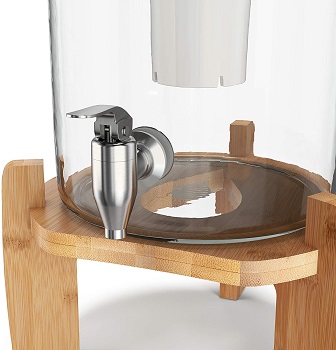 Remineralizes Water 
This elegant and stylish alkaline water machine filters out particles and impurities, like sand and dust. It also remineralizes water adding calcium, magnesium, selenium, lithium, iodine, iron, zinc, and other minerals, improving the taste and smell of water.
Highlighted Points:
boasts a stylish and elegant design
features a bamboo base and lid
quality stainless-steel spigot
multi-stage PH011 filter
7.57-liter water capacity
BEST PLASTIC ALKALINE WATER DISPENSER
Opti Water Dispenser
2-Gallon Water Capacity
This alkaline water dispenser has a 2-gallon water capacity. It filters about 1 gallon of water per hour. Its filter is rated for up to 120 gallons of water. Compared to similar alkaline dispensers, it filters slower but removes more contaminants.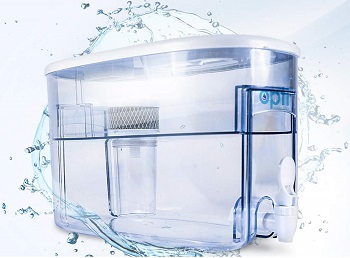 Removes More Than 200 Contaminants
This plastic water dispenser protects beneficial natural minerals found in water such as potassium, magnesium, sodium, calcium, etc., and removes more than 200 contaminants. It dispenses clean, fresh, and delicious water that is good for your health.
Electricity & Plumbing Not Required
The Opti Water Dispenser saves money on water purchases and eliminates the use of wasteful plastic bottles. It works by simply filling the tank with water and letting gravity filter it through the ion filter. Neither electricity nor plumbing is required.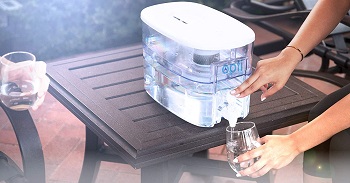 Naturally Alkalizes Water To 9 pH
This plastic water dispenser naturally alkalizes water to 9 pH. It is designed to fit in your fridge or on your countertop if you prefer room temperature water. A built-in date keeper will keep track of when you installed your filter and when to replace it.
Highlighted Points:
2-gallon water capacity
filter rated for 120 gallons of water
saves money on water purchases
naturally alkalizes water to 9 pH
features a built-in date keeper
THINGS TO KNOW ABOUT ALKALINE WATER DISPENSERS
Alkaline Water – Alkaline water neutralizes body acidity by balancing the pH levels in the blood. Such water is free of contaminants and full of minerals like calcium, magnesium and potassium. It reduces body fatigue, supports the immune system and provides the body with a daily cleanse. It ensures better hydration than bottled water.
Electricity Is Not Required – All dispensers on this list non-electric water dispensers. They also don't require plumbing. You can put them on the kitchen counter, office desk or under the sink. Some of them can be placed in a fridge to get chilled alkaline water.
Water Capacity – Alkaline dispensers on this list are small and compact. They hold one or two gallons of water. This is more than enough because it is not advisable to drink large amounts of alkaline water every day. It can lead to negative side effects like vomiting and nausea.
Filter Capacity – Alkaline water dispensers usually boast a huge filter capacity that is rated for 1500 cups or 96 gallons of water. Thanks to high-quality filters that will eliminate harmful substances from tap water making it safe for your health, you won't have to spend any more money on water purchases. One water filter saves up to 720 plastic bottles.