Remote work is getting bigger year after year.
And it is all thanks to the advancements in technology and innovation.
Flexibility is something remote work promises, and it is very sought-after as employees want better work-life quality.
So, which remote hiring trends are currently popular? Why should companies hire remote workers?
Get ready because we are about to list the most exciting remote hiring statistics!
10 Remote Hiring Statistics For 2022
1. 16% of companies and brands in the world hire exclusively remote workers.
Sixteen in 100 companies in the world are fully remote, hiring only remote workers. While there is still a lot of space to grow, this is still a high number of businesses that do not even own offices or have physical headquarters. Moreover, this number is definitely expected to grow in the future.
Source: Owl Labs
2. 32.2% of hiring managers reported an increase in employees' productivity since they started working remotely.
Hiring managers want nothing more than their teams and individuals to become more productive. And a way to do that is to allow the workers to start telecommuting. By working remotely, many are avoiding distractions in the workplace that usually result in lower productivity. In that way, it comes as no surprise that many saw a boost in their performance once they were not around those distractions anymore.
Source: Upwork
3. 61.9% of hiring managers are planning more remote work opportunities in the upcoming years.
The future of remote work is bright. Why? Well, according to remote hiring data from Upwork who surveyed 1,500 hiring managers, they are planning more remote work opportunities in the coming years. This is all a result of the pandemic that showed even the skeptic companies that remote work is anything but bad.
Source: Upwork
4. If offered flexible hours, 76% of employees would stay with the same employer.
By offering flexible hours, companies could retain talent. This is because the most important benefit for workers lately is the ability to work without having to neglect other aspects of life. According to a FlexJobs study, 76% of employees would not mind staying with the same employer if they were offered flexibility.
Source: FlexJobs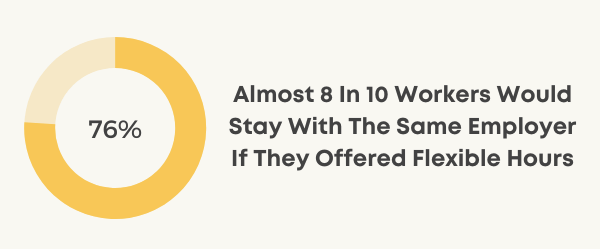 5. 50% of workers will not return to jobs that don't offer remote work after COVID-19.
For those workers who have been working from home for six months full-time during the pandemic, 1 in 2 reported that they do not plan on going back to the job unless remote work options are offered.
Source: Owl Labs
6. By hiring remote workers, employers can save $11,000 per employee a year.
One of the many benefits of having employees who are working remotely is the fact that a lot of money is saved. For example, employees can save over $11,000 a year per employee. How? Well, they would not have to pay for offices, utilities, and more. Moreover, many workers nowadays value flexibility over salary, so there is also space to save money here.
Source: Global Workplace Analytics
7. For companies that allow remote work, employee turnover is 25% lower.
Remote work is definitely one of the most wanted work benefits. For example, according to remote hitting data, those who allow remote work do not have as much talent leaving. Moreover, according to research, those companies that allow remote work see a 25% lower employee turnover. By hiring remote workers, companies can increase retention.
Source: Owl Labs
8. Small businesses are twice as likely to hire a remote worker.
By hiring remote workers, companies get to save a lot of money. So it does not surprise us that small businesses are twice as likely to hire an employee to work remotely. At the same time, as remote work is very sought-after, small businesses can attract talent by offering remote working positions.
Source: Owl Labs

9. Remote hiring is possible thanks to technology and innovation and the global video conferencing market is expected to double in size between 2019 and 2027.
When the pandemic started and everyone was sent home to work, it was mainly possible thanks to the innovation and advancement in technology. For example, Zoom's annual revenue grew from $623 million to $2.65 billion between 2020 and 2021. Thanks to platforms like Zoom, it is also easy to hire remote workers through online interviews.
Source: Fortune Business Insights
10. 97% of employees want to continue working remotely, at least to some extent.
It will be critical that companies offer remote work and flexibility to employees if they want to keep them or if they want to attract any talent. Why? Because almost all of the workers, according to one research, don't want to return to the office full-time. How can they do that? Well, companies can introduce hybrid work models.
Source: Growmotely
11. Companies with remote teams hire 33% faster than those that don't have fully remote teams.
According to research, businesses that hire remote teams are 33% faster that than those that don't have fully remote teams.
Source: TINYpulse and Owl Labs
Conclusion
To conclude, we can say that these remote hiring statistics show us that remote work is here to stay. By hiring remote workers, companies can save money, attract talent, and increase productivity. With all of these remote hiring pros, many businesses in the future might reconsider their systems and start offering remote and hybrid working models. Until then, we might have even more awesome statistics to support the growth of remote work.