Are you looking for a refillable water cooler that doesn't require the purchase of water bottles or connecting to a water supply?
If this is the case, we recommend you read this article
We have made a list of the best refillable water dispensers for you to choose from. Pick a one based on your needs and wishes – a filtered water cooler, a commercial one, or maybe one with an ice maker.
Our Top Picks
Best 4 Reffilable Water Cooler & Dispensers
BEST OF BEST REFILLABLE WATER COOLER
HEMFV Countertop Water Cooler
Made Of High-Quality ABS Material
This refillable water cooler is a perfect choice if you want to buy a nicely designed manually refillable water dispensing unit for your kitchen or office. It is white with stainless-steel details, and it is made of high-quality ABS material. Its rated voltage is 220 V.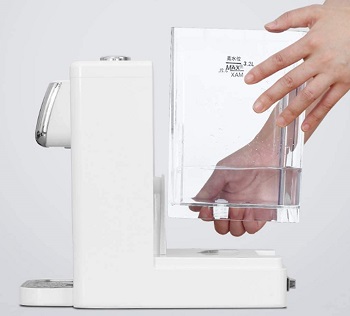 Hot, Cold & Room-Temperature Water
This white water cooler dispenses hot, cold and room-temperature water. Ice-cold water is perfect for cool and refreshing drinks while steaming-hot water is ideal for making coffee, tea, hot cocoa and instant soups. It uses the most advanced DC motor that works very quietly.
Rapid Heating System
Thanks to its compact desktop design, it can be placed on tables, office desks, countertops and even nightstands. Thanks to its rapid heating system, you will always have ready hot water. Waiting for your kettle to boil will be left in the past.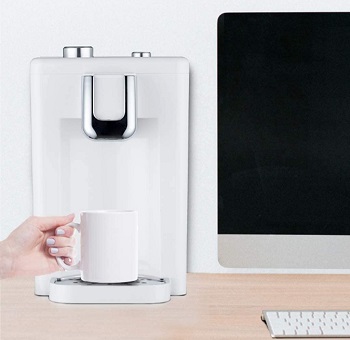 3.2-Liter Removable Tank
This water dispenser measures 8.6 x 11.8 x 12.5 inches and weighs 5.5 pounds. The water tank is made of food-grade material while the built-in heating system is made of high-quality 304 stainless steel. The tank capacity is 3.2 liters and it is transparent and removable.
Highlighted Points:
nice and clean design
made of high-quality ABS material
dispenses hot, cold and room-temperature water
advanced silent DC motor
rapid heating system
3.2-liter removable tank
BEST HOT REFILLABLE WATER DISPENSER
Brentwood KT-2200 Hot Water Dispenser
Delivers Hot Water In Under 10 Seconds
This refillable water dispenser boasts a sleek design, combining black and silver color. It delivers hot water in under 10 seconds. If you love drinking coffee, you will find this instant hot water dispenser very convenient because it will save your time you used to waste on waiting for your kettle to boil.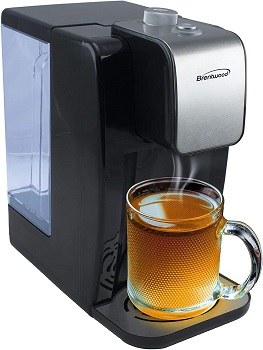 Adjustable Hot Water Temperature
The hot water temperature is adjustable and you can choose the temperature between 115 °F and 212 °F. The removable water tank fits 2.2 liters of water and it allows a quick and easy cleanup. It holds 12 servings of steaming-hot water.
BPA-Free & FDA Approved
In one serving, the refillable water cooler dispenses 6 oz of water with a single touch or a button. BPA-Free and FDA Approved. The drip tray is removable and easy to clean. This ready hot water dispenser has a non-skid base that keeps it in place on any tabletop, desktop or countertop surface.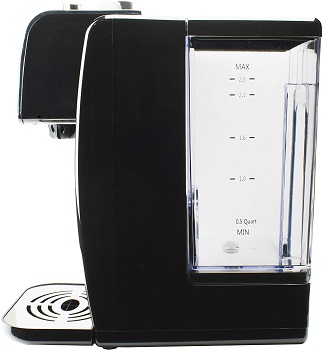 Fits Mugs Up To 6″ Tall
Brentwood KT-2200 Hot Water Dispenser measures 8.5 L x 5.5 W x 10.25 H inches which makes it perfect for small offices. It can fit mugs up to 6 inches tall. If you are looking for a nice birthday or Christmas gift for your friend or family member, this water dispenser might be a good idea.
Highlighted Points:
delivers hot water in under 10 seconds
adjustable hot water temperature
2.2-liter water tank
BPA-Free & FDA Approved
removable drip tray
great gift for any occasion
BEST WITH ICE MAKER REFILLABLE WATER COOLER
Costway Water & Ice Dispenser
Very Efficient Compressor
This refillable water dispenser with an ice maker has a very efficient compressor that can make up to 36 lbs of ice in 24 hours. One ice-making cycle takes 6 to 12 minutes, depending on the room temperature, and delivers 9 clean ice cubes.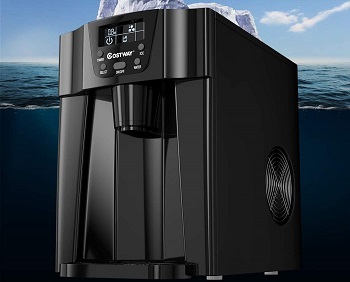 Bullet-Shaped Ice Cubes
The ice cubes come in the shape of a bullet and you can choose between two sizes of ice – small and large. This compact water dispenser comes in three colors – black, red, and sliver – and we're sure one of them will fit into your kitchen or office.
2-Liter Water Reservoir
COSTWAY Water & Ice Dispenser operates very quietly which is great if you want silence while you're working. Since it is compact and light, you can easily take it with you on a vacation. It has a 2-liter water reservoir that is refilled manually.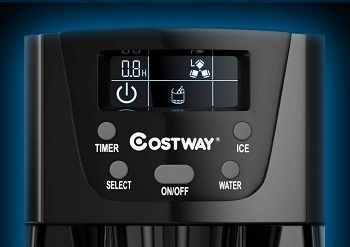 Timer Delay Feature
This water and ice dispenser for office delivers cold water only. If you like drinking coffee or tea, then this might not be a dispenser for you. It boasts a timer delay feature that ranges from 0.5 to 19.5 hours and you can set it to start or stop running whenever you want it to.
Highlighted Points:
up to 36 lbs of ice in 24 hours
bullet-shaped ice cubes
2-liter water reservoir
silent operation
timer delay feature
comes in 3 colors
BEST FILTERED REFILLABLE WATER DISPENSER
HEMFV Filtered Water Cooler
Three Temperature Settings
This refillable water dispenser is a great choice if you want a high-quality water dispenser that doesn't require the purchase of plastic water bottles. It features three temperature settings that allow customization of your drinking experience.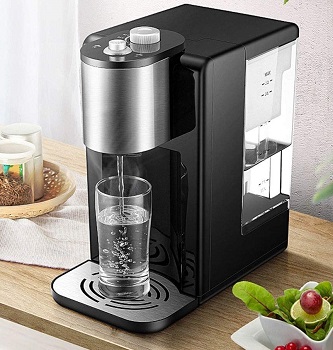 Beautiful & Compact Design
You can choose between ice-cold water perfect for cool refreshments, piping hot water that can be used for making hot beverages, and room-temperature water. It is black, small and beautifully designed so it will look nice on any countertop or desktop.
Tap Water Purification System
The refillable water cooler is made of international food-grade PP plastic which is non-toxic, tasteless and safe for your health. HEMFV Filtered Water Cooler boasts a tap water purification system that eliminates impurities, scale, rust and residual chlorine.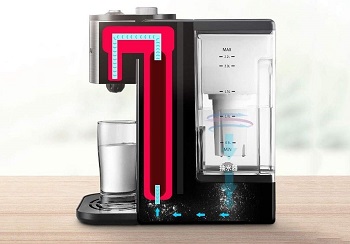 2.2-Liter Water Tank
This hot and cold filtered water dispenser measures 6.3 x 11 x 12.2 inches and weighs 6.61 pounds. It has a large enough 2.2-liter water tank. In order to make it last as long as possible, we recommend wiping it regularly with a cloth to keep it clean and dry.
Highlighted Points:
three temperature settings
beautiful & compact design
made of international food-grade PP plastic
tap water purification system
large capacity 2.2-liter water tank
THINGS TO KNOW ABOUT REFILLABLE WATER COOLERS
Refillable water coolers feature an elegant and clean look because they don't require the use of plastic water bottles. They are compact and great for small spaces. When buying such a water dispenser, you should first consider its water tank capacity and temperature settings. To help you choose the best refillable dispenser for your needs, we are giving you a few tips below:
Water Tank Capacity – The capacity of the water tank is the first thing you should check before buying a refillable water cooler. Most such water coolers feature a 2-liter tank which is a reasonable capacity. If 2 liters just isn't enough for you, you'll be able to find a few refillable dispensers with larger capacity tanks, like the first model on this list.
Water Temperature Settings – Refillable dispensers come with different water temperature settings. However, most of water dispenser dispense hot, cold and room temperature water. If you drink several cups of coffee a day and also love drinking cool refreshments, make sure you're not buying a hot-water-only dispenser but a cooler too.
Filtered Refillable Water Dispenser – Refillable coolers that have in-built purification systems for tap water are probably the best you can buy because then you don't have to pour bottled or purified water into the dispenser. It itself will take care of everything and you won't waste any more money on water purchases.
Removable Tank & Drip Tray – It is a good idea to buy a water dispenser that features a removable tank and a removable drip tray because they allow a quick and easy cleanup. Cleaning your tank and drip tray will take only a few minutes.
FINAL VERDICT
The HEMFV Countertop Water Cooler is the best refillable water cooler because, apart from boasting a nice and clean design, it has a large capacity 3.2-liter tank that is also removable. It is made of high-quality ABS material and dispenses hot, cold and room-temperature water. If you think it would be too much of a hassle to refill your water dispenser manually every day, you might want to check our list of the best point of use water dispensers or countertop bottleless water dispensers.