Are you looking for a portable hot water dispenser you can carry around with you?
If this is the case, continue reading this article.
We have found a number of portable hot water dispensers for you to choose from. Pick one based on your needs and wishes – a small one, an automatic one, or maybe a cheap one that fits your budget.
Our Top Picks
Best 5 Portable Hot Water Dispensers
BEST OF BEST PORTABLE HOT WATER DISPENSER
Rosewill Electric Hot Water Dispenser
Three Temperature Settings
This portable hot water dispenser features a large 4-liter capacity. It has three temperature settings: tea (208°F), coffee (185°F), and instant soup (149°F). It is the perfect hot water countertop dispenser to take on a vacation or a camping trip with your family.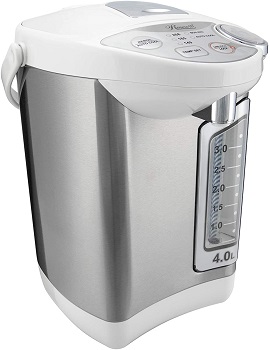 Automatic Water Outlet Lock
You can dispense water in two different ways – either with a cup trigger dispenser or with a push of a button. The automatic water outlet lock will prevent accidental dispensing and keep your children safe from getting burned with boiling-hot water.
Made Of Stainless Steel
It is easy to read the water level thanks to a big window gauge with a blue light. This light enables using this dispenser in the early morning and late at night when the lighting may be limited. The outer shell is made of high-quality stainless steel.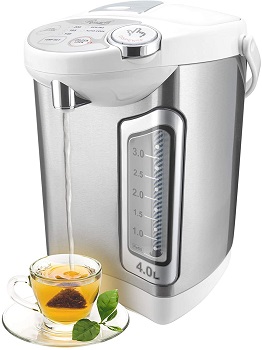 Auto Clean Cycle Feature
Rosewill Electric Hot Water Dispenser has a boil-dry protection feature that safeguards it by switching it off when the water tank is empty. It is also equipped with an auto-clean cycle feature that removes water scale preserves it for long-term use. The dimensions of this unit are 13″ L x 12″ W x 10″ H.
Highlighted Points:
4-liter capacity
3 temperature settings
automatic water outlet lock
made of stainless steel
auto clean cycle feature
boil-dry protection feature
BEST SMALL PORTABLE HOT WATER DISPENSER
Shi Xiang Portable Instant Hot Water Dispenser
Fits In A Bag
This mini portable hot water dispenser measures only 5.5″ L x 8.3″ H x 2.5″W. It will fit any bag and it is very convenient to take with when travelling. It is loaded from the top with a small water bottle or you can insert its water pipe into a large water jug.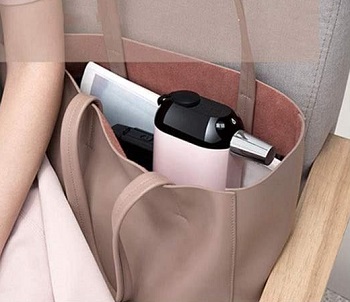 Fast Heating Process
The fast heating takes only three seconds, so there is no need to wait when you need hot water. Just plug it in, and you'll have hot water in no time. It has six temperature settings, and you can set the water temperature before heating. It can be set to 25 ° C, 45 ° C, 50 ° C, 55 ° C, 85 ° C, 99 ° C.
Comes In Three Colors
This modern water dispenser comes in three colors: pink, green and white. It is very easy to use since there is no need to buy a filter or a huge water jug. Just buy a regular mineral water bottle and load it on top of this portable dispenser.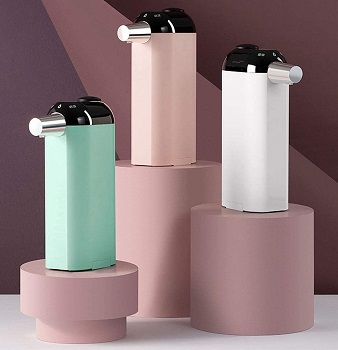 Easy To Carry Around
Its power is 1500W and the voltage is 220 V. It weighs only 1.76 lbs so it's really easy to carry it around. When using it, you should add water before connecting to power to prevent it from dry-burning. A water bottle adapter, bag, and a water pipe are included in the package.
Highlighted Points:
fits in a bag
six temperature settings
fast heating process
comes in three colors
comes with water bottle adaptor, bag & water pipe
BEST STEEL PORTABLE HOT WATER DISPENSER
HIZLJJ Hot Water Dispenser
Double Heat Structure
This portable hot water dispenser heats the water in just 3 seconds. It is made of 304 stainless steel and designed with an internal and external double heat structure. Thanks to this amazing ready hot water dispenser, you will never have to wait on your kettle to boil again.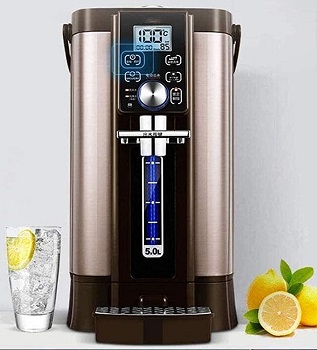 Features A Carrying Handle
If you love drinking coffee and drink several cups a day, this stainless-steel hot water dispenser is definitely a good investment. You can also use it for making tea, cocoa, or instant soups when you get hungry at the office. Since it has a carrying handle on top, it is easy to move it around.
Eight Temperature Settings
It features a rotation touch button for easy operation. You can choose between eight water temperatures designed to meet various different drinking needs. The water tank fits 5 liters of water and this should be only pure or mineral water.
In-Built Blue Light
The HIZLJJ Hot Water Dispenser has a built-in blue light that enables the use in the dimmest settings. Its heating power is 750W and the rated voltage is 220 V. The dimensions are 13.1 x 8.5 x 14.4 inches. It comes with a moistureproof bag.
Highlighted Points:
heats water in just 3 seconds
made of 304 stainless steel
internal and external double heat structure
convenient carrying handle
in-built blue light
eight temperature settings
BEST FILTERED HOT WATER DISPENSER
Lamyanran Hot Water Dispenser
Segmented 22000 W Heating System
This portable hot water dispenser will be the perfect addition to your kitchen or office. It uses a segmented 22000 W heating system which only takes 5 seconds to boil water. Its heating tube is made of stainless steel and it features an in-built filter that enables the purest drinking water.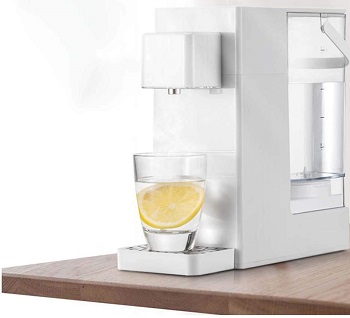 Sensitive Touch Screen
If you need boiling hot water for your tea, coffee, or instant soups several times a day, this hot water dispenser will save you so much time you probably used to spend waiting for your kettle to boil. It uses a sensitive touch screen with a waterproof panel design.
Six Temperature Settings
This white water dispenser has 6 temperature settings – it can be set to 45 °, 55 °, 65, 75 °,  85 °, or 100 °. It has a 2.2 L water tank which is large enough for your daily hot water consumption.  Featuring a modern design, it will blend well with your interior.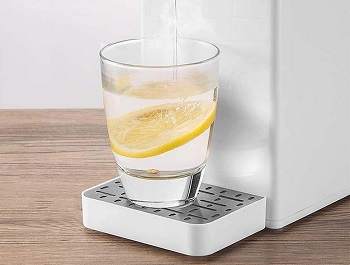 Child Safety Lock
This portable water dispenser boasts a child safety lock function that will prevent your children from getting burned with steaming hot water. It is made of AS food-grade material that is safe for your health. Its efficient compressor makes low noise.
Highlighted Points:
segmented 22000 W heating system
made of stainless steel
6 temperature settings
sensitive touch screen
in-built water filter
child safety lock
BEST CHEAP PORTABLE HOT WATER DISPENSER
Sunbeam Hot Water Dispenser
Nice & Compact Design
This portable hot water dispenser is a great option if you don't want to spend a lot of money. It boasts a nice and compact design that is perfect for small kitchens, offices and dorms. The dimensions are 7.75 x 5.75 x 9.75 inches (L x W x H).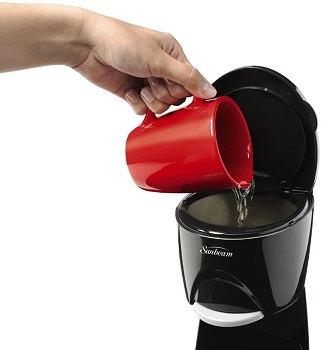 16 Oz Capacity
It is made of black plastic and has a 16 oz capacity. It automatically shuts off when it runs out of water to prevent dry-burning. It heats one cup of water in approximately 90 seconds that is not bad at all for such an affordable hot water dispenser.
Strictly For Dispensing Water
The heating is activated by pressing on the HEAT button and the water is dispensed by pressing a lever. It is designed specifically for heating water, so don't attempt to heat any other liquid with it. We recommend cleaning it regularly with a damp cloth.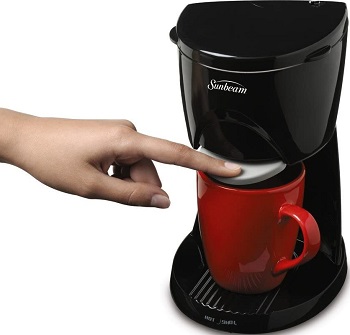 Great Gift For Any Occasion
If you need a portable water dispenser that will deliver instant hot water and won't be a blow to your budget, this cheap water dispenser is definitely worth taking into consideration. Also, if you are looking for a cool gift for your friend or family member, this dispenser might be a good idea.
Highlighted Points:
nice and compact design
made of black plastic
16 oz water capacity
water is dispensed by pressing a lever
strictly for dispensing water
great gift for any occasion
THINGS TO KNOW ABOUT PORTABLE HOT WATER DISPENSERS
Portable hot water dispensers are great for people who like drinking several cups of hot beverages a day. They are easy to take anywhere with you especially convenient for travelling. When buying such a water dispenser, you should first consider its size and water capacity. To help you choose the best hot water dispenser for your needs, we are giving you a few tips below:
Temperature Settings – Some portable hot water dispensers feature different water temperature settings. Usually, you can choose between three and eight temperature settings and adjust your water for different types of hot beverages or soups.
Different Sizes – The size of a portable water dispenser that delivers ready hot water depends on its purpose. A small water dispenser for home that can fit in your bag will be perfect for travelling, however, not as perfect for the office where you'll need a bigger water dispensing unit that will cover your daily needs for hot water.
Carrying Handle – If you plan on moving your hot water dispenser around the house a lot, or carry take it with you outside the house pretty often, consider buying a portable water dispenser with a carrying handle. It is so much easier to transport.
Water Tank Capacity – The water capacity usually depends on the size of the portable water dispenser. It can be anywhere around half a liter to 5 liters of water.
Child Safety Lock – If you worry about your children getting burned on accident, you should definitely buy a mobile hot water dispenser with a child safety lock. This way you'll have peace of mind knowing that your children are safe.