Too tired for another task? Would you like to take a nap in your office?
You don't have to sacrifice an entire room when you can just look for an office chair bed.
These chairs let you take a restful nap during the hectic working day. If you need a snug place to wind down in your home office or office, then read about these reviewed chairs, they are currently the best you can get. Plus, learn everything you need to if you decide to buy one.
Our Top Picks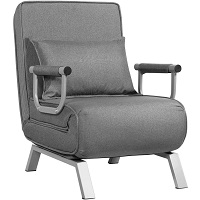 Giantex Convertible Sofa Chair
OVERALL RATING: ★★★★★
This convertible sofa chair is great for multiple purposes (sofa, recliner and bed) so satisfy different requirements.
Jump To Review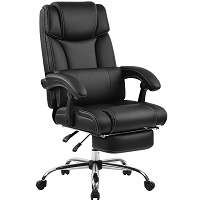 Merax Portland Executive Chair
OVERALL RATING: ★★★★☆
Big and tall all-in-one office chair outfitted with double padded cushion, extendable footrest and elegant PU leather.
Jump To Review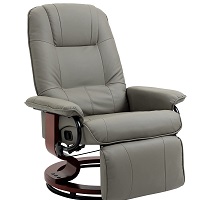 Homcom Faux Leather Chair
OVERALL RATING: ★★★★☆
Traditionally styled recliner office chair offers soft PU leather upholstery, wooden base and extendable footrest.
Jump To Review
About The Office Chair That Turns Into A Bed
These convertible chairs are one of the best types of dual-furniture; they work well for sitting and managing various office tasks but can also be turned into beds when you need some rest. Whether you want to sit, lean, or lie down, it can be easily realized with these chairs. Usually, they have sturdy metal or wooden construction and come with an additional pillow.
Types Of Office Chair-Bed
Sofa Chairs – Usually, they feature legs and fixed armrests and are much more similar to traditional armchairs. They have tapered legs in a natural wooden finish and are available in several color combinations. The upholstery is made from cotton fabric or linen fabric. You can use them as a sofa chair, recliner lounge or a single bed.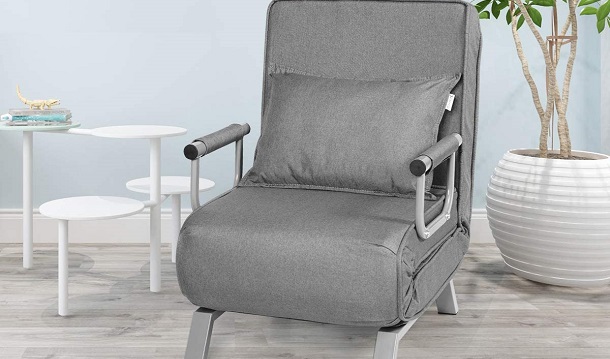 Recliner Chairs With Footrest –  Reclining chairs allow you to tilt back and remove the pressure from your spine and buttock. Here, we are interested in models with extendable footrests and headrests. They don't take up much space as sofa chairs and still allow you to rest your whole body.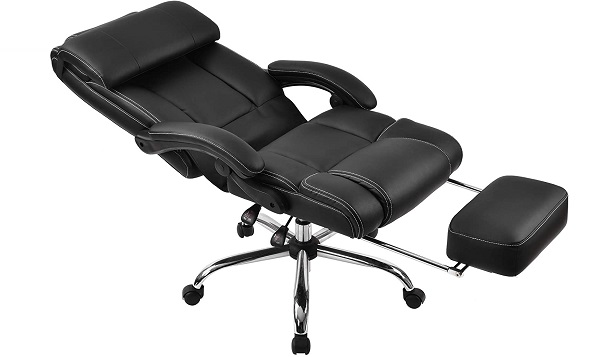 How Can I Turn This Office Chair Into Bed?
If you have a recliner office chair, then you should adjust the backrest angle, headrest, extract the footrest and you're ready for a nap. However, if you have a convertible office chair then you need to extend the front section of the chair and recline it fully. That's it, a 2-minute task. You will probably hear a sound like "click" which signifies the backrest is locked and the bed is stable so you can lay down and relax.
Is It OK To Sleep In A Bed-convertible Office Chair?
At one time or another, we all have found the need for sleeping in an office chair. Sometimes, you just need a nap of 15 minutes and you will be ready for work, that's okay. So, it's okay to sleep in an office chair unless you don't make it a long-lasting and regular habit.
Why Avoid It?
If you want to sleep in your recliner office chair but have lung problems, you should consult your doctor before doing that. Also, your hips and knees remain bent while sleeping, which can lead to tight hips, calves, hamstrings and may negatively affect your posture.
Follow These Guidelines Before Buying
Okay, now you know what it is and how you can benefit from this chair, so here read about some factors you need to take into account when looking for an office chair that turns into a bed.
First, Measure Your Space
Well, first you need to decide where you're going to place your convertible chair so that you can measure the exact space. Don't forget to includes how long your chosen model will be when it's turned into a bed. The length when it converts into bed is 60-70 inches on average which is the average height of a person. If you taller, your legs only won't probably fit the bed surface.
Comfort Is Important
Here we talk about the chair upholstery. Many people prefer mesh office chairs, while some think that leather upholstery is the most comfortable. Plus, there are models with fabric upholstery. No answer fits all, so you should find what works the best for you. But there is one thing to keep in mind – avoid chairs that aren't padded enough and have a thin cushion, they don't offer enough support.
How Wide The Bed Is?
It's have the standard width of an office chair which means around 25 inches. It's pretty enough for average person to lay down on their backs. You can also turn to the side but carefully and slowly. It's still not the same as you sleep in your bed at home.
Tilt Angle & Tension Adjustment
When it comes to tilting, recliner office chairs have more options than sofa chairs. They allow you to adjust the tilt angle and tension resistance. Tilt-lock knob allows you to lock the chair in a certain position. The most common reclining range goes from 90° to 155°(office recliner chairs) or 90° to 18° (sofa chairs).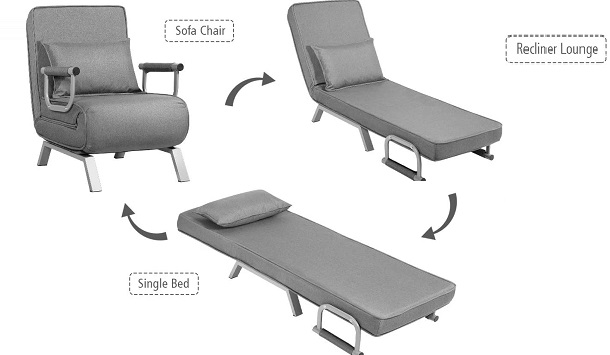 Ergonomic Features
Look for office chairs that help you keep a good body posture whether you sitting or lying down. So, you should look for the curved backrest, padded armrest, headrest (or additional pillow when it comes to sofa chair), supportive memory foam seat. You should keep your body supported, so you don't feel even more tired after napping
Should you Avoid Wheeled Chairs?
Some experts said that if you don't want to fall off your office chair when you nap, you should avoid chairs with wheels. Well, that doesn't have to be the case. If your desired office chair features lockable casters, then it's safe for napping. Actually, you can always buy lockable wheels and install them on any chair.
Best 6 Office Chair Bed Models
There are plenty of office chairs that you can use them also as bed, so we check them and reviewed the models with the best features, ergonomic designs and sturdy constructions. Check out chair images, product dimensions and features they offer.
Giantex Convertible Sofa Chair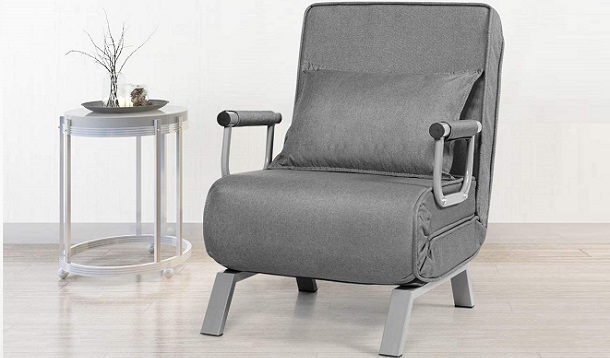 SPECIFICATION:
Material: Linen, steel
Chair Dimensions: 23.5" x 31" x 33"
Bed Dimensions: 73.5" x 23.5" x 11"

Color: Grey, blue, black
Capacity: 330 lbs
Assembly: Easy
Giantex made this convertible home office sofa chair that is available in two colors – blue and grey. With its foldable design, this item can be easily converted into an upholstered sofa chair, a recliner lounge or bed. It will satisfy various needs.
The package includes a user manual and an additional pillow that can be used as a pillow for your head or to support your lumbar. The sofa and pillow cover has smooth zippers, so you can clean them easily. The legs are equipped with footpads that protect your floor from scratching.
Steel construction is durable and strong enough to withstand a weight of 330 pounds. Giantex convertible chair is filled with high resilience sponge to give you max comfort. Its backrest angle can be adjusted for 5 reclining levels, including 18°, 36°, 54°, 72°, 90° to help you find an ideal position.
Overall:
Support:
Comfort:
Sturdiness:
Capacity:
Functionality:
PRICE
approx:$190 – $200
determined by online offer (Amazon, Walmart) and seasonal sales
PROS
Multifunctional 3-in-1 item
5-position adjustment
Additional pillow included
CONS
Steel supports require more padding
Merax Portland Executive Chair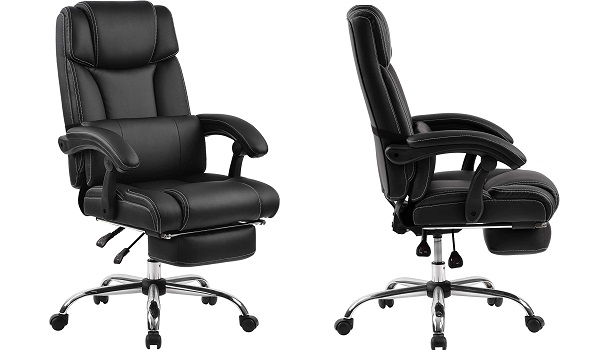 SPECIFICATION:
Material: Leather, steel
Chair Dimensions: 28.3" x 22.8" x 42.5"
Bed Dimensions: 19.7" x 17.7" x 60.6"

Color: Black
Capacity: 250 lbs
Assembly: Easy
Merax Portland is a big and tall executive office chair ideal for stylish and modern offices. It features a black double-layered bonded leather with a classic tufted design. Its heavy-duty nylon base is equipped with five swivel casters that provide great stability and mobility.
Merax can hold a person of max 250 pounds. This is an ergonomic office chair that comes with levers that control height, tilt and back pressure for customized positioning. Double layered and soft high-density foam on the seat and back provides complete support.
This office chair supports the natural contours of the human body. The built-in extendable footrest allows you to relax your whole body and nap when you need a break. Merax office chair meets ANSI/BIFMA standards for quality and safety.
Overall:
Support:
Comfort:
Sturdiness:
Capacity:
Functionality:
PRICE
approx:$180 – $240
determined by online offer (Amazon, eBay) and seasonal sales
PROS
Elegant executive office chair
Padded extendable footrest
Homcom Faux Leather Chair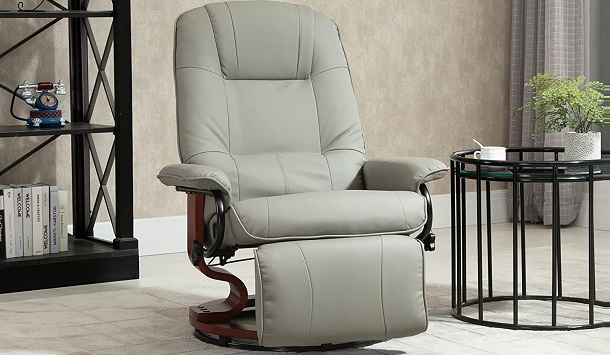 SPECIFICATION:
Material: PU leather, hardwood
Chair Dimensions: 34.2" x 30" x 39.5"
Bed Dimensions: 34.2" x 20.5" x 40"

Color: Grey, black
Capacity: 265 lbs
Assembly: Easy
Homcom made this home office chair inspired by stylish and traditional recliner chairs. Choose between grey and black color. It features a round, wooden pedestal base that allows you to swivel and recline with ease. The chair upholstery is made from soft faux leather that is easy to clean.
The seat dimensions are 20.5" x 20.5", making it suitable for heavy people. A sponge padded cushion on the seat and back allows you to sit for an extended period of time. You can easily swivel and recline up to 145 degrees. Homcom is great for relaxation, work and watching TV.
Homcom features an extendable footrest, simply use the side knob and bring the footrest in up position. This is great additional leg support. The armrests are padded and soft enough for relaxation. The manufacturer uses quality and tested materials that provide long-lasting service.
Overall:
Support:
Comfort:
Sturdiness:
Capacity:
Functionality:
PRICE
approx:$320 – $370
determined by online offer (Amazon, Walmart) and seasonal sales
PROS
Neutral design that matches any interior
Attractive wooden base
Comfortable soft faux leather upholstery
Hbada Ergonomic Office Recliner Chair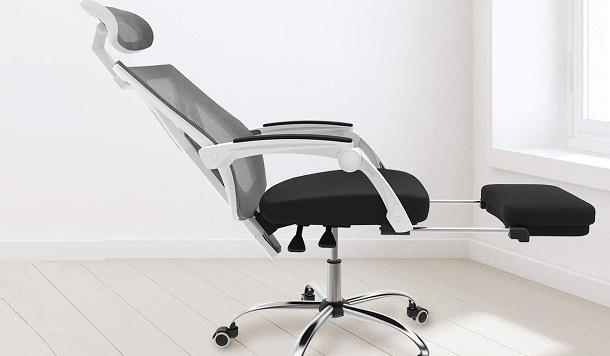 SPECIFICATION:
Material: Mesh, metal
Chair Dimensions: 26.8" x 26.8" x 45"
Bed Dimensions: 26.8" x 26.8" x 65"

Color: White, black
Capacity: 250 lbs
Assembly: Easy
Hbada is a durable and high-quality office chair available in two colors – black and white. Also, you can choose between models with or without footrest. Its steel frame construction ensures durability and stability. A five-star wheeled base allows for quick and easy movement on a wooden floor or carpet.
The weight capacity of this chair is tested and it supports 250 pounds. Adjustable lumbar support with a Y-shaped chair back keeps your spine in the correct position. The backrest, seat and headrest are made from mesh that promotes air circulation.
Waterfall seat cushion reduces pressure on your tights and provides all-day comfort. It is easy to find the best position with multiple height, tilt, lift and lock settings. The backrest angle can be adjusted from 90ᵒ to 155ᵒ. A retractable footrest is also padded and comfortable.
Overall:
Support:
Comfort:
Sturdiness:
Capacity:
Functionality:
PRICE
approx:$200 – $320
determined by online offer (Amazon, Walmart) and seasonal sales
PROS
Adjustable lumbar support
Waterfall seat edge design
CONS
Only for people under 5'10"
Duramont Reclining Office Chair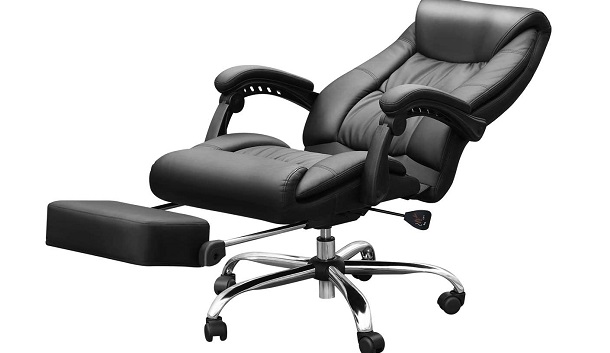 SPECIFICATION:
Material: PU leather, steel
Chair Dimensions: 25" x 19.7" x 43"
Bed Dimensions:  25" x 29" x 70"

Color: Black
Capacity: 250 lbs
Assembly: Easy
Duramont is a highly versatile office chair packed with many useful features. It is a solid and stable chair with a heavy-duty metal base that holds up to 250 pounds. There are five smooth, quiet and floor-friendly casters that easily go in any direction.
Its S-shaped backrest follows the natural spine curvature and takes the pressure off your spine. The seatback recline also alleviates pressure because your weight is supported by a padded backrest. You can recline up to 155ᵒ max, but you have a tilt lock at 120ᵒ.
Built-in headrest takes the pressure off your neck while working and allows you to relax completely when reclining. The padded seat features a waterfall edge design that promotes blood circulation. Below the seat is a footrest, it's easy to retract. Plus, it's long enough for tall people.
Overall:
Support:
Comfort:
Sturdiness:
Capacity:
Functionality:
PRICE
approx:$300 – $460
determined by online offer (Amazon, Walmart) and seasonal sales
PROS
Comfy and long footrest
Built-in comfortable headrest
Quiet smooth-rolling casters
Vinsetto Executive Fabric Office Chair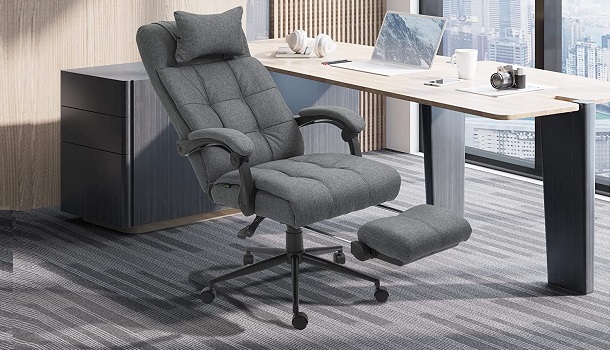 SPECIFICATION:
Material: Linen, steel
Chair Dimensions: 27.5" x 26" x 45"
Bed Dimensions:  27.5" x 26" x 72"

Color: Dark grey
Capacity: 330 lbs
Assembly: Easy
Vinsetto is an elegant executive office chair whose upholstery isn't made from leather but linen. Linen fabric is a more breathable material, skin-friendly and soft. The assembly is required, the package includes all hardware, tools and detailed instruction needed for assembly.
Its max weight capacity is 330 pounds. Vinsetto is equipped with a 360-degree rotatable seat and a five-star base with silent casters. They can easily go in any direction. It is ergonomically designed and padded with a high-density sponge to support your body properly.
Armrests are also padded. This executive office chair allows seat adjustment and backrest angle adjustment (from 90° to 150°). The tilt can be adjusted by a pneumatic lever. Plus, it comes with a retractable footrest for resting the body or taking a nap.
Overall:
Support:
Comfort:
Sturdiness:
Capacity:
Functionality:
PRICE
approx:$220 – $300
determined by online offer (Amazon, Walmart) and seasonal sales
PROS
Soft linen upholstery
Supports a weight of 330 lbs
CONS
Casters don't work well on carpet
Potential Benefits Of Naping In Office Chair
If you become very tired after your meal at work, then a quick nap could have some benefits, you'll rest and continue with your work, all while you are in your office chair. Taking a few minutes break allows you to be more productive. If you struggle with heartburn or back pain, sleeping in a recliner office chair may help ease this issue, according to some studies.
There are some reasons why you should avoid sleeping in an office chair. If you work from the office, then you might start to spend a lot more time at work, out of your house. That can have a negative impact on your family and social life.
How Can I Sleep Comfortably In The Office?
Adjusting your office chair is the most important step of all. The first thing you should consider is the position of your head and neck. If your chair doesn't have a neck rest, use any small pillow. Also, you should lean back a little. Stretch your legs out, or if you have a footrest, put your feet up. If you can, make the room quiet and dark, put on earplugs and get a sleeping eye mask.
Can You Sleep Sitting On A Chair, Too?
It depends on the kind of office chair that you use. If you have an ergonomic chair, you can possibly sleep on it even when seated down. If your chair can lean back for an angle that is bigger than 90 degrees, that would be much better for you. However, the sitting position might be uncomfortable and even harmful for your knees if they stay bent.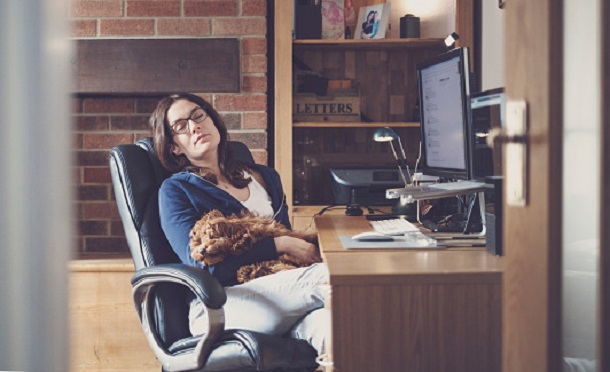 Is There An Alternative?
Of course, there is an alternative. If you already have an office chair, then you can buy an ottoman. If you don't have an office chair at the moment and comfort is your top priority, you can check out massage office chairs.
Ottoman – Ottoman is a multifunctional item and affordable solution if you want to have a footrest in your office. This versatile piece of furniture also can be used for sitting. Ottomans were originally meant to act as comforting footrests. They are available in round, square, rectangular and many other shapes.
Massage Chair – There are many massage office chairs on the market and they can be equipped with footrest and headrest, like the Vinsetto office chair. Some models are even equipped with heat function, so you can consider that, too.
Where Can You Sleep In The Office?
Expect for the office chair, there are a few more alternatives for resting and sleeping at work. The first one is a nap room. Many company have created their nap rooms for all of their employees who need a nap. If there's enough space at your workplace, you can suggest your boss to make a quiet room with beds or lounges ideal for sleeping. The second option might be sleeping on the floor but it's not really comfortable and hygienic, just like nor sleeping on the conference room table.
Final Verdict
Out of all reviewed office chairs, we recommend the Giantex convertible sofa chair. This elegant grey chair looks like a traditional armchair with small legs. It features a foldable design, so you can convert it into an upholstered sofa, a laid-back lounge or a single bed. Multifunctionality is the main advantage of this chair type but you shouldn't neglect other features such as size, backrest, headrest and wheels if you need to be dynamic.