Are you looking for a large map filing cabinet?
Then keep reading, this review with a brief buying guide will help you to find the best model for your home office or office. There are six models on our list, so find out more about their design, construction, storage space and basic features.
Our Top Picks
Top 6 Map Drawer Cabinets
Best Of Best Map Drawer Cabinet
Bush Furniture Stanford File Cabinet
Antique White Item
Bush Furniture made this Stanford lateral file cabinet. This model is available in antique white and antique black colors. The Stanford features traditional details and contemporary functionality. It is constructed with durable and sustainable engineered wood.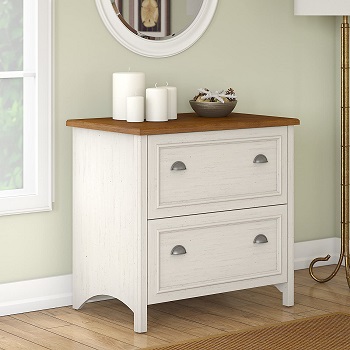 Quality Standards
This map storage cabinet is tested and ti meets ANSI/Soho quality and safety standards. The model is covered with a 6-year warranty. This file cabinet has 20.67 inches in depth, 31.9 inches in width and 30.7 inches in height. The surface is scratch-resistant and it's able to hold 50 pounds of weight.
Ball-bearing Slides
Stanford has a small footprint, so you can place it anywhere. It weighs 103 pounds. There are two wide drawers that smoothly glide on full-extension ball-bearing slides. You can easily reach all your store files. Both drawers hold letter and legal size hanging file folders.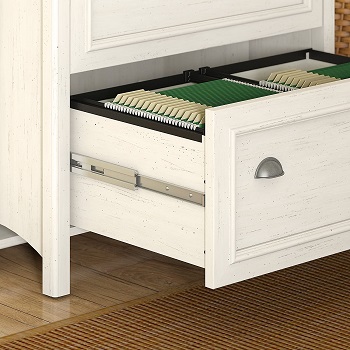 Pewter Handles
This solid wood lateral file cabinet features antique pewter hardware. Each drawer is able to hold up to 70-pound of weight. If you want to extend your workspace, check out other furniture from the Stanford collection. They all have the same height.
Highlighted Points:
durable and sustainable engineered wood
antique white surface with a 50-pound capacity
it meets quality and safety standards
two wide full-extension drawers
the warranty lasts 6 years
Best Metal Map Drawer Cabinet
Intergreat File Cabinet
Black Model
The Intergreat file cabinet is a large lateral map filing cabinet. There are two finishes you can choose from – white and black. Moreover, this model is available with three or two drawers. The package includes a filing cabinet, hanging rails, hardware and instruction.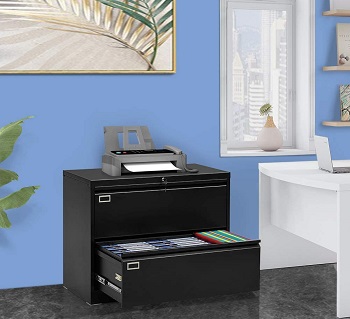 Eco-friendly Surface
The assembly is required, you can watch an installation video made by Intergreat professional team. The entire construction is reinforced with a sturdy cold-rolled steel frame. It is coated with an electrostatic phosphorus-free epoxy spray layer. The surface is immune to rust and corrosion.
Wide Drawers
This metal office cabinet has an overall weight capacity of 220 pounds. The Intergreat dimensions are 28.4 inches in height, 35.4 inches in width and 17.7 inches in depth. There are two drawers and they are equipped with adjustable hanging rails for letter and legal files.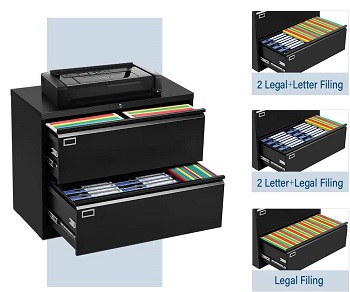 Lock System
Each drawer fits up to 300 hanging file folders. Load the drawers with blueprints, maps and other large documents. There is a single top lock that secures both drawers at the same time. The interlocking system prevents both drawers to be opened at the same time, which prevents tipping over.
Highlighted Points:
large lateral file cabinet made of metal
the construction is reinforced with cold-rolled steel
phosphorous free epoxy spray layer
rust and corrosion-resistant surface
two drawers with adjustable hanging rails
tip-protection keeps the file cabinet stable
Best Wooden Map Filing Cabinet
Devaise Filing Cabinet
Assembly Required
The Devaise is a high-quality file cabinet with two finishes available – grey oak and black. The item weighs 76 pounds and measures 15.75 inches in depth, 35.43 inches in width and 29.37 inches in height. The assembly is required with detailed instructions.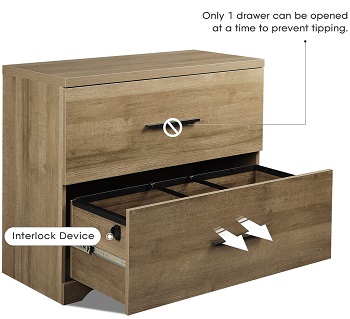 Engineered Wood
Its stable construction is made of high quality engineered wood. The reinforced structure ensures years of use. The Devaise supports the weight of up to 220 pounds. The surface is resistant to scratches and water. It is easy to clean and maintain.
Two Drawers
The thick surface is suitable for office devices, plants, maps, etc. There are two spacious drawers equipped with a removable drawer divider. Load the drawers with blueprints, letter-size and letter-size file folders. Both drawers glide on full-extension slides.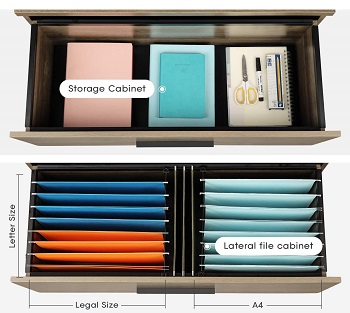 Safety Mechanism
This modern wood file cabinet has two large handles on each drawer. The Devaise is a stable map drawer cabinet, the safety interlock system allows you to open one drawer at a time. That reduces the risk of the file cabinet to fall forward and cause any injuries.
Highlighted Points:
made of quality engineered wood
the structure is reinforced and support up to 220 pounds
scratch- and water-resistant surface
two roomy drawers with removable dividers
safety interlock mechanism prevents tipping over
Best Locked Map Filing Cabinet
Scranton & Co. File Cabinet
High Environmental Standards
Scranton & Co. made this flat file cabinet. The package includes instruction because the assembly is required. This model is Greenguard approved, this certificate evaluate product emission and building materials and finishes. It is pretty safe for use.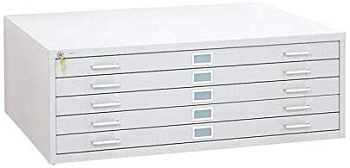 Recycled Material
The overall dimensions are 53.5 inches in width, 41.5 inches in depth and 16.5 inches in height. It's a heavy item, there are 250 pounds. The Scranton is made of recycled steel material and it is finished in white color. This map storage cabinet has a high price.
Large Documents
There are five drawers, each drawer is equipped with two handles and a label holder. You can mark your documents and identify and find them easily. This steel file cabinet is able to accommodate 36" x 48" documents and maps, it is ideal for large files.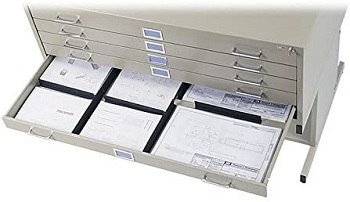 Modular Item
Each drawer weight capacity is up to 50 pounds. These file cabinets are modular, so you can use them individually or in a space-saving stack. The case-hardened ball-bearing slides provide smooth and quiet operation. The drawers are lockable.
Highlighted Points:
the assembly is required
it meets the Greenguard certificate
constructed with recycled steel material
five drawers with label holders
designed for large documents
modular file cabinet
Best Home Office Map Storage Cabinet
Bowery Hill File Cabinet
Cleaning Instruction
The Bowery Hill is a retro file cabinet that fits in any traditionally designed home office. It features antiqued black finish with a cherry tabletop. It is easy to clean and maintain this map drawer cabinet. Wipe with a damp cloth and mild soap or with household glass cleaner.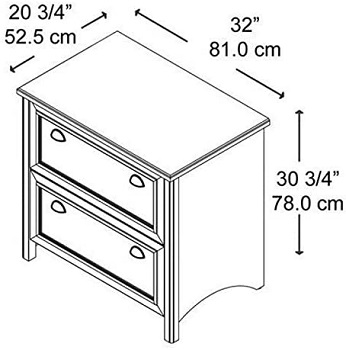 Distressed Look
The wood unit dimensions are 30.7 inches in height, 32 inches in width and 20.7 inches in depth, it weighs 97 pounds. The Bowery Hill features a distressed look. The finish is laminated, which improves stain and scratch resistance. Its height matches desk height if you want to extend your workspace.
Thick Tabletop
The tabletop is wide and thick, so you can use it for some office devices, books, registers, plants, etc. This map filing cabinet stands on four sturdy legs. It is equipped with two drawers, they have similar dimensions – 11.2" H x 26.2" W x 15.8" D.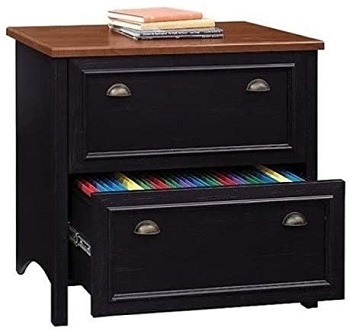 Full-extension Slides
Both drawers accommodate standard letter-size files and larger legal-size files (8.5" x 14"). The drawers glide on full-extension slides. That allows total access to all your documents. The safety interlocking system reduces the risk of tipping over. You can open one drawer at a time.
Highlighted Points:
distressed file cabinet made of wood
the laminated surface is resistant to scratches
thick tabletop as additional storage space
two drawers glide on full-extension slides
interlocking system keeps the file cabinet stable
Best Large Map Storage Cabinet
Sandusky Flat File Cabinet
Flat File Cabinet
The Sandusky is a flat file cabinet. This model is available in grey finish. When the item arrived, you need to assemble the handles and label holders. The package includes instruction. Its construction is made of welded steel. It is made for the office, commercial and industrial use.
Leg Levelers
This map filing cabinet has adjustable leg levelers. They keep a file cabinet leveled on any ground. The powder-coated surface is resistant to chipping and corrosion. Clean it with a damp or wet towel. The product dimensions are 16.13 inches in height, 46.75 inches in width and 35.4 inches in depth.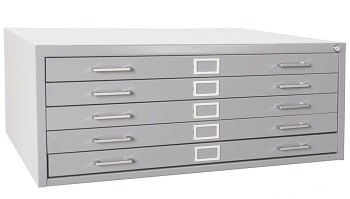 Five Drawers
This spray paint file cabinet features five drawers for storing archiving documents, maps, blueprints, art, etc. It fits in architectural, graphic design and professional office environments. Each drawer is equipped with two handles and a label holder.
Single Top Lock
The handles are made of chrome, so they are resistant to corrosion. All drawers extend on case-hardened ball-bearing slides. That provides smooth drawer performance. There is a single top lock that secures all drawers with one key. It keeps your files safe.
Highlighted Points:
flat file cabinet made of welded steel
designed for commercial and industrial use
it comes with leg levelers
five drawers for large paperwork
label holder on each drawer
Things To Know About Map Drawer Cabinets
The map filing cabinets are larger than other file cabinets. They are flat and horizontal, so you can load them with large documents. Find out more about flat file cabinets, different materials and other features.
Flat File Cabinet – These file cabinets are specially designed to accommodate larger documents. These documents usually lay flat. That includes blueprints, artwork, maps, canvases and others. The flat file cabinets cancan be stacked on top of each other.
Steel Material – The file cabinets can be made of different materials. If you work in a demanding work environment, consider steel/metal file cabinets. These sturdy file cabinets are durable and impact resistant. They are the most durable option.
Wood Material – The solid wood map filing cabinets perfectly fit in a traditional designed home office or office. But they require special care to clean and maintain. Also, they are highly expensive. They are sturdy and durable and you can choose between multiple finishes and colors.
Label Holders – If you want to create an organized filing system, the drawer labels are essential. When each drawer has its own label, you'll know what is inside each drawer at a quick glance. Moreover, you can easily change the labels and add new ones.
Lock System – Even if you work in a shared workspace, or you have your own office, some files and documents are highly sensitive and you need to keep them safe. There are many file cabinets equipped with a quality lock system, many models come with key lock.