Are you looking for a hot water dispenser for tea?
If this is the case, we recommend you read this article
We have found a number of hot water dispensers for you to choose from. Pick one based on your needs and wishes – a commercial hot water dispenser, a stainless-steel one, or maybe a cheap one that will fit your budget.
Our Top Picks
Best 6 Hot Water Dispensers For Tea
BEST OF BEST HOT WATER DISPENSER FOR TEA
Brentwood KT-2200 Hot Water Dispenser
Removable Water Tank
This hot water dispenser for tea features a plastic water tank that fits 2.2 liters of water. It heats water in under 10 seconds which is amazing. The hot water temperature is adjustable and you can choose a temperature between 115 °F and 212 °F.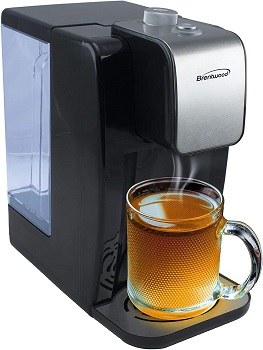 Space-Saving Design
This countertop hot water dispenser boasts an elegant design, combining black and silver colors. Thanks to its space-saving size, it will be a perfect fit for a small office or kitchen. If you love drinking tea, and you drink more than two cups a day, this hot water dispenser will be a great investment.
Removable Tank & Drip Tray
Buying this refillable water dispenser, you will have instant access to hot water and never wait on your kettle to boil again. In one serving, it dispenses 6 oz of hot water with a single touch of a button. The removable drip tray and removable tank allow for quick and easy cleanup.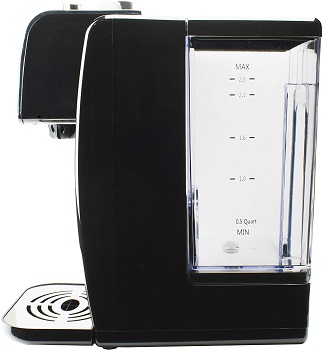 Non-Skid Base
The Brentwood KT-2200 Hot Water Dispenser has a non-skid base that keeps it in place on flat surfaces such as kitchen counters, tables and desks. It can fit mugs up to 6 inches tall. It measures 8.5 L x 5.5 W x 10.25 H inches and weighs 8.64 pounds.
Highlighted Points:
2.2-liter water capacity
heats water in under 10 seconds
elegant & space-saving design
6 oz of hot water in 1 serving
removable drip tray & tank
fits mugs up to 6 inches tall
BEST COMMERCIAL HOT WATER DISPENSER FOR TEA
Intbuying Hot Water Dispenser
Made Of Double-Layer Stainless Steel
This hot water dispenser for tea is designed for commercial use and fits 16 L of water. It is made of durable double-layer stainless steel for optimal insulation. It is a perfect choice if you need a large-capacity hot water dispenser for a hotel, restaurant, tea shop or cafeteria.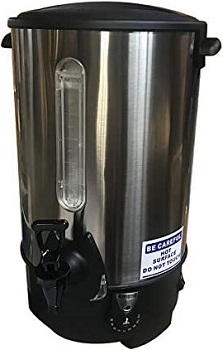 Transparent Water Level Indicator
You can select temperatures from 30℃-110℃. The inner tank is also made of superior quality 304 stainless steel which maintains the quality of water. You can see how much water is left in the dispenser thanks to a transparent water level indicator.
Dry-Boiling Protection
This hot water dispenser from stainless steel is protected by a thermal limiter to prevent dry-boiling. If the water tank is boiled dry, and the boil dry protection fails to work, the thermal cut-out will shut off the unit. This thermal cut-out is a disposable part that can be replaced.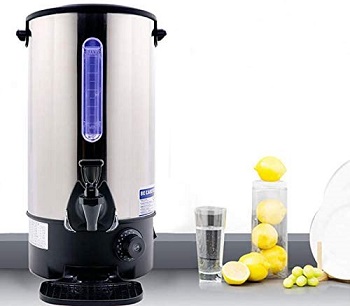 Convenient Carrying Handles
The Intbuying Hot Water Dispenser features two convenient carrying handles which make it easy for transport. It comes with a 59-inch long power cord. If you need an even bigger hot water dispenser, this model also comes in 20 L, 30 L and 35 L sizes.
Highlighted Points:
designed for commercial use
large 16-liter water capacity
made of superior quality 304 stainless steel
transparent water level indicator
thermal limiter for dry-boiling prevention
two convenient carrying handles
BEST SMALL HOT WATER DISPENSER FOR TEA
Jiajbg Mini Instant Hot Water Dispenser
Small & Compact Design
This small hot water dispenser for tea is definitely one of the smallest hot water dispensers you can find. It measures only 8.46 x 5.27 x 2.55 inches and if you have limited space in your apartment or office, it will be a perfect hot water dispenser for you.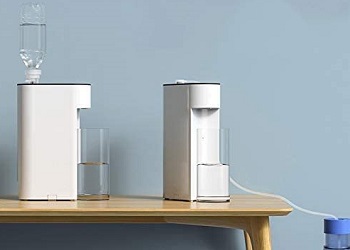 Compatible With Most Water Bottles
It is compatible with most water bottles but it is recommended to use half-liter bottles since it is pretty small. Also, make sure you use mineral water. The other way to supply it with water is to pump the bottled water through a matching hose.
Five Temperature Settings
You can choose between five different water temperatures – from 25°C to the boiling 100°C. You can use it for tea, milk, coffee, instant soups, etc. This desktop water dispenser is made of ABS plastic and stainless steel which make it sturdy and durable.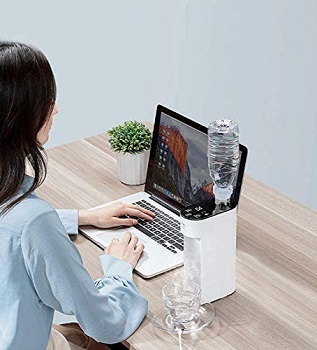 Large High-Definition Screen
This white water dispenser that fits into any bag, boasts a large high-definition screen and a touch button for water temperature and water volume. It has a dry-burning detector and a child safety lock to prevent accidental injuries from boiling-hot water.
Highlighted Points:
small, space-saving & portable design
compatible with most water bottles
five different water temperature settings
made of ABS plastic and stainless steel
large high-definition screen
dry-burning detector & child safety lock
BEST CHEAP HOT WATER DISPENSER FOR TEA
Sunbeam Hot Water Dispenser
Elegant Black Design
This hot water dispenser for tea and coffee is made of plastic and has a 16-oz water capacity. It is a high-quality product that comes at an affordable price. Thanks to its elegant black design, it will look great on any table, desk or kitchen counter.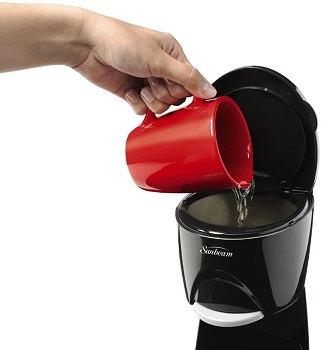 Perfect For Small Offices & Kitchens
Measuring 7.75 x 5.75 x 9.75 inches (L x W x H), it is perfect for small kitchens and offices, and it is easy for transport. Its interior is made of metal, not plastic. This cheap water dispenser is designed for dispensing water only, so do not attempt to heat any other liquid in it.
Heats A Cup Of Water In 90 Seconds
It heats one cup of water in approximately 90 seconds which means you will be able to enjoy tea, coffee, oatmeal, or instant foods instantly, without any waiting. It automatically shuts off when it runs out of water to prevent dry burning.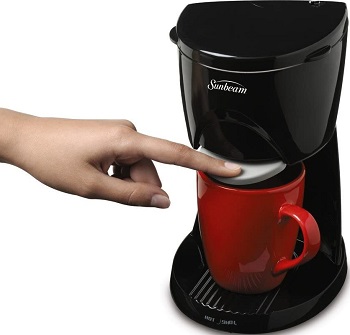 Great Gift For Any Occasion
The Sunbeam Hot Water Dispenser will be an amazing gift for avid tea drinkers, especially ones that have limited space at their home, dorm or office. It is quicker than a microwave and operates quietly. It comes with convenient cord storage.
Highlighted Points:
elegant black design
16-oz water capacity
perfect for small kitchens & offices
for dispensing water only
heats a cup of water in 90 seconds
great gift for avid tea drinkers
BEST FILTERED HOT WATER DISPENSER FOR TEA
SimPure Y5 Water Dispenser
Made Of White Plastic
This hot water dispenser for tea is made of white plastic and has two plastic water tanks. One tank holds the tap water and the other holds purified water before dispensing. It boasts a slim design that is convenient for small spaces.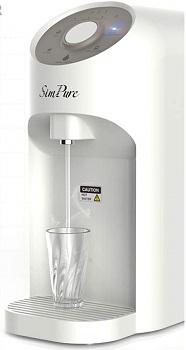 4-Stage Filtration System
It comes with a filtration system that includes four filtration stages. The filters remove 99.99% of the contaminants in tap water, including limescale, chlorine, fluoride, bacteria, viruses, heavy metals, lead, etc. The filter replacement alert will notify you when it's time to change filters.
Reverse Osmosis Water Purification
This filtered water dispenser for home uses reverse osmosis water purification which will provide you with the purest water possible. It will be safe for the whole family, even the youngest members. It doesn't require plumbing, only electricity.
4 Temperature Settings
The SimPure Y5 Water Dispenser features four temperature settings: tea (194℉), coffee (176℉), formula (113℉) and room temperature. Dispensing is easy and it is activated with the single push of a button at your selected temperature.
Highlighted Points:
made of durable white plastic
four temperature settings
4-stage filtration system
reverse osmosis water purification
doesn't require plumbing
filter replacement alert
BEST SMART HOT WATER DISPENSER FOR TEA
Scishare Hot Water Dispenser
Dual Heating Structure Design
This hot water dispenser for tea needs only 3 seconds to heat the water thanks to its dual heating structure design. It features a double temperature controller, overheating protection and water shortage protection, which means it is very safe to use.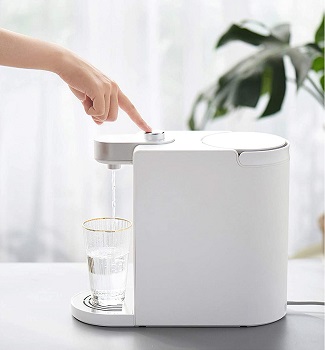 Made Of ABS Plastic
It is made of ABS plastic and has an 1800 ml water tank that features an open-lid design and it is easy to refill. The electric heating tube is made of premium quality 304 stainless steel. It is not recommended to fill it with tap water because impurities that can be found in it can form scale and block the pipeline.
Six Temperature Settings
This smart water dispenser comes with six temperature settings that will meet different drinking needs because many hot beverages have different water temperature requirements. Its rated power is 2200 W and the voltage is 220 V.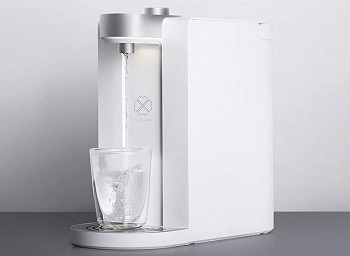 Multiple Anti-Dry-Burning Protections
The Schishare Hot Water Dispenser comes with a 1 m long power cord. It is equipped with multiple anti-dry-burning protections to prevent safety hazards. The dispensing area accommodates two sizes of cups – 250 ml and 500 ml.
Highlighted Points:
3 seconds to heat the water
dual heating structure design
overheating protection & water shortage protection
made of ABS plastic
six temperature settings
multiple anti-dry-burning protections
THINGS TO KNOW ABOUT HOT WATER DISPENSERS FOR TEA
A hot water dispenser for making tea is a great investment for avid tea drinkers. It enables access to instant hot water. When buying such a water dispenser, you should first consider its size and temperature settings. To help you choose the best hot water dispenser for your needs, we are giving you a few tips below:
Compact Countertop Design – Hot water dispensers that are used primarely to heat water for tea are compact and small since there is usually no need for more than 2 liters of hot water a day. They feature a countertop design and can be placed on any flat surface near a power outlet. Such water dispensers are portable and you can carry them in your bag. The exceptions are large commercial hot water dispensers that are used in hotels and restaurants.
Temperature Settings – Water used for making tea is hotter than the water used for making coffee. When buying a hot water dispenser for tea, make sure it can heat water to a temperature required for tea, which is around 195℉. Most high-quality hot water dispensers allow choosing between three or more temperature settings.
Child Safety Lock – If you have children, investing in a quality hot water dispenser with a child lock is a smart thing to do. Such a child-proof water dispenser will prevent accidental burns from the boiling-hot water and give you peace of mind.
Filtration System – If you want to provide the purest and cleanest drinking water for your whole family, we definitely recommend buying a hot water dispenser that features a filtration system and will eliminate harmful substances from your tap water.