There are few furniture pieces as iconic as the egg desk chair, it is instantly recognized around the world.
These appealing chairs are suited to all kinds of living environments and come with a heap of cool features. Thus, don't miss the opportunity to spend some me-time in a cocoon's protective comfort. It will help you to refresh your space and add functionality in one stroke.
Our Top Picks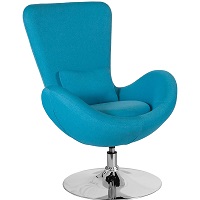 Flash Furniture Aqua Fabric Chair
OVERALL RATING: ★★★★★
This eye-catching hand-stitched chair is available in vivid colors and designed with a swivel base.
Jump To Review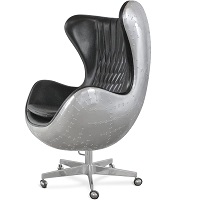 Aviator Egg Office Chair
OVERALL RATING: ★★★★☆
Beautifully designed egg chair comes with elegant genuine top-grain leather and an aluminum outer shell.
Jump To Review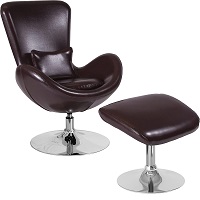 Flash Furniture Leather Egg Chair
OVERALL RATING: ★★★★☆
This chair comes with an ottoman which provides your legs with comfort while cushion is beneficial for your backs.
Jump To Review
What Is Actually The Egg Chair?
The egg desk chair is nothing but a functional chair on wheels or with a flat base and upholstered seat and back support. However, it's special thanks to its design that reminds on the egg. The seat is a little rounded as well as the back support which makes the look of a half of an egg or a crashed egg.
Where To Use It?
Since this chair type looks very appealing, it is often used in lounges, waiting rooms, restaurants, bars, hotel receptions, etc. This chair gives a touch of elegance and originality. It easily becomes a statement piece in any room. Also, it works in both traditional and contemporary interiors. It isn't a very good idea to use it in the office for 8+ hours sitting, it doesn't have appropriate ergonomic support.
Why Consider This Egg Chair?
Unparalleled Comfort
Comfort is the primary benefit and the main selling point of an egg chair. This chair has high sides and cradling, cushioned seat for prolonged sitting. Egg chair is perfect to lounge, read and relax. Its ergonomic design supports body posture and alleviates strain in the back, shoulders and neck.
Visual Appeal
This chair type has a unique visual flair, its peculiar shape was born from mid-century experience and the supreme vision of its creator. Original egg chair features sleek, minimalist contours that emanate effortless chic. Now, there is a wide array of gorgeous finishes, so you can make your style statement regardless of your taste.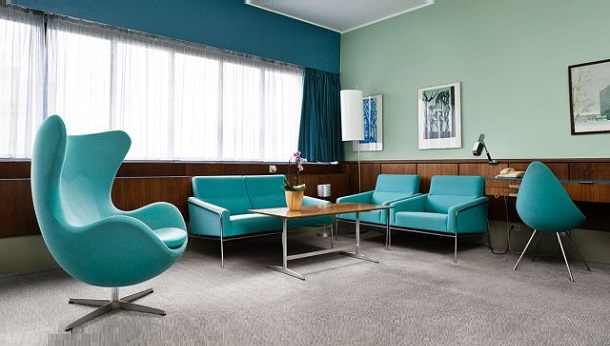 What To Take Into Account When Buying?
Chair Size
Authentic Egg chair has a unique size, it stands at 42.2" tall, measure 33.8" wide and have a depth of 31.1". Since then, there are many copies inspired by the original egg chair. They have various sizes and dimensions, so you can find the one that suits your body type and size.
Quality & Sturdiness
Egg chairs tend to be both lightweight and strong. These chairs are framed with materials such as fiberglass, steel, plastic and aluminum. In general, the furnishing tends to contain layers of polyester or leather. Their heavy-duty frame provides superior stability and has a considerable load capacity.
Seat Material
The material on the desk chair seat and back should have enough padding to be comfortable to sit on for a certain period of time. Having a soft padded seat is preferable to a harder surface. Many reviewed egg chair models come with an additional pillow for lumbar support.
Leather Vs Fabric Upholstery
Both materials have their advantages and disadvantages. So, let's check them. Genuine or faux leather upholstery usually comes in neutral colors, so it's very easy to mix it with other pieces of furniture and room decor. It's easy to clean and looks good for many years. The main disadvantage – it's non-breathable material. The fabric gives a soft and comfortable feel comes in many colors and patterns. But it's stain-prone material.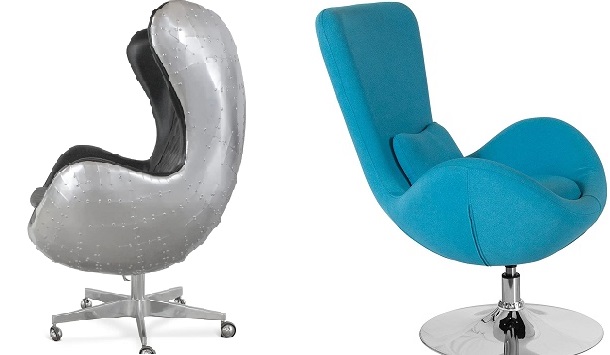 Egg Chair With Wheels
If you want to be able to move around, then consider an egg chair with wheels. These models usually come with a five-star wheeled base which increases the point of stability while enabling the ability to swivel, reach and rotate. Choose a chair with a wheel lock system to prevent sliding.
Swivel Feature
If your egg chair has wheels, then you can swivel. But, if you prefer a chair without wheels, the swivel feature is something you should look for. A swivel or spinny chair features a single central leg that allows the seat to rotate 360 degrees to the left or right. A swivel chair allows you to reach different things without straining.
Additional Feature
Some of these attractive egg chairs come with ottomans. Ottoman is a multifunctional item that can be used in any room. When used with an egg chair, it works as a perfect footrest. Usually, it's lightweight and some models can open up, so you can store some items inside them. Plus, it provides extra seating.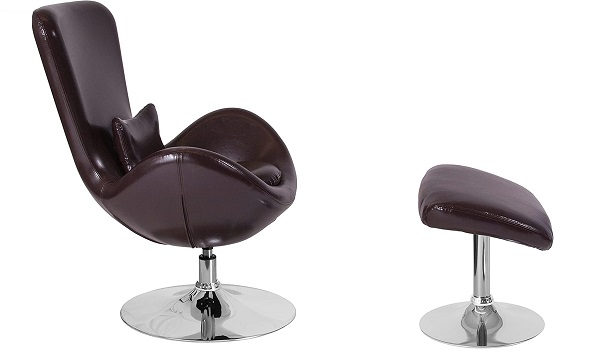 Best 6 Egg Desk Chair Models
Here you can find various egg chair models that differ in size, color, material and other features. Read the reviews, check out the images and find the model that suits your room perfectly.
Flash Furniture Aqua Fabric Chair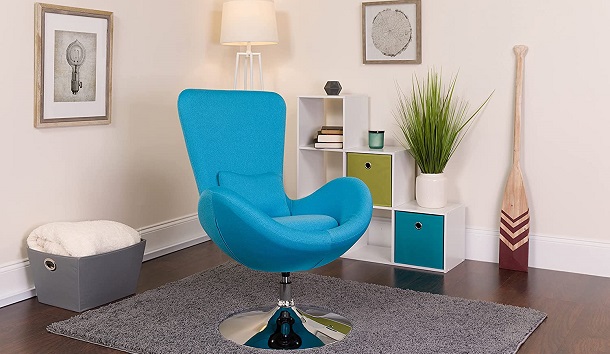 SPECIFICATION:
Material: Aluminum, fabric
Dimensions: 30" x 30" x 38"
Weight: 44 lbs

Color: Aqua, green, orange, red
Capacity: 250 lbs
Assembly: Easy
Flash Furniture made this Egg Series Reception-Lounge-Side Chair. You can choose between many various colors, such as red, black, blue, aqua, orange, green and others. This chair offers proven commercial quality that will last for many years.
It features a sturdy aluminum base at the bottom, which makes the chair lightweight and can withstand the weight of the average user. Flash Furniture features a swivel option, this is a 360-degree rotating chair, allowing you to reach things without standing up.
This egg chair is ultra-comfortable, thanks to its soft padded seat and backrest. It is designed with thick, high-dense material. Furthermore, this is a hand-stitched chair, so the durability offered by this chair is high. The package includes an additional lumbar pillow for extra support.
Overall:
Support:
Comfort:
Sturdiness:
Capacity:
Functionality:
PRICE
approx:$310 – $450
determined by online offer (Amazon, Walmart, eBay) and seasonal sales
PROS
Hand-stitched chair
Additioanl lumbar pillow
360-degree swivel base
CONS
Chair height isn't adjustable
Aviator Egg Office Chair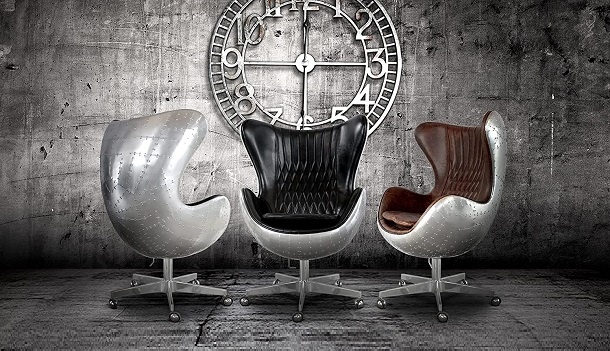 SPECIFICATION:
Material: Genuine leather, aluminum
Dimensions: 20" x 34" x 46"
Weight: 100 lbs

Color: Black/grey
Capacity: 250 lbs
Assembly: Easy
Rustic Deco made this attractive Aviator Egg desk chair. The Jacobsen-inspired chair offers luxury and a unique design. This chair is handcrafted and the manufacturer uses aviation-grade riveted aluminum to simulate the outer skin of WWII aircraft.
The overall chair height is 46 inches, the seat height is 18 inches and the seat depth is 18 inches. Aviator egg chair comes with a swivel base that provides 360-degree rotation. A sturdy five-star wheeled base is equipped with smooth-rolling casters. Plus, the casters are removable.
It is a beautifully designed egg chair with genuine top-grain black leather. The padded seat provides a comfortable sitting experience. Both aluminum and leather, are easy to clean and maintain. Aviator egg desk chair will upscale your space and add a touch of modernity.
Overall:
Support:
Comfort:
Sturdiness:
Capacity:
Functionality:
PRICE
approx:$3,330
determined by online offer (Amazon) and seasonal sales
PROS
Eye-catching aviator-inspired design
Genuine leather upholstery
Flash Furniture Leather Egg Chair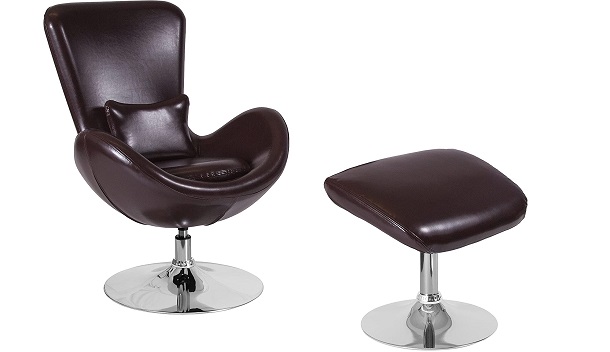 SPECIFICATION:
Material: LeatherSoft, chrome
Dimensions: 30" x 30" x 38"
Weight: 11 lbs

Color: Brown
Capacity: 300 lbs
Assembly: Easy
There is another Flash Furniture model on this list. This one doesn't have fabric upholstery and comes with an additional ottoman for a footrest. That makes this item perfect for living rooms, use it while reading, watching TV, relaxing. The ottoman dimensions are 15" x 19.5" x 17.5".
It offers proven commercial-grade quality. Flash Furniture is backed by a 5-year warranty, meaning, you can rely on its quality. Metal construction makes the egg chair sturdy and durable. It bears up to 300 pounds. Upholstery is made from brown faux leather, very easy to clean and maintain.
LeatherSoft is a leather and polyurethane for added softness and durability. Integrated curved armrests provide support for your forearms. This high-back egg desk chair comes with a lumbar pillow. A 360-degree seat allows easy rotation. Its round chrome base has a plastic ring to protect the floor.
Overall:
Support:
Comfort:
Sturdiness:
Capacity:
Functionality:
PRICE
approx:$400 – $540
determined by online offer (Amazon, Walmart, eBay) and seasonal sales
PROS
LeatherSoft upholstery is very comfortable
Backed by 5-year warranty
CONS
Not for people with wide hips
Emma + Oliver Grey Leather Chair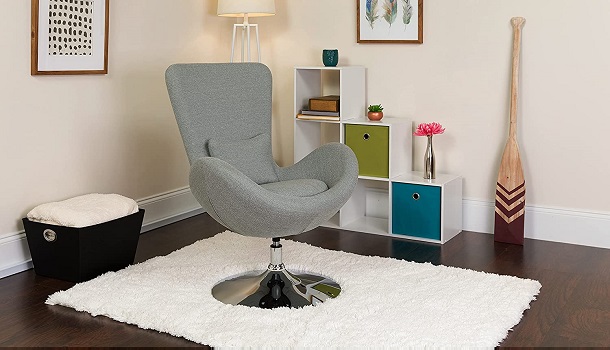 SPECIFICATION:
Material: Fabric, metal
Dimensions: 30" x 30" x 38"
Weight: 44 lbs

Color: Grey, blue, black, green
Capacity: 250 lbs
Assembly: Easy
Emma + Oliver egg chair is available in several colors, such as red, green, black, blue, grey, purple, etc. Also, you can choose between two upholstery materials – fabric and faux leather. This high-back chair is suitable for home offices, lounge, reception area, waiting room, etc.
A high-quality round chromed base is very durable and stable. It features integrated curved arms that provide whole-body support. The lumbar pillow is included in the package, you can place it wherever you need extra support. Assembly is required, so you'll get needed tools and instruction.
Emma + Oliver egg chair has a seat that swivels as well as offers a comfortable rocking/reclining motion. The chair quality is outstanding, it is very well constructed, so will last for many years to come.
Overall:
Support:
Comfort:
Sturdiness:
Capacity:
Functionality:
PRICE
approx:$280 – $370
determined by online offer (Amazon, Walmart) and seasonal sales
PROS
Very well-cosntructed chair
Many colors available
Rocking/reclining motion
CONS
Too firm seat for some people
Anself Swivel Egg Chair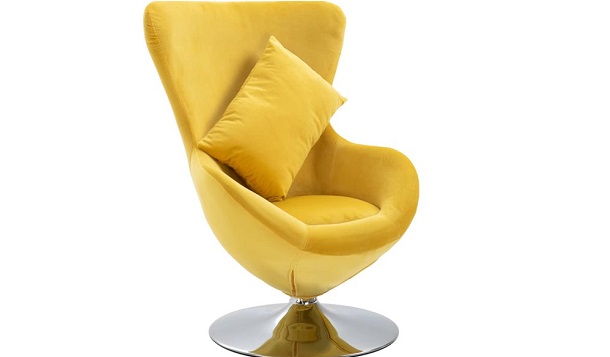 SPECIFICATION:
Material: Plywood, chrome, fabric
Dimensions: 25.2" x 25.2" x 33"
Weight: Not available

Color: Yellow, green
Capacity: 250 lbs
Assembly: Easy
Anself is a popular company that produces various products for homes, offices and gardens. This attractive desk chair is inspired by the popular Jacobsen chair at a more affordable price. This chair is available in eye-catching yellow and modern light green colors.
The chair frame is made from plywood, while the base is made from chrome. The seat size measures 15.4" W x 16.5". The cushion is included in the package, you can use it for lumbar or back support. Anself is upholstered in with thick-padded foam, suitable for long sitting.
Its ergonomic design ensures optimum seating comfort. Anself is equipped with a swivel mechanism, which allows 360-degree rotation. It requires assembly, but it's very simple, you can do it by yourself within 15 minutes.
Overall:
Support:
Comfort:
Sturdiness:
Capacity:
Functionality:
PRICE
approx:$xy – $xy
determined by online offer ( Walmart) and seasonal sales
PROS
Additional padded cushion
Vivid yellow color
Thickly-padded upholstery
Brief History Of Egg Desk Chair
Thanks to Danish designer Arne Jacobsen, the egg chair first appeared in 1958 in the lobby of the SAS Royal Hotel in Copenhagen. The egg's curved shape was quite unusual for its time, its soft, organic lines are in direct contrast to harsh glass and steel. This egg chair fits the modern design, thanks to its sublime blend of form and function, a marriage of coziness and stylishness.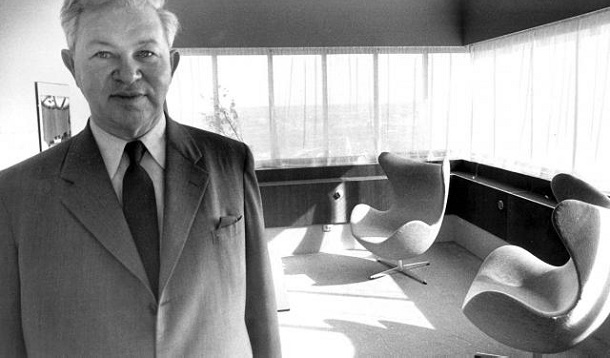 Is Assembly Required?
Usually, yes, it is. But it's often very simple. Of course, you'll get detailed instructions, hardware and tool needed for installation. In almost all cases, you just need to attach the round base to a chair. If your future chair has wheels, you'll need to attach them to the base. A very simple task that takes you 10-20 minutes.
Final Verdict
To sum up, out of all reviewed models, we recommend the Flash Furniture egg chair. This attractive chair has an acceptable price, comes in many cool colors and has a swivel base. The round chrome base has a plastic ring on the bottom that protects your floor from scratches.