Do the Millennial generation value entrepreneurship and how many of them become entrepreneurs?
Millennial entrepreneurs statistics tell us whether millennials are more or less entrepreneurial, and how happy they are with their businesses.
As they represent a large part of the world's population, their views and entrepreneurial nature are important for the future of work and business. Gen Y, another name for Millennials, represents the demographic cohort preceding Gen Z and following Gen X. Millennials are born between the early 1980s and the late 1990s.
Keep reading to find out about millennials as entrepreneurs!
Key Millennial Entrepreneurs
Statistics (Editor's Pick)
13% of US entrepreneurs are Millennials.
Entrepreneurship is about having a certain mindset for 92% of Millennials.
62% of Millennials have considered starting a business.
10 Millennial Entrepreneurs Statistics
1. In the US, 13% of entrepreneurs are Millennials.
Data statistics for 2021 from Guidant Financial show that 13% of small business owners and entrepreneurs in the US are Millennials. The data comes from a study of 2,400 current and aspiring small business owners.
Source: Guidant Financial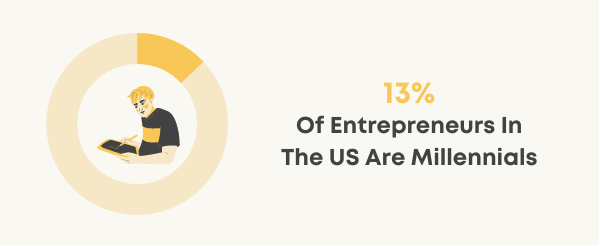 2. Millennials make up for 28% of female entrepreneurs.
Guidant Financial reports that more than one in four (28%) female entrepreneurs are Millennials. For comparison, this number is 12% higher than the national average.
Source: Guidant Financial
3. 52% of Millennials say they are happy as small business owners.
Satisfaction is important in every job. According to Guidant Financial, more than one in two (52%) of Millennial entrepreneurs are happy as small business owners. For comparison, so do 54% of Baby Boomers.
Source: Guidant Financial
4. More than one in two male Millennial entrepreneurs (53%) are very happy with their vocation.
More than half of male Millennials (53%) who are entrepreneurs report feeling very happy with their jobs. Moreover, their happiness scores nine to 10 on a 10-point scale.
Source: Guidant Financial
5. 86% of Millennials agree that the sole purpose of businesses should not be profit.
Deloitte data gives an interesting insight into the opinion of Millennials about business and its purpose. Almost nine in 10 Millennials (86%) think that the sole purpose of business should not be profit. Instead, businesses should also be of service to the world.
Source: Deloitte
6. Almost eight in 10 (78%) of Millennials come from families with a history of entrepreneurship.
According to the Global Entrepreneurship Report, 78% of Millennials come from families with a history of entrepreneurship. A background of successful entrepreneurship can give Millennials a picture of how business works. Also, they can get access to the expertise and the capital to start an enterprise.
Source: Global Entrepreneurship Report

7. More than six in 10 (62%) Millennials have considered starting their own business.
Because so many come from a family with a history of entrepreneurship, it is no surprise that many have at least considered going down the entrepreneurial path themselves. In fact, data shows that 62% of Millennials have done so. Moreover, 72% of them believe that entrepreneurship and startups drive the economy and are important for innovation and job creation.
Source: EY/EIG
8. Younger people represented only 23% of entrepreneurs in 2013.
While only 23% of young people were entrepreneurs in 2013, the number was much higher in the past. For instance, in 1996, it was 35%. A generational shift is apparent as fewer young people nowadays are starting a business compared to before.
Source: The Kauffman Foundation
9. Nine in 10 Millennials think that being an entrepreneur is having a mindset rather than starting a company.
An interesting statistic from Odesk shows what being an entrepreneur means to most Millennials (i.e. 90% of them). To them, being an entrepreneur is having a certain mindset and not starting a company.
Source: Odesk
10. The percentage of people under 30 who own a business has fallen by 65% since the 1980s.
According to the analysis of Federal Reserve data by the Wall Street Journal, since the 1980s, there has been a 65% fall in the share of people under 3o who are entrepreneurs.
Source: Wall Street Journal, Federal Reserve
Final Verdict
To conclude, millennial entrepreneurs statistics show that there has been a decline in the number of young people starting a business, compared to older generations at their age. However, the generational shift shows that Millennials think of entrepreneurship as a mentality, rather than the act of starting a business. Also, entrepreneur age statistics show us how different generations and age groups work as entrepreneurs. Finally, entrepreneur statistics is a great source of information for anyone who wants to know more about entrepreneurship, the success and failure rate, and more.