Entrepreneurship growth statistics show how much the field has increased by the growth in the number of enterprises.
The latest data shows that entrepreneurship is on the rise, even despite the pandemic.
So let's take a look at how entrepreneurs have been evolving and how many new businesses there are today.
Key Entrepreneurship Growth
Statistics (Editor's Pick)
Female entrepreneurs have grown by 114% in 20 years.
A 24% jump in new businesses was recorded between 2019 and 2020.
The number of new business employers fell by 4% between 1980 and 2020.
8 Entrepreneurship Growth Statistics
1. The number of female entrepreneurs has grown by 114% in 20 years.
American Express has released figures that show a growth of 114% of female entrepreneurs in the last 20 years. On the other hand, all businesses have grown 44% in the same period.
Source: American Express
2. Subscription businesses have grown 435% between 2011 and 2020.
In the decade between 2011 and 2020, subscription businesses have grown an awful lot (435% to be precise, according to Zuora). While subscription enterprises are available for music, food, gyms, websites, etc, the most popular ones are Netflix and meal boxes.
Source: Zuora
3. Those starting a business in a field where they have experience are 125% more likely to achieve success.
High growth is 125% more likely for entrepreneurs who start a business in a field where they already have previous experience. This is a forecast from the National Bureau of Economic Research.
Source: National Bureau of Economic Research
4. There was a 24% jump in starting businesses in 2020 compared to 2019.
In 2020, 4.3 million potential entrepreneurs filed the paperwork for starting their own business, according to the U.S. Census Bureau stats. This tracking started in 2004 and was at the highest volume recorded in 2020.
Source: U.S. Census Bureau
5. In 1980, 12% of employers were made up of new enterprises, compared to 8% in 2018.
Although there has been a lot of growth recorded in the entrepreneurial world, the U.S. Census Bureau also recorded a fall in the number of new enterprises that employ people. In 1980, 12% of employers were new enterprises and the number fell to 8% by 2018.
Source: U.S. Census Bureau
6. Between 2017 and 2018, African-American female entrepreneurs recorded the highest rate of growth of all demographics.
In the same period, American Express reported that African-American women make up 20% of all female entrepreneurs, which makes it the highest growth of all demographics in the said years.
Source: American Express
7. In 2020, there were more new businesses than in 2019.
Based on data presented by Statista, there was a growth in new businesses between 2019 and 2020. In 2019, there were 770,609 new enterprises. In 2020, the number went up to 804,398 new businesses.
Source: Statista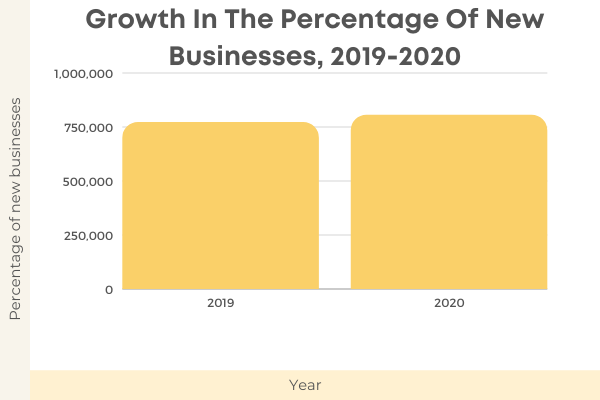 8. In the US, Americans filed 95% more new business applications in 2020 compared to the year before.
In 2020 many got furloughed as a result of the pandemic. This is perhaps why so many applied for opening their own business in the same year. According to Forbes, 551,657 Americans applied to start a business in 2020. This is a 95% growth from the year before that. In France, 20% more businesses were started in 2020 compared to 2019.
Source: Forbes
Final Verdict
In conclusion, these entrepreneurship growth statists give a powerful message to the world. More and more people are opening their businesses and fighting for their place in the market, including minorities. While a certain amount of them fail, there is still a percentage of successful entrepreneurs who prove that it is possible. Moreover, entrepreneur statistics testify what it takes to be a successful entrepreneur in the world.